NCAA Tournament Odds: Point spreads for Saturday March Madness slate released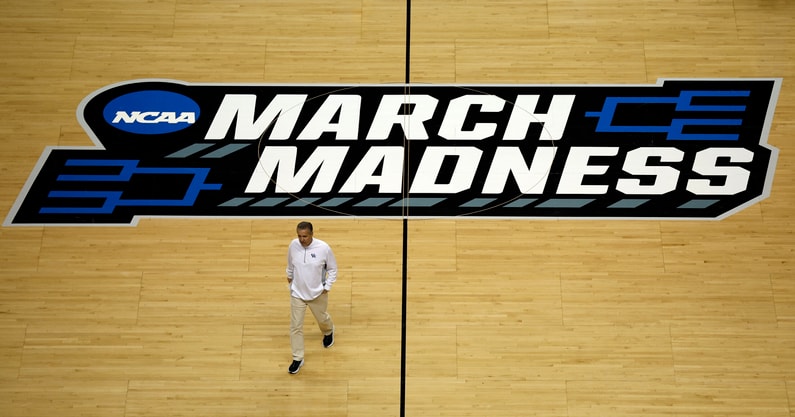 Thursday's NCAA Tournament play got us started with a bang. In the early window, chaos reigned as the Furman Paladins made their first tourney in 40 years and won their first tourney game in 49 years as they played the role of spoiler in yet another surprise first-round exit for Virginia thanks to a terrible turnover by senior Cavalier point guard Kihei Clark and a deep game-winning three by Furman guard JP Pegues with just seconds remaining.
Elsewhere, we saw a No. 2 seed go down for the third year in a row as No. 15 seed Princeton took down Arizona, holding the Wildcats scoreless for the final 4:45 of the ball game to go on a 9-0 run to stun 'Zona fans and give the Tigers their first NCAA Tournament win in 25 years.
The night slate was much calmer as virtually every game went chalk Thursday evening except for the Penn State vs. Texas A&M nightcap, where Nittany Lion guard Andrew Funk engulfed the Wells Fargo Center in flames with 27 points on 8-10 shooting from three as PSU sent the "under-seeded" Aggies packing in blowout fashion.
Amid the rubble, 16 teams advanced and will play for a second-weekend appearance on Saturday. Lucky for our wise guys out there, FanDuel already has lines ready for Saturday's action. You can find all of those right below:
*All times in Eastern Standard Time (ET)
(5) San Diego State (-5.5) vs. (13) Furman | 12:10 p.m., CBS
(4) Tennessee vs. (5) Duke (-3.5) | 2:40 p.m., CBS
(1) Kansas (-3.5) vs. (8) Arkansas | 5:15 p.m., CBS
(7) Missouri (-6.5) vs. (15) Princeton | 6:10 p.m., TNT
(1) Houston (-6.5) vs. (9) Auburn | 7:10 p.m., TBS
(2) Texas (-5.5) vs. (10) Penn State | 7:45 p.m., CBS
(2) UCLA (-7.5) vs. (7) Northwestern | 8:40 p.m., TNT
(1) Alabama (-7.5) vs. (8) Maryland | 9:40 p.m., TBS
Even though a 15-seed snuck into the second round, Princeton is not the largest underdog of the day. Instead, that will be Northwestern, who controlled their win over Boise State from tip to finish — but that just wasn't enough to impress the oddsmakers, who definitely liked what they saw from UCLA's dominant victory over UNC Asheville and have the Bruins as a 7.5-point favorite. Alabama also tied the Bruins and are a 7.5-point favorite over Maryland despite a possible Brandon Miller injury.
In all, every spread falls between 3.5 and 7.5 points, just a four-point window. So the folks out in the desert are predicting a set of eight down-to-the-wire contests to decide who moves on to the Sweet Sixteen, which sounds like a ball of fun for tourney fans. Happy gambling to those who partake!