NIL Summit intel: Educating athletes about collectives takes center stage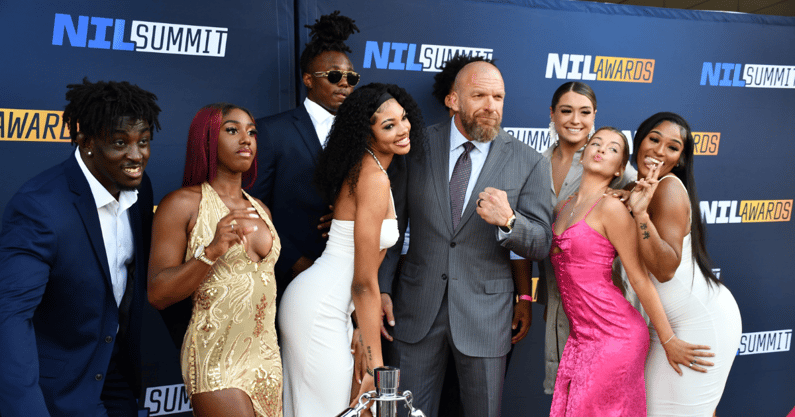 ATLANTA — The inaugural NIL Summit brought together more than 350 student-athletes from across the college landscape with major names from across the tech and sports industries.
Across two days of panels, sports lawyers and agents spoke on the ever-changing NIL world at the event in Atlanta. Businesses discussed ways athletes can make sure they are turning a return on investment. Triple H stopped by to talk WWE's NIL program while Tim Tebow chatted about his NFT work with Campus.
Put on by INFLCR and SANIL, the event opened Monday with the 2022 edition of the NIL awards.
Athletes were blunt in their assessment of the state of NIL as the one-year anniversary approaches. Some do not know what collectives are. Others have not even been able to strike deals. And there's a real concern about the education of tax season.
On3 NIL's Pete Nakos and Andy Wittry were in town for all the festivities. Here's the latest NIL intel out of ATL.
Teamworks announces $50 million raised in latest financing round
Delivering the keynote during breakfast on Tuesday, INFLCR founder and CEO Jim Cavale announced Teamworks has raised $50 million in a Series D round, including investments from more than 30 current and retired professional athletes.
Teamworks acquired INFLCR in 2019. The brand-building platform hosted the NIL Summit and continues to acquire the resources to develop its product. Teamworks is a technology platform used to keep collegiate sports teams and professionals connected.
The company has raised more than $100 million in total, Teamworks said in a statement.
"Whether it's the amount of employees we're going to be adding in all departments, the number of engineers we're going to be adding to continue to build every solution you need in your INFLCR app," Cavale said. "To not only build your brand but to be found by anyone who wants to pay you and let them have the solutions they need to build a contract that keeps you compliant.
"To pay you with zero transaction fees because your school is paying us for our software and providing to you for free. And to ultimately manage your business, whether it's paying your taxes, whether it's making sure your transactions are reported."
The Birmingham, Ala.-based company has its product in more than 170 Division I athletic departments. INFCR continues to build its Rolodex of clients featured in its Global Exchange, which serves as a nationwide directory connecting more than 64,000 student-athletes with businesses. The company most recently announced a deal with Atlantic Records.
John Ruiz, collectives take center stage on Tuesday
On the second day of the inaugural NIL Summit, the biggest NIL-related story of the day didn't stem from the gathering in Atlanta, but rather what has or hasn't, happened in Miami. As On3's Pete Nakos first reported, Miami booster John Ruiz and members of his company LifeWallet met with members of the NCAA's enforcement staff last week to discuss deals agreed to with Hurricane athletes.
While high-profile, six and seven-figure deals funded by Ruiz and booster-led collectives have recently dominated much of the conversation about NIL, some athletes at the summit only learned of collectives Tuesday when asked about them.
"What?" said Devontae Ford, a rising sophomore on Illinois' track and field team, dragging out the word for effect. "That was my first time ever hearing about that. That sounds nice, actually. They need one for track at the University of Illinois."
Norfolk State two-sport athlete Rayquan Smith, who plays football and runs track, has agreed to nearly 70 NIL deals, which earned him the nickname "King of NIL." He also learned of collectives on Tuesday.
"No, I have not heard that," Smith said. "See, I ain't heard about that but I'll look into it. I'll talk to my agent about it and see what it is."
Similar to fans and media who follow NIL closely, the athletes who have heard of collectives are trying to separate fact from fiction. Jalen Terry is a rising junior guard at DePaul who transferred from Oregon after his freshman season. Prominent Oregon donors, headlined by Nike founder Phil Knight, created Division Street to help athletes at the university with their marketing, branding and sponsorship opportunities.
"I heard Oregon is doing something like that," Terry said. "Big companies are giving them a lot of money."
Has Terry fact-checked what he's heard with his old teammates? Is the word on the street legit?
"It's pretty legit," he said, smiling. "It's pretty legit."
"They all want to know why Oregon is getting a bunch of money and they're not," said Carly Dressler, DePaul's assistant athletics director for NCAA compliance and leadership, as she sat next to Terry.
Florida gymnast Trinity Thomas, the 2022 national champion in all-around, uneven bars and floor, has agreed to a few deals with the Gator Collective, including a live interview on Twitter with some of her teammates. She has made appearances at local businesses, too.
"The Gator Collective has been pretty helpful for student-athletes in trying to include everybody in it," she said, "and not just like football, basketball, the big sports."
"I do think it's heavily overstated," UCLA quarterback Chase Griffin of collectives.
Griffin is one of the most prominent athletes in the space. On Monday night, Griffin received the Male Athlete of the Year award at the NIL Summit. He co-moderated a panel on Wednesday on how brands maximize their return on investment in their deals with influencers.
"Whenever the media gets a big number, they like to run with it and be like, 'Every kid is making this,'" Griffin said. "No, probably like one, two, or three kids in the 500,000 student-athletes are getting that amount of money."
There's not yet a collective at UCLA, Griffin said, "but God willing."
Opendorse not staying out of ATL quietly
Opendorse not attending the Atlanta summit just made sense.
Their marketplace system is a direct competitor of INFLCR, and there was some agreement between the parties the company would not attend the event. But that did not mean Opendorse was going to let the week go by without drawing some attention back to them.
Posted directly across from Centennial Park and within eyeshot of the College Football Hall of Fame, where the summit was held, was a billboard paid for by Opendorse.
The ad obviously drew some attention from those in the NIL space at the summit. The QR code took users directly to the app store to access the marketplace.
INFLCR and Opendorse both sell products to institutions across the nation. And while the former does not have a marketplace, each is competing for dollars from universities.
Boise State brings home Best Institutional Program award
With the inaugural NIL summit came the first-ever awards handed out for the new era of college sports.
Most of the awards lined up, but Boise State winning Best Institutional Program surprised some On3 sources. Idaho does not have state NIL laws in place, and Boise's program "What's Next" has pushed forward the institution.
But the Group of Five school was up against programs from Michigan, Ohio State, Arkansas, Auburn and Oklahoma State. The nod for Boise State definitely turned heads.