Opendorse announces plans for overhaul of NIL marketplace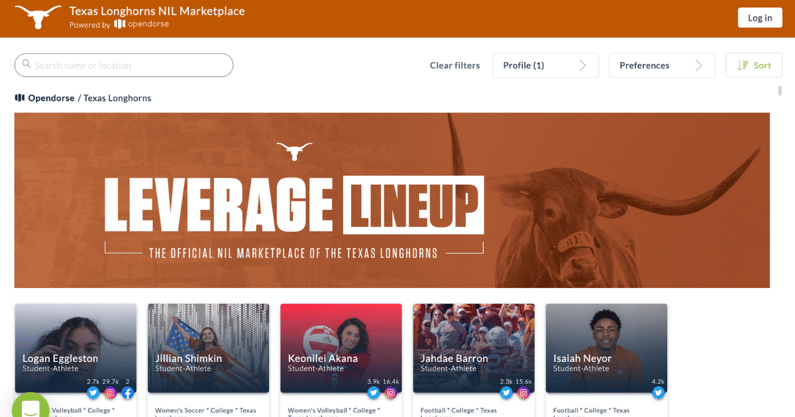 By the end of this coming fall, the Opendorse NIL marketplace will look significantly different.
The company announced Tuesday plans to launch school-specific marketplaces at 75 partner schools throughout fall 2022. The move will give fans, brands, donors and sponsors easier, direct access to student-athletes.
Opendorse announced back in March the release of the product in the Oregon, Texas, Nebraska, Wisconsin, Oregon State and Memphis markets. The new marketplaces were released this past spring. Athletes at these institutions have experienced a 193% increase in NIL opportunities in the first month after the marketplace's launch, per Opendorse.
"A trend in NIL is that the biggest supporters, whether they're business owners, donors or boosters, are calling and contacting the athletic department or head coach," Opendorse founder and CEO Blake Lawrence told On3. "They're asking, 'How do I get involved? Where do I go?' And the answer to that question is not clear. Opendorse school-specific marketplaces are built to provide an answer to that question. Where do I go to start NIL? Through these marketplaces, the answer will be known."
The marketplaces keep much of the same previous infrastructure in place. But with the school-specific marketplaces, athletic departments can streamline the platform straight to boosters and businesses.
Opendorse will release the revamped NIL marketplaces starting this summer. The hope is to have it all in place by the start of football. These schools include Kansas, Kansas State, Texas Tech, Indiana, Maryland, Missouri, BYU and Jackson State.
A number of schools from across the Power Five along with the Big East, Mountain West, MAC, C-USA and AAC will see the NIL platform put in place.
Blake Lawrence explains need for new NIL marketplace
Blake Lawrence remains adamant that the revamped, school-specific NIL marketplace remains a necessity.
The data backs up his theory, too.
In the most recent data released by Opendorse, which runs through May 31, the average compensation for a D-I athlete is $3,711. The number is calculated by the total NIL compensation of all athletes divided by the total number of athletes with at least one deal since July 1.
Additionally, there is a major drop-off following Division I. The Division II player makes $204 on average while a Division III athlete is compensated $309.
Furthermore, Opendorse has seen promising NIL returns in women's volleyball, softball and a number of Olympic sports. With the launch of a new, streamlined marketplace, Lawrence hopes to see those numbers jump up in Year 2.
"Helping athletes use technology to make money for a decade, we've seen a lot of things," he said. "One of the more real things is athletes with representation. It's got to make economic sense for a person to get involved in a transaction. If that person is earning a 10% commission on a NIL deal, it takes them the same amount of work to do a $1,000 deal as it does a $10,000 deal. If given the chance, a person working on NIL opportunities may turn down or not put effort into helping a student-athlete get a $100 deal.
"The majority of student-athlete NIL activities are those deals. There's a gap in most markets of smaller-dollar deals. Without a technology partner, these athletes have no access to capitalize."