Active summer leads to 2024 On300 update
On3 has updated its football prospect rankings for the 2024 cycle. This rankings release marks the third update this year and is primarily driven by in-person evaluations at major national events over the past several months and acquisition of updated verified data on hundreds of prospects from this summer.
The On3 national team was at several major events in the past few months: the Elite 11 Finals, Overtime's 7v7 events, and Under Armour regional camps in Atlanta, Orlando, Dallas and Los Angeles.
Similar to this time last cycle, we've gathered a bunch of verified information (measurements, athletic testing data) from various sources. We've compiled official measurements (some combination if not all of height, weight, arm length, hand size) on close to 85% of the current On300. The high school track season has also come to a close since the last update, adding important athletic context. A good bit of this new data is actionable and helps paint a current picture as the 2024 cycle enters the senior season.
The in-person evaluations and verified data helps to supplement and add vital context to evaluations from the junior season. Ranking high school prospects in real time calls for continual updates and necessary changes in order to present an accurate, current snapshot. Prospects often drastically change over the two to three years of a recruiting cycle's life-span.
Additionally, it's critical to recognize that the most important evaluation points for the majority of prospects — the senior season and all-star games (for some) — have not yet occurred. This is still very much a work-in-progress ranking that sets the table for those key evaluation points. Also note while there are many prospects who actively rose or fell, the majority of On300 members did not see their rating change.
Let's get into some of the storylines surrounding this update.
Williams Nwaneri is the new No. 1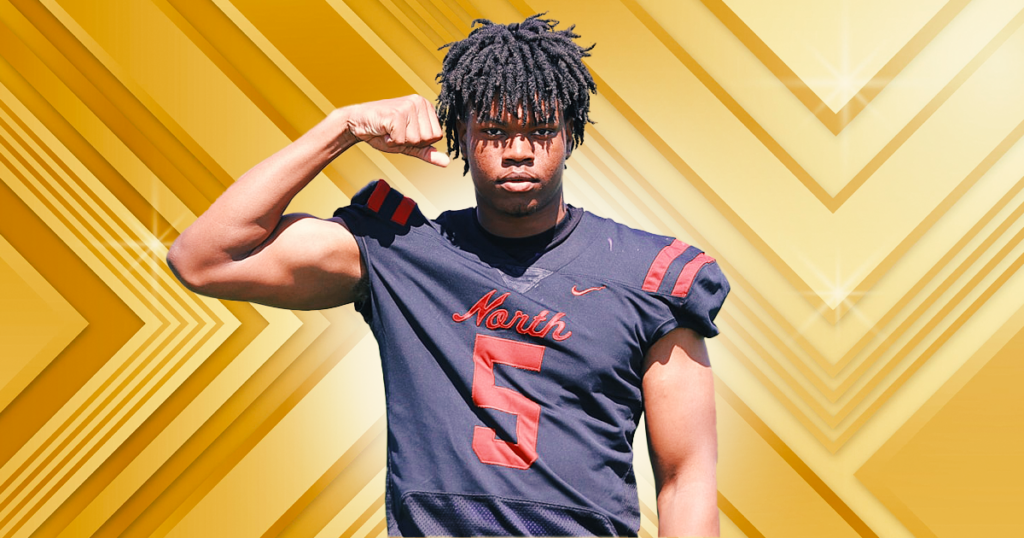 There is a new prospect at No. 1 in the On300, with defensive lineman Williams Nwaneri assuming the top spot. The Lee's Summit (Mo.) North product has an argument as the most physically-gifted prospect in the 2024 cycle. Nwaneri checks in at over 6-foot-6, 260 pounds. He has elite length with arms over 36 inches and massive 11-inch hands. He's a plus athlete, running a sub-5.0 second electronically-timed 40 as a rising junior. We saw considerable promise from Nwaneri on the field as a junior, as he racked up 12 sacks and 22 tackles for loss in helping his team to a state title game appearance.
In a cycle that is not rife with true contenders from the quarterback and EDGE groups, Nwaneri takes pole position due to his immense physical skills and considerable room for development. He's far from a finished product and is just scratching the surface of his upside. Nwaneri will need to improve as a run defender and continue honing his pass rush technique in order to unlock his potential. While he's ranked as a defensive lineman, we would not be surprised to see Nwaneri drafted as a defensive end in a few years. He compares favorably to former No. 1 overall pick Travon Walker at the same stage.
The Five-Star Plus+ prospect has taken official visits to Georgia, Oklahoma, Tennessee, and Missouri. He's scheduled to visit Oregon in the fall. Oklahoma is out front on the On3 Recruiting Prediction Machine.
Nwaneri is the third prospect to hold the No. 1 spot in the 2024 On300 in the past 15 months, joining EDGE Dylan Stewart and quarterback Dylan Raiola. If we're making honest evaluations, it's rare to see a true wire-to-wire No. 1 prospect in this current landscape. With that said, the 2024 cycle is much more wide open at the top than recent years, in part due to relatively weaker and murkier groups at quarterback and EDGE. The race for No. 1 is far from settled with the all-important senior season and national all-star games remaining.
Five new 5-stars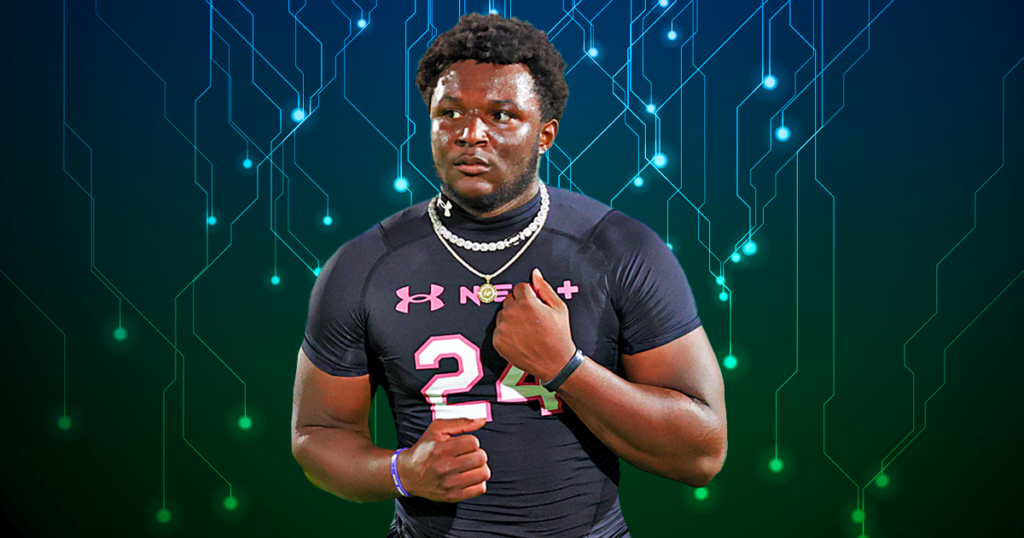 Five prospects added their fifth star from On3 in this update – Alabama quarterback commit Julian Sayin, Ohio State wide receiver commit Mylan Graham, defensive lineman David Stone, linebacker Justin Williams and running back Nathaniel Frazier. We now have 15 prospects rated as five-stars and will finish with 32 five-stars in every cycle.
Additionally, Sayin, Stone and Justin Williams are now Five-Star Plus+ prospects — those who are rated as five-stars by by all four major recruiting media services. Their addition brings the number of Five-Star Plus+ prospects to ten.
No prospect had a more impressive week at the Elite 11 Finals and OT7 finals than Julian Sayin. The Alabama pledge was the On3 MVP at both events. His showings at both events backed up a strong junior season. The Calabasas (Calif.) High product checks in at No. 7 overall in the On300. We thought he had the best junior film of the top 2024 quarterbacks and he backed up that assertion with extremely consistent performances at national events. Sayin's advanced timing and accuracy check out in every setting. The 6-foot-1.5, 195-pounder has a quick, easily-replicable release. He was at or near the top during each individual day at the Elite 11 Finals. He followed that up with one of the best 7-on-7 showings we've seen from a quarterback in recent years at the OT7 Finals.
The receiver position is absolutely loaded in the 2024 cycle. Mylan Graham (No. 12) has a case as the best route-runner among the group. The Ohio State pledge is a technician with the ability to create separation at all levels. He pairs the technical acuity with solid size and athleticism at 6-foot-1, 185 pounds and strong ball skills and good athleticism. Graham was highly productive as a junior at New Haven (Ind.) High as a junior, catching 49 passes for 1,149 yards and 13 scores. Ohio State has been a wide receiver factory of late, with the Buckeyes' recruiting classes producing four first-round wideouts over the past two drafts with more coming down the pipe. Graham pairs with Jeremiah Smith (No. 2) to give Brian Hartline two more five-star receivers.
Similar to receiver, defensive line is one of the strongest position groups nationally. David Stone (No. 13) has long been one of the top prospects along the front and continues to show well. The Oklahoma City native checks in at around 6-foot-4, 275 pounds with plus length and outstanding athleticism. Stone is an explosive athlete who projects as a disruptive force on the interior. He's sure to have some competition within the defensive line position group, but his overall body of work and profile is worthy of adding a fifth star at this point in time. Stone has taken official visits to Florida, Miami, Oklahoma and Michigan State. The Sooners are out in front according to the On3 Recruiting Prediction Machine.
Justin Williams (No. 14) is a testament to the growth and development we see from prospects over the course of a recruiting cycle. The Conroe (Texas) Oak Ridge prospect initially began as a safety before growing into one of the more athletic linebackers in the nation. Williams checks in at around 6-foot-2, 210 pounds with good length for the position. He's continued to add good weight while improving his speed. Williams turned in a scintillating combine showing at Under Armour's Houston regional, ripping off an electronically-timed 4.44 second 40-yard dash. He also ran an 11.01 second time in the 100 meters during track season. The strong athletic showings build on an outstanding junior season that saw Williams flash sideline-to-sideline and rack up 105 tackles, 18 tackles for loss and 8.5 sacks as a true inside linebacker at Oak Ridge. The physical growth, elite athleticism and production on Friday nights make Williams a five-star linebacker. Oregon is out in front for Williams according to the On3 Recruiting Prediction Machine.
Nathaniel Frazier (No. 15) has separated himself as the most skilled running back in the 2024 cycle in our eyes. The Santa Ana (Calif.) Mater Dei runner has been On3's highest-rated running back for several months. At 5-foot-10.5, 205 pounds, Frazier has the most complete skill set we've seen at the position in the cycle. He has outstanding quickness, breakaway speed and contact balance. He backs up the speed on the track, where he posted eleven sub 10.9 second 100-meter dash marks this spring. Frazier is also a natural pass catcher. While he was very efficient on a per touch basis as a junior, averaging 11.4 yards per carry, Frazier was in a split backfield role at Mater Dei. We'd certainly like for him to be more productive as a senior, but the overall skill set makes for the clear top running back in the cycle at this juncture. Frazier visited Georgia, Oregon and Alabama in June.
Parsing the top quarterback prospects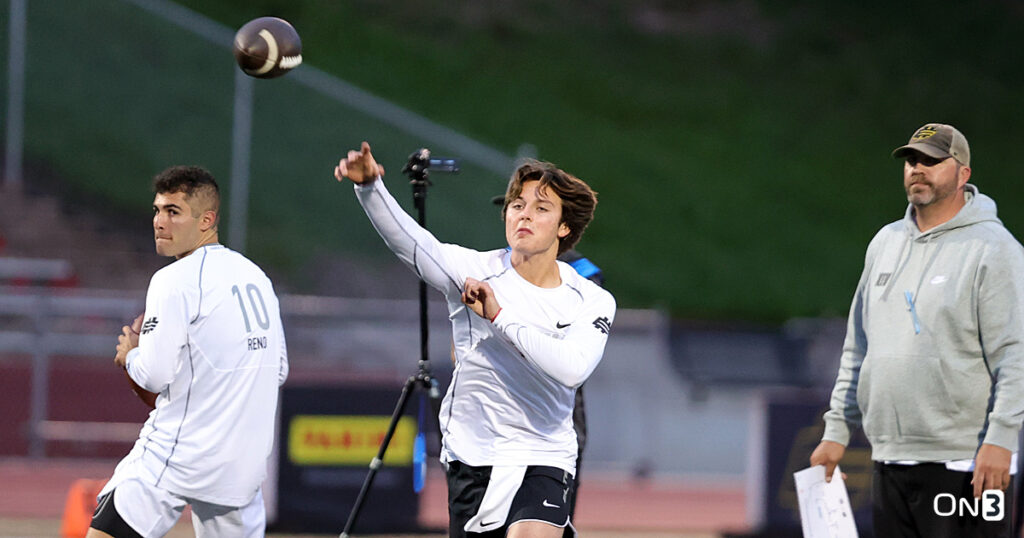 The Elite 11 Finals allowed for an up close look at many of the top quarterback prospects in the 2024 cycle. While the event is just a piece of the overall evaluation, seeing the group throw in person adds context to what we saw on film during the junior season. While the group does not appear to be nearly as deep as the 2023 cycle, we do have five passers located within the top 50 of the updated On300.
In addition to adding his fifth star, Julian Sayin now checks in as the top-ranked quarterback for On3. The Alabama commit has the strongest body of work relative to performance both on Friday nights and in neutral settings. Sayin backed up a good junior season and strong film with On3 MVP showings at the Elite 11 Finals and OT7 Finals. We entered the camp circuit looking for a quarterback to stand out with their performance and Sayin rose to the top at this stage. With that said, much of what we see moving forward will play a huge role in determining the final pecking order.
Dylan Raiola (No. 11) had an encouraging showing at the Elite 11 Finals. Flashing easy downfield arm strength. The Georgia pledge got better as the week progressed. Ultimately where Raiola finishes in the rankings will hinge largely on how he looks as a senior. The one-time top prospect did not have a standout junior campaign. He recently transferred to Georgia powerhouse Buford High, marking his fourth high school program. A dominant senior season and improved mobility could put Raiola back in the mix for the top spot.
Florida State commit Luke Kromenhoek (No. 27) showed arguably the highest upside of any quarterback at the Elite 11 Finals. The 6-foot-3.5, 195-pounder has a big arm with the ability to drive throws 30 to 40 yards on a line. He pairs the strong arm with above average athleticism and mobility. Kromenhoek was a first year starter as a junior at Savannah (Ga.) Benedictine and could push for a fifth star with further growth on Friday nights as a senior.
Air Noland (No. 43) remains inside the top 50 after a good showing at the Elite 11 Finals. The Ohio State pledge had a steady showing. Noland is not as physically overwhelming as some of his highly-rated peers but is a dominant high school player and clearly the most productive passer on Friday nights to this point.
Florida commit DJ Lagway checks in at No. 46. The Willis (Texas) High product had an up-and-down week at the Elite 11. He flashed his considerable arm talent, which pairs with good athleticism. With that said, Lagway had some moments of inconsistency with his accuracy relative to some others in the group. We're still high on his upside, but would like to see added consistency as a senior and in the all-star setting.
Dozens of On300 newcomers
This update marks our most extensive overhaul to the 2023 On300 since March, with 45 prospects moving into the ranking.
No. 51 LB Chris Cole
No. 58 QB Miles O'Neill – Texas A&M
No. 60 S Dontae Carter – Vanderbilt
No. 81 TE Luke Reynolds – Penn State
No. 108 WR Elijah Moore – Florida State
No. 111 IOL William Sanders
No. 121 DL Gabriel Reliford – Texas A&M
No. 126 TE Davon Mitchell – Oklahoma (2025 reclassification)
No. 145 S Koi Perich – Minnesota
No. 148 WR Peyton Waters – Washington
No. 153 EDGE Solomon Williams
No. 176 QB Ethan Grunkemeyer – Penn State
No. 177 OT Will Nolan – Iowa
No. 178 CB Kevin Levy
No. 181 QB Hauss Hejny – TCU
No. 187 WR Bryce Cain – Auburn
No. 190 WR Justice Williams – Washington
No. 194 S Luke Williams – Purdue
No. 200 EDGE Devon Baxter – Michigan
No. 201 OT Marcus Harrison – Georgia
No. 203 WR Emanuel Ross – Stanford
No. 209 ATH Courtney Crutchfield – Arkansas
No. 215 IOL Cooper Cousins – Penn State
No. 219 LB Thomas Heiberger – Wisconsin
No. 222 IOL Coen Echols – Texas A&M
No. 247 CB Trajen Greco – Georgia Tech
No. 248 DL Dominic Kirks – Washington
No. 249 LB Jaden Smith – Michigan
No. 255 EDGE Deshawn Warner – Kansas
No. 257 LB Cole Sullivan – Michigan
No. 258 DL Carlon Jones – Nebraska
No. 259 WR Jonathan Paylor
No. 261 S Jakob Gude – UCF
No. 263 LB Elijah Newby – USC
No. 264 S Kingston Lopa – Oregon
No. 269 EDGE Joseph Anderson – Iowa
No. 272 DL D'antre Robinson
No. 273 LB Elijah Groves – Kentucky
No. 274 S Dejuan Lane – Penn State
No. 282 QB Dermaricus Davis – Washington
No. 283 RB Matthew Fuller – South Carolina
No. 287 WR Hardley Gilmore
No. 288 TE Eric Karner – Texas A&M
No. 292 DL Jeremias Heard – Tennessee
No. 298 RB Kewan Lacy – Nebraska