Standouts from week five of high school football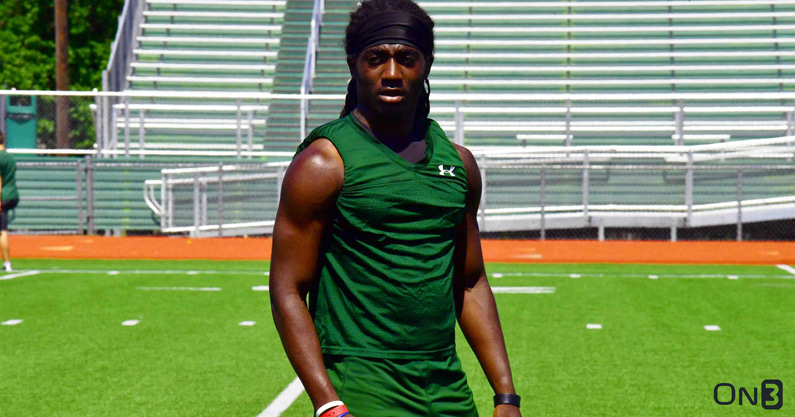 We're midway through the regular season of high school football. The weekend provided the opportunity to take a continued look at many blue-chip prospects in action across the country. Several prospects from the 2023, 2024 and 2025 cycles caught our eye.
Please note that while extensive, this is not a comprehensive list of every top performer in high school football. Also, this list does not include repeat standouts from prior installments an effort to cast a wide net.
Freak of the Week: CB Calvin Simpson-Hunt – Ohio State
A rivalry game in Texas provided a unique best-on-best matchup between two top 100 prospects with Ohio State cornerback commit Calvin Simpson-Hunt manning up on Texas wide receiver pledge Johntay Cook II. We zeroed in on this head-to-head matchup, as it can be difficult to see top cornerbacks truly tested in a single-game sample at the high school level. That was not the case here.
Simpson-Hunt lined up across from Cook for most of the game and pitched a clean sheet against the talented pass-catcher. Cook finished the game with one catch for -4 yards. Simpson-Hunt primarily worked in man-press coverage with no safety help. The 5-foot-11, 187-pounder used his high-end, length, movement skills and technical ability to essentially take Cook out of the game. Cook was targeted at least five times with Simpson-Hunt in coverage, including twice on the goal line. The Longhorn pledge was able to create slight separation on a few vertical routes, but the matchup clearly went the way of Simpson-Hunt. The Ohio State commit was in Cook's hip pocket all night and showed why On3 considers him to be one of – if not the top – press corners in the 2023 cycle. Simpson-Hunt ranks as the No. 40 overall prospect and No. 4 corner in the 2023 On300.
OT Monroe Freeling – Georgia
Monroe Freeling impressed on both sides of the ball in his Mount Pleasant (S.C.) Oceanside Collegiate team's win over previously undefeated Sumter (S.C.) High. The 6-foot-7.5, 285-pounder looked like one of the more physically-gifted offensive line prospects in the 2023 cycle, in what looks to be a strong crop at the position. Freeling lined up at left tackle on offense and showed outstanding flexibility and movement skills. He's loose and natural in his stance and is a bouncy, light-footed athlete. Freeling effortlessly moves to the second level. Though he can continue improving the pass set technique, we did not see the Bulldog pledge tested in pass protection. Freeling also played a significant number of snaps as a defensive lineman and was largely unblockable. He notched a key sack on a 4th down early in the game and later forced an interception with a hit on the quarterback.
Freeling may not be a finished product to the level of some other offensive line prospects in the cycle, but the physical traits along with his signs of progression and unwavering stamina were impressive against a good opponent. He ranks as the No. 27 overall prospect and No. 4 offensive tackle in the 2023 On300.
RB Rueben Owens – Louisville
Rueben Owens looks to be fully up to speed after missing some time with an injury earlier in the season. The 5-foot-11, 200-pounder had a huge game against Navasota (Texas) High on Friday, rushing for 291 yards and five touchdowns on 35 carries. Owens ripped off a number of big runs, showing strong initial burst and a considerable juice at the second level. Owens' pace in the open field is among the best among running backs in the 2023 cyce. We also saw the top 100 prospect see time and make plays as a safety. Owens has long been one of the more productive rushers in the cycle, but his usage within the El Campo Ricebird offense doesn't fully showcase complete skill set, as the Louisville pledge is also a refined pass catcher. Owens ranks as the No. 52 overall prospect and No. 3 running back in the 2023 On300.
IOL Chase Bisontis – Texas A&M
Chase Bisontis and his Ramsey (N.J.) Don Bosco Prep faced off against rival Oradell (N.J.) Bergen Catholic on Saturday afternoon. The 6-foot-4.5, 315-pounder had a very strong game in the 31-7 win over a Bergen team that includes On300 Texas defensive line commit, Sydir Mitchell. Bisontis is a grounded, functional mover. He has a strong base and plays with outstanding leverage, sinking his hips and driving up through defensive linemen. The Aggie commit excelled as a run blocker, opening some big holes. He finished a handful of blocks with authority and also showed off some movement skills in working to the second level. The hand placement, overall technique, play strength and competitive temperament were also impressive. Bisontis works at left tackle for Don Bosco, but is likely to end up inside long-term due to his length and skill set. With that said, he has shown signs of a very high floor and has the look of an early starter at the college level. Bisontis ranks as the No. 78 overall prospect and the No. 6 interior offensive lineman in the 2023 On300
EDGE Colton Vasek – Oklahoma
Colton Vasek continued his hot start to the season with another strong outing in Austin Westlake's rivalry game win over Lake Travis. The 6-foot-5.5, 225-pounder flashed his highly polished pass rushing skill set and a relentless effort level, finishing the game with nine solo tackles and two sacks. Vasek has an advanced array of pass rush moves and quick hands. The Oklahoma pledge fought through double teams, showed a quick spin move and made some dogged plays in pursuit. Vasek has six sacks through four games. He ranks as the No. 142 overall prospect in the 2023 On300.
WR Chris Culliver – North Carolina
Chris Culliver has been a do-it-all player for Maiden (N.C.) High over the past few years. He made some big plays on both sides of the ball on Friday night, hauling in four catches for 102 yards and two touchdowns along with two interceptions as a safety in a win over previously undefeated Lincolnton (N.C.) West Lincoln. Culliver's first touchdown came on a 25-yard catch-and-run off a quick screen. The Tarheel commit flashed his ball skills and smooth movements in extending for a deep ball on the second score. Culliver ranks as the No. 125 overall prospect in the 2023 On300.
TE Andrew Rappleyea – Penn State
While most of the country is well into their seasons, many states in the northeast saw action kick off last week. Thus, it was our first opportunity to see Penn State tight end commit Andrew Rappleyea in action as a senior. The 6-foot-4.5, 215-pounder had a strong showing with five catches for 140 yards in a win over Cambridge (Mass.) Buckingham Browne & Nichols. Rappleyea continued to show his quickness with considerable shake at the top of his routes. We were also able to see the ball skills on display as he came down with a one-handed grab in traffic. Rappleyea also showed some progression and willingness as a blocker, lining up in-line and creating a push. The Penn State pledge ranks as the No. 156 overall prospect in the 2023 On300.
EDGE Eddrick Houston, 2024
Eddrick Houston has been a stalwart on a dominant defensive unit at Georgia powerhouse Buford High this season. The 6-foot-3, 255-pounder hasn't slowed down since flashing in Buford's nationally-televised season opener. On Friday, he tallied three tackles for loss, two sacks and three pressures in a 14-0 win over Marietta (Ga.) High. Houston's considerable play strength and physicality results in a highly disruptive defender at the high school level. It remains to be seen where he'll end up from a size and positional perspective, but there's no question Houston is having a strong start to his junior season. Georgia, Clemson, Alabama and Ohio State are among the teams in the mix for the No. 26 overall 2024 prospect according to his On3 Recruiting Prediction Machine.
QB Antwann Hill, 2025
Antwann Hill turned in a strong outing in a 28-8 win over defending state champ, Warner Robins (Ga.) High. The sophomore signal caller completed 27 of 38 passes for 317 yards and two scores in the cross-town rivalry game. Hill showed impressive downfield arm strength, hitting a deep ball that traveled at least 50 yards in the air. That throw didn't appear to be an aberration, as he continued to drive the ball to the second and third levels of the defense from within the pocket. Hill is off to a fast start, completing over 75 percent of his passes for 1,501 yards and 15 touchdowns to just two interceptions while leading his Warner Robins (Ga.) Houston County team to a 5-0 record.
Georgia, Florida and Tennessee are among the programs in the mix early on for the 2025 Top 100 Watch List member, according to his On3 Recruiting Prediction Machine.
WR Ryan Williams, 2025
Few high school receiver prospects – regardless of cycle – are off to a hotter start to the season than Saraland (Ala.) High 2025 pass-catcher Ryan Williams. The 6-foot, 155-pounder is making huge plays on a weekly basis. He's accounted for 714 yards and 13 touchdowns on just 37 catches in addition to 224 rushing yards and five touchdowns on just 13 attempts. We got a further glimpse of Williams' game-breaking ability against Foley (Ala.) High on Friday night. The sophomore standout hauled in seven catches for 161 yards and three touchdowns, along with a 31-yard gain on a speed sweep. Williams' showed off his 10.72 second speed on the first touchdown, beating 2024 Alabama commit Perry Thompson deep for a long score. He showed situational awareness in sitting down in zone coverage for the second touchdown catch and followed that up with another long score on a deep ball.
Williams has an early rating of 91 as a member of On3's 2025 Top 100 Watch List, which ranks him as one of the top two receivers in the cycle. In-state Alabama holds the early edge, according to Williams' On3 Recruiting Prediction Machine.