On3 Outliers: 2023 recruits On3 ranks higher than the industry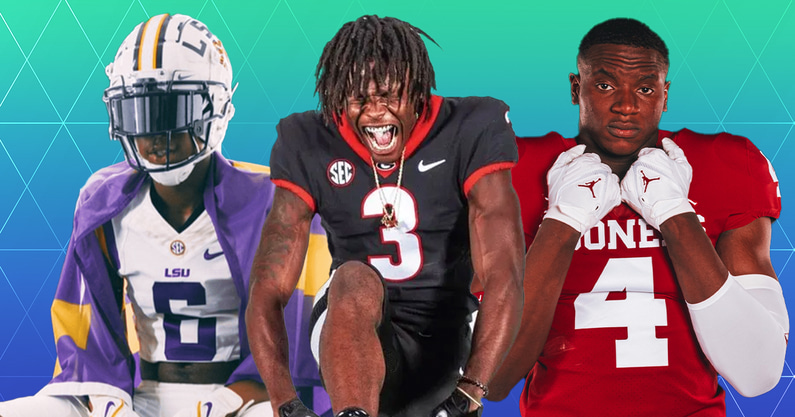 The most recent update of the 2023 On300 features numerous players who moved up in the rankings as a result of their senior season evaluations. Among them are players committed to programs from coast to coast, including Notre Dame, Texas, LSU, Penn State, Ohio State and Georgia, among others.
For a look at where top prospects rank throughout the industry, check out On3's Industry Comparison rankings. Here's more on 10 players On3 is high on:
5-star EDGE Adepoju Adebawore – Oklahoma commit
On300 ranking: No. 7
Next highest ranking: No. 40 (247Sports)
Five-star Sooners EDGE commit Adepoju Adebawore possesses an imposing build at 6-foot-4 and 225-plus pounds with a seven-plus foot wingspan. The blend of frame, athleticism and physicality makes Adebawore a mismatch in most one-on-one matchups. He plays fast with a high motor and an even quicker first step. Adebawore has outstanding closing speed and should be a fantastic match under a creative defensive mind like Brent Venables.
5-star WR Noah Rogers – Ohio State commit
On300 ranking: No. 18
Next highest ranking: No. 48 (247Sports)
Ohio State's Brian Hartline routinely uncovers some of the best receivers in America and has a bona fide star in the making on deck in Rolesville (N.C.) five-star Noah Rogers. The 6-foot-2, 200-pounder is a downfield playmaker that can stretch the field and provide a deep-threat playmaker to the offensive blueprint. He's averaged north of 22 YPC for three-plus varsity seasons.
5-star WR Shelton Sampson Jr. – LSU commit
On300 ranking: No. 23
Next highest ranking: No. 41 (ESPN)
Five-star Baton Baton (La.) Catholic WR Shelton Sampson Jr. is in the midst of a record-setting season as the LSU commit has been an absolutely dominant WR1 for one of Louisiana's best high school teams. A 6-foot-4, 190-pounder with 4.3 speed, Sampson has been impactful making plays out on the perimeter, in the middle of the field, and in the red zone. Additionally, he's come through in key moments of high-pressure games time and time again this fall. With all the measurables on top of the championship pedigree, the five-star LSU commit is making a statement with his play this fall.
4-star WR Eugene Wilson III – Florida commit
On300 ranking: No. 31
Next highest ranking: No. 151 (ESPN)
Four-star Tampa (Fla.) Gaither DB Eugene Wilson III was dynamic on both sides of the ball as a senior this fall. Wilson was extraordinary as a pass-catcher, with outstanding speed to make plays over the top and acceleration to break away from would-be tacklers in the open field. He was even more of a game-breaker in his natural position in the secondary as a ballhawk with excellent ball skills and instincts on the back end. Wilson flashed his dynamic playmaking ability on offense, defense and as a return specialist.
4-star CB Chris Peal – Georgia commit
On300 ranking: No. 77
Next highest ranking: No. 185 (247Sports)
Charlotte (N.C.) Providence Day four-star CB Chris Peal quietly composed an impressive senior season despite offenses attempting to avoid his side of the field. The 6-foot-1, 190-pounder is adept in coverage and against the run and even added some firepower out of the backfield on offense in certain situations this year. Peal, a Georgia commit, has fluid hips and can seamlessly change direction in coverage. He has a strong feel for breaking up passes on the back end and adjusting to the ball. Peal is equally as imposing against the runs and not shy about being physical at cornerback, which bodes for his future in the SEC.
4-star EDGE Yhonzae Pierre – Alabama commit
On300 ranking: No. 34
Next highest ranking: No. 92 (Rivals)
Four-star Eufala (Ala.) EDGE Yhonze Pierre went off as a senior, piling up 85 tackles, 23 TFL and forcing five fumbles with five more pass breakups. The longtime Alabama commit is a force off the edge with a dynamic first step, a vast range of different pass-rush moves at his disposal and arguably the best closing speed in the South. Pierre plays at a different tempo and doesn't miss a beat slowing down the run. He'll be one of the top players to watch as we dip into All-American game season.
4-star WR Nathan Leacock – Tennessee commit
On300 ranking: No. 68
Next highest ranking: No. 142 (247Sports)
Four-star WR Nathan Leacock has been a force on the perimeter for Raleigh (N.C.) Millbrook as a deep threat. Leacock, a Tennessee commit, is a long-strider with a massive catch radius. The future Vol has been equally as dangerous running routes in the middle of the field and in space with his 6-foot-3, 200-pound frame. As a senior, Leacock dominated in 1-on-1 situations with outstanding hands and athleticism and the ability to make catches even when covered, which proved to be difficult to contain in multiple in-game settings. The Tennessee commit ascended more than 80 spots in the updated On300 for 2023.
4-star LB Raylen Wilson – Georgia commit
On300 ranking: No. 28
Next highest ranking: No. 39 (247Sports)
Four-star Georgia LB commit Raylen Wilson was prolific as a senior for Tallahassee (Fla.) Lincoln as a difference-maker on both sides of the ball. Wilson plays downhill his blend of speed and physicality makes him a difference-maker for defensive coordinators as they game plan to slow down opposing rushing attacks. He can cover sideline to sideline and is excellent in coverage underneath. Wilson fits the bill as a Kirby Smart type of linebacker.
4-star TE Andrew Rappleyea – Penn State commit
On300 ranking: No. 80
Next highest ranking: No. 206 (ESPN)
Four-star Millbrook (N.Y.) Milton TE Andrew Rappleyea is another physical outlier On3 is high on as a 6-foot-5, 230-pound pass-catcher with 4.5 speed and enough athleticism and physicality to fit right in for the Big Ten. Rappleyea, a Penn State commit, is a mismatch at the high school level with an outstanding catch radius to be a mismatch in the middle of the field. The future Nittany Lion has been stellar working in the seam, in the red zone and even after the catch for Milton Academy.
4-star IOL Jaydon Chatman — Texas commit
On300 ranking: No. 98
Next highest ranking: No. 182 (Rivals)
Four-star Harker Heights (Texas) IOL Jaydon Chatman has continued to take steps to assert himself as one of the nation's interior linemen. The 6-foot-4, 300-pounder is excessively powerful, but also light on his feet and pass protects with an outstanding base. He has excellent length to play along the interior upfront and possibly even at right tackle. The Texas commit has fantastic feet and has been a catalyst for his high school program as a blocker and tone-setter in the trenches.