On3 standout recruits from week 12 of high school football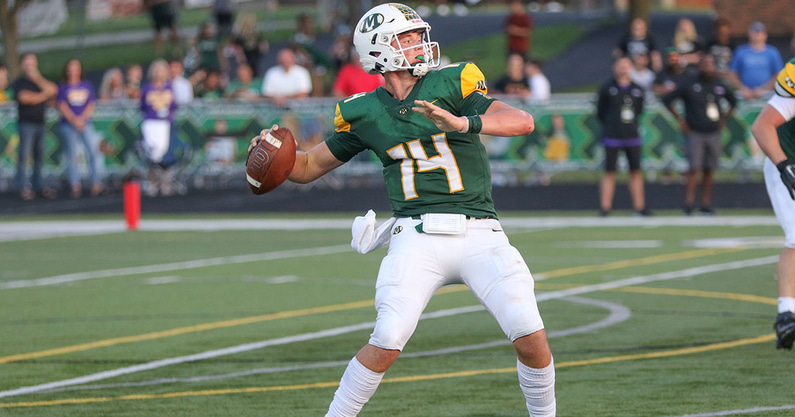 The playoffs are underway in high school football. As a result we're getting some big matchups among top teams and prospects across the board. This week we saw some top quarterbacks over the 2022 and 2023 cycles play well in big games. We also saw a game that featured the top two prospects in the state of Arizona, among others.
Please note that while extensive, this is not a comprehensive list of every top performer in high school football.
Allar continues to roll in playoffs
Penn State quarterback commit Drew Allar led his Medina (Ohio) High team into the third round of the playoffs in Ohio's largest classification. Medina entered the game against Cleveland St. Ignatius with an undefeated 12-0 record and came away with a 27-14 win in front of a big crowd. 
Allar continued to show off his nuanced passing skill on a cold and windy night, completing 30 of 54 passes for 386 yards and three touchdowns. On3's top-ranked quarterback plays with advanced spatial awareness and field vision. He showed the ability to step up in the pocket and strafe to avoid pressure. The first two touchdowns came on quick slants in the first half.
Perhaps the best throw of the day came on Allar's third touchdown pass. Facing 4th and 4, Allar rolled out to his right and dropped in a perfectly placed touch pass to a receiver who had just a bit of separation on double coverage.
Allar's progression as a passer throughout his senior season has been impressive. He's obviously benefited from a ton of live, in-game reps as a passer. Medina runs a wide-open scheme where he is typically in an empty set. This setup has forced Allar to hone some playmaking pathways in addition to his intermediate passing. We regularly see Allar use his top shelf arm talent to fit the ball into tight windows over the middle of the field. It's also worth noting that Allar took up long-snapping duties in this game with Medina's snapper out with injury. 
This week, Medina faces another tough test in the third round with a neutral site game against 12-1 Lakewood (Ohio) St. Edward. Allar has completed 278 of 452 passes for 4,134 yards and 47 touchdowns to four interceptions through 13 games. 
Allar ranks as the No. 47 prospect in the 2022 cycle by the  On3 Consensus,  a complete and equally weighted industry-generated average that utilizes all four major recruiting media companies.
Arizona's top two prospects face off
The top prospects in the state of Arizona for the 2022 and 2023 cycles squared off on Friday night. Five-star defensive lineman Anthony Lucas and Scottsdale Chaparral playing host to top-ranked 2023 tight end Duce Robinson and Phoenix Pinnacle.
Lucas made the most splash plays in this game of the handful we've watched of him this year. The 6-foot-5, 285-pounder put his unique dimensions and athleticism to use in tracking down a sack from the back side, showing some high-level closing speed. He also closed quickly in the backfield for another tackle for loss. The On3 five-star remains a high-ceiling prospect. The physical ability and flashes are certainly there, but he'll need to continue to ramp up his play strength and physicality to increase his disruption on a snap to snap basis. Alabama, Texas A&M, Notre Dame and Miami are in the mix for Lucas, who was in Tuscaloosa on Saturday for the second straight week. 
Robinson and Pinnacle were out-manned from the jump. Still, the 6-foot-6, 230-pounder found some ways to make plays. He had a handful of grabs, with the longest gain coming on a deep ball right before halftime. Robinson showed off his elite catch radius in elevating to come down with the grab over a defensive back. The four-star pass-catcher was also on the receiving end of some big hits after the catch. He's taken in games at Oklahoma and Clemson this fall. 
2023 Sooner commits take on Bosco
Los Alamitos features the touted trio of 2023 Oklahoma commits – quarterback Malachi Nelson and receivers Makai Lemon and DeAndre Moore Jr. along with 2023 athlete Ethan O'Connor. St. John Bosco is loaded with Power Five prospects including  2023 On3 Consensus five-star Matayo Uiagalelei, Michigan State quarterback commit Katin Houser, On3 Consensus top 100 offensive lineman Earnest Greene and On3 Consensus four-star running back Rayshon Luke, among many others.
St. John Bosco proved too deep for the top-heavy Los Alamitos team, rushing for 588 yards and coming away with a 63-36 win. 
Malachi Nelson completed 11 of 24 passes for 196 yards and four touchdowns. The Five-Star Plus quarterback delivered some nice touch passes, connecting with Makai Lemon on a well-placed back shoulder pass for a touchdown and another beautiful throw to Lemon in the corner of the end zone. Another strong throw from Nelson came on a touchdown pass to Ethan O'Connor – the bottom dropped out at the peak of the throw's arc before dropping into O'Connor's hands. Nelson was under pressure from an elite high school defense and certainly had his moments. With that said, the No. 3 prospect in the 2023 On3 Consensus tends to struggle a bit when under duress. We'll see how he progresses on that front moving forward. 
Makai Lemon was Nelson's top target all night, hauling in nine catches for 180 yards and three touchdowns. The top 100 receiver was able to use quickness to separate off the line of scrimmage and showed some innate change of direction and ball-tracking ability. He and Nelson are on the same page. Lemon also drew a few blatant pass interference calls. 
DeAndre Moore Jr. was primarily used in the quick game and on designed runs from his running back spot. The four-star junior scored on a speed sweep in the first quarter. He took a huge hit from Boston College safety commit Sione Hala in the fourth quarter – one that would've been an obvious targeting call in college or pro football.
Rayshon Luke was the star for St. John Bosco. The 5-foot-9, 156-pounder ripped off three long touchdown runs, showing off his 10.55 second 100 meter speed. Luke benefitted from some big holes opened up by the Bosco offensive line, but proved to be too much for the Los Alamitos defense once he got to the second level. The four-star back finished with 235 rushing yards and three touchdowns on just nine carries.
St. John Bosco offensive lineman Earnest Greene played a key role in the Braves' dominant run game. The 6-foot-4, 330-pounder got a steady push all game and flashed with some emphatic pancake finishes. Greene has taken official visits to Georgia, Ohio State and Texas this fall. 
Matayo Uiagalelei primarily played tight end for the Braves. The 6-foot-6, 270-pounder lined up both in-line and split out. He had a few catches in the intermediate area of the field and also contributed as a blocker. We still feel his future is as a defensive lineman. 
Heat Check
Top 100 quarterback Devin Brown had a big game in the state semifinals, completing 21 of 29 passes for 341 yards and six touchdowns in a win over Weber (Utah) High. Brown has thrown for 11 touchdowns and no interceptions in his last two games. The strong-armed signal caller has put some very impressive downfield throws on video this fall. He and Corner Canyon look to avenge their lone loss in the state title game against Lone Peak on Friday. Brown's recruitment remains in flux despite his loose pledge to USC amid the Trojans' coaching search. He's visited UCLA, Ole Miss and most recently Texas this fall.
2023 top 50 wide receiver Noah Rogers continued his huge junior season on Friday with four catches for 169 yards and two touchdowns in a 69-49 playoff win over New Bern (N.C.) High. Rogers got deep on the New Bern defense, showing his big-play ability and top end speed. He's gone for 1,034 yards and 18 touchdowns on 46 receptions this fall. That's one touchdown on every 2.5 catches.
2023 receiver Zachariah Branch put on a show in a state semifinal win over Henderson (Nev.) Liberty. On3's No. 14 junior prospect opened the game with an electric 93-yard punt return. He followed that up with a 53-yard score on a deep route. The 5-foot-9, 166 pounder is easily one of the more explosive playmakers in high school football.
2024 quarterback Dylan Raiola debuted as a four-star last week in On3's Top 100 Watchlist. The sophomore had a big first-round game in a 70-48 win over Mesquite (Texas) Poteet. Raiola hit 15 of 20 passes for 454 yards and seven touchdowns in the victory. The 6-foot-3, 210-pounder showed off some impressive arm strength on downfield throws from within the pocket.