Phil Longo 1-on-1: Lessons learned from Mike Leach and the strange spring without his mentor as Wisconsin's new OC brings the Air Raid to the Big Ten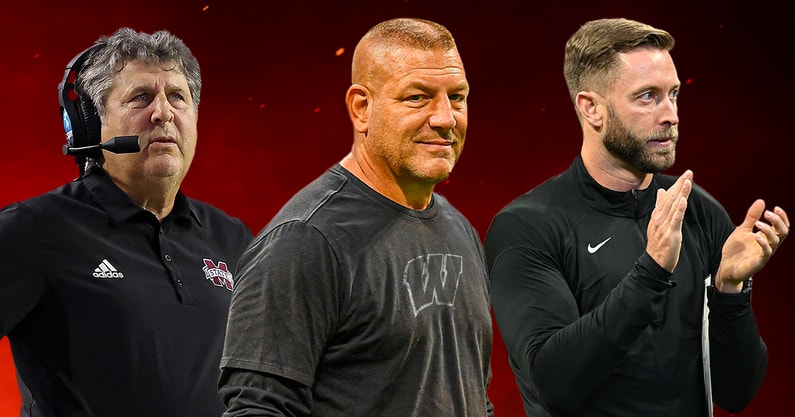 On the heels of the biggest coaching move of his career, Phil Longo's emotions have run the gamut this offseason.
Wisconsin's new offensive coordinator, perhaps the most interesting OC hire of the entire 2023 cycle, felt "bittersweet" to leave Mack Brown, Drake Maye and the quaint charm of Chapel Hill, North Carolina. 
But Longo, 55, has long wanted to work with Luke Fickell, so when the Badgers came calling to be Fickell's handpicked choice to lead Wisconsin's offense into the 21st Century, it was the only opportunity he couldn't turn down. 
"Four years ago when I first got to North Carolina, Mack asked me what I would ever leave North Carolina for, and I felt like there are no lateral moves that I would make," Longo told On3. 
"I felt like it would only be for a good head coaching job. But the only exception was if I had a chance to work with Luke, and so when this Wisconsin opportunity came up … it was a no-brainer."
Longo was hired on Dec. 7. He immediately shared the news with his longtime mentor and close friend Mike Leach. The Mississippi State head coach who'd brought the Air Raid to the SEC was giddy about seeing the offense in the Big Ten the coming fall. 
Leach and Longo had gone way back. They first connected in 1996, and for the last 26 years, they'd gotten together a couple of times each offseason, talking Xs and Os and sharing stories. They'd trade Air Raid secrets and steal ideas from one another. Other Air Raid disciples like Kliff Kingsbury and Graham Harrell would oftentimes participate in the spring powwows. 
Longo always looked forward to his offseason visits with Leach, but a week after his move to Madison, Leach tragically passed away. Months later, despite a spring full of optimism and excitement at a new opportunity at Wisconsin, Phil Longo has felt an emptiness ever since. 
"It's been very, very strange spring for me not having Mike to talk to," Longo said. 
"And then Kliff Kingsbury is the other one I love talking Xs and Os with and he's was out galavanting around in Taiwan and overseas for a while. Neither one of them had been around as much at all, and it's been a very quiet spring for me. It's been so strange."
Just like the idea of Wisconsin running the Air Raid. 
MEETING MIKE LEACH AND THE INTRODUCTION TO THE AIR RAID
Unlike Kingsbury or Harrell, Phil Longo was not born into Leach's Air Raid system. 
He was 33 when he first met Leach, working as the head coach of Parsippany Hills High School in New Jersey. At the time, Longo was not married to any particular offensive scheme and was searching for ideas. He'd heard about Hal Mumme and Leach and watched VCR tapes of Kentucky's offense that instantly intrigued him. 
In the spring of 1996, Longo got in his old Toyota 4Runner and drove 11 hours to hear Leach give a spring talk about his offense. He slept in his car because he had no money for a hotel, and he snuck into the Wildcats' field house to take a shower.  
It was all worth it. 
"It was just kind of crazy, but I just took that trip (on a whim) and I stayed after his talk one night and we were I don't know, up until 3 or 4 a.m. talking football," Longo told On3. 
"He finishes talking like at 10 p.m. and we're up all night. I was just tryin to learn the offense."
Only Leach was more interested in learning about Longo. Initially, he was mostly "vague" in giving away the goods to his offense. That changed over time, as Longo relentlessly pestered him to learn more. Longo was obsessive, and Leach respected the young coach's desire to study and grind film.
"After that first meeting, I left there knowing this is what I wanted to do philosophically on offense. I had been searching for five years. I was just a young coach that thought I knew everything and didn't know anything," Longo said. 
"I was looking for what I really wanted to hang my hat on offensively and I just knew once I talked to him that it made sense to me. I felt like I could coach it, and teach it. I never heard any offense that sounded more appealing to me. And after trying to study offenses and find my niche for five years, that just became the meeting that made me realize where I wanted to go offensively. And so I tortured him for about three years until he went to Oklahoma and he became the offensive coordinator there for Bob Stoops."
Longo's offseason trips then became cross-country affairs. As he slowly climbed up the coaching ranks, setting offensive records as the head coach at La Salle or the OC at Slippery Rock and Sam Houston State, he followed Leach around the country to Oklahoma, Texas Tech, Key West and Washington State.  
"That first year at Oklahoma, Bob and Mike were kind enough to let me come out there and I spent most of spring ball out there. Probably five or six practices. And the more time I spent with him, the more he trusted me and by the time 2001 came around, when he became the head coach at Texas Tech, we had become friends. 
"He started buying me hotel rooms and we started going out and having dinner. By then it became more like visiting a friend. I used to sit in his quarterback meetings. And that's how I met (former Red Raiders QB) Graham Harrell that way. I met Kliff Kingsbury that way. He'd let me just sit in there and watch and listening to his quarterback meetings."
And when Leach would leave the room, Longo would ask Harrell, Kingsbury and other Leach QBs questions about the Air Raid offense, picking up a few nuggets Leach hadn't told him about. 
"Before long, we just started collaborating and it became, 'Hey, what are you doing? How are you doing this?"
HOW LONGO'S OFFENSE DIFFERS FROM LEACH
Phil Longo is a big Bruce Lee fan. He once told The Athletic's Andy Staples that his core offensive philosophy can be distilled down to Lee's most famous proverb: Be water. 
It spawned the Tao of Phil Longo, and while the tenants of his offense have Mike Leach's fingerprints all over them, Wisconsin's new OC doesn't believe you must throw the ball 65 times a game just because. 
If that's what the defense is giving you. Good. Take it. But if the offense is "flowing" best by running the football, then by golly it, don't be too stubborn to take those yards, too. 
It's this belief that makes Longo's move to Wisconsin so intriguing. On the surface, it looks like the Badgers are pivoting 180 degrees from their longtime ground-and-pound identity. 
And they are. Sort of. 
Longo's Air Raid scheme is all about creating favorable matchups for his best playmakers. He did it at Sam Houston State, where quarterback Jeremiah Briscoe set the FCS record with 57 touchdowns and more than 4,600 yards. At Ole Miss, he has a mishmash of personnel, and the Rebels still averaged over 500 yards per game. In the last four seasons at North Carolina, he produced multiple 1,000-yard rushers (including two in the same season in 2020), had Top 25 scoring offenses and always ranked near the top in the nation in explosiveness. 
Over the years, Longo has married Mike Leach's Air Raid with a power-run game, producing one of the scarier offenses in the country.
Wisconsin, previously known for its slow, plodding offense, averaged 4.6 yards per carry as a team in 2022 — a rather respectable figure considering defenses dared the Badgers to beat them over the top. Led by star tailback Braelon Allen, the Badgers faced more nine-man boxes than pretty much any non-Service Academy option offense. 
Naturally, Wisconsin's rushing success rate (38.4%) was terrible, ranking 95th nationally. 
North Carolina? With gunslinging quarterback Drake Maye, no top tailback option and operating Phil Longo's supposed-pass-happy scheme, still had a rushing success rate of 42%, which was 55th nationally. 
With talented running back options like Ty Chandler, Michael Carter and Javonte Williams, the Tar Heels were outright dynamic running the football under Longo, finishing No. 5 nationally in success rate in 2020 and No. 17 in 2021. 
The Badgers will be trading their 12-personnel packages for strict 11-personnel lineups, but make no mistake, they're still going to run the football in 2023. 
No wonder Braelon Allen is so excited. 
"I've always felt like to win a championship you need to be able to be more than one-dimensional. So I always thought it was important to have an effective running game in the offense," Longo explained. 
"That's probably the only thing that I do offensively that went in a different direction than Mike did."
And Leach made sure to tease him about that whenever they talked. Until he needed Phil Longo's help one time. 
One afternoon in 2015, in the middle of Washington's State 9-4 season, Leach gave Longo, who was at Sam Houston State, a call. 
"He said, 'Listen, I'm going to get my offensive staff on the phone. I want you to tell them how y'all run the shovel draw," Phil Longo recalled.
"And I said, 'Mike, I can do that. But not for nothing, I said, but I got the draw from you.'"
Leach paused and then responded, "Well, I haven't run it in eight years and I don't remember how to do the damn thing so you install it." 
"So I end up getting on call with his coaches on a play that I actually got from Coach Leach. It was good. Classic (Mike). He knew I just believed in not being one-dimensional, and obviously, he did not. But it was never a point of contention."
THE GREATEST LESSON LEACH TAUGHT LONGO
One of the beauties of the Air Raid is its simplicity. 
Oh, it can be complicated and confounding for defenses to stop, but Phil Longo doesn't have a Waffle House menu with a zillion plays. If one call is working, he'll run it over and over again until an opponent proves it can stop it. 
The Air Raid is about a tenant of simple, digestible concepts, and Longo's yearly sit-downs with Leach were the perfect reminder of making sure he never strayed too far away from that key lesson. 
It's what attracted him to the scheme some 26 years ago, and it's why in the first spring without Mike Leach around, Longo feels like there's a void in his yearly coaching checkup. 
"What was amazing to me then is still what is amazing to me now, and it was the reason that I would visit him every year. If I did not visit him, I felt like there was a component of my development every year that I was missing because I would go see him to reinforce how important it is and how efficient and effective it can be keeping things simple," Longo said, opening into a long salvo on his biggest lesson from all his time with Mike Leach. 
"I mean, every every office I go into you see the KISS posters: Keep IT Simple, Stupid, and then you watch what coaches do in practice, and they're not doing it. I learned from (Leach) doing that. We got better. I mean it made an immediate impact the next year after adopting his approach, it was an immediate impact with the same team. And it's been that way ever since. 
"We run less. We run it more. And we're really good at it."
Longo continued. 
"I'm huge on this word instinctiveness. I just want to get to a point where our players are doing things instinctively without having to think. I offer this analogy it's like we recruit this 4.38 40-(second dash) wide receiver and then we get him, and he comes to campus and we teach him so many rules, all the stuff that we say is necessary for him to go play football. And then we make a 4.38 40 wide receiver a 4.5 or 4.6 receiver because we're just handicapping him mentally. 
"I want guys to go out there like they do in basketball and just run and play instinctively. Things that they have been doing naturally their whole life because when they can get guys to play fast without thinking like that you get the best out of them. And I think that's a big reason why we've been able to stay so efficient and so explosive over the years.
"That validation or reaffirmation, just that (notion) helps concrete that for me every year going to see Mike, and that's why this has been such a strange spring. Not having Mike around. Not having him to talk to."
As he embarks on his next journey as Wisconsin's OC, asked if planned to carry the torch for future aspirational Air Raid scholars, Longo responded, "I hope not. I'm certainly not in same classification as Mike or Kilff. 
"Even when I talk with high school coaches, I steal more than I give."
And all that knowledge Longo has learned and poached over the last 26 years is what has Wisconsin fans so excited. 
Although the spring game wasn't the ideal showing due to inclement weather, those in and around the program are thrilled about the potential for Wisconsin's offense to make a major leap under Longo's leadership. 
Some have already dubbed Longo's new-look offense the "Dairy Raid."
Like Leach, Longo hopes to lead his own program someday, but for now, he's stoked — even after a strange spring without his close mentor — to help Wisconsin become a Big Ten Championship contender again. 
"I haven't heard that nickname," Longo said, chuckling. 
"That's interesting. I like it. I tell our players all the time, you can be wearing all pink and if you're winning, it's cool. They can call it anything they want. If we win, they'll enjoy it and my only goal here is to help Wisconsin be proud of their program and win a lot of ball games."