Quarterback Dominoes: Nico Iamaleava's commitment causes ripple effect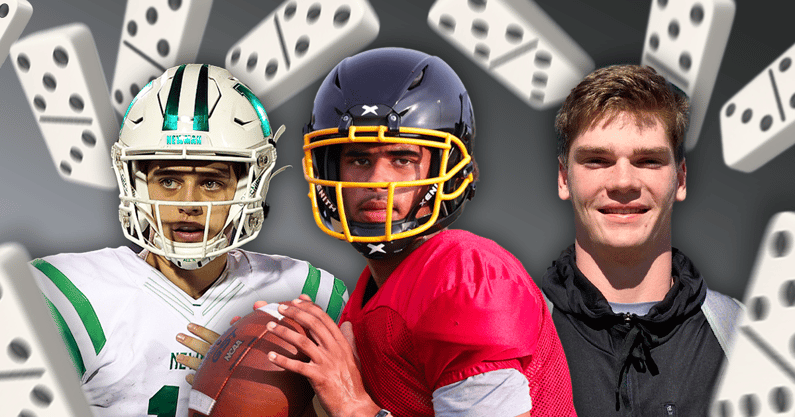 The quarterback dominoes in the Class of 2023 are falling into place.
On Monday, On3 Consensus five-star quarterback Nico Iamaleava committed to Tennessee. It's a decision that causes ripples across the country that will impact many of the top programs in college football.
In recruiting, no position is more interconnected than quarterback. Once one quarterback picks a school, it often creates a domino effect that impacts program after program. And that's going to be especially true now Iamaleava is off the board and heading to the Vols instead Alabama, Oregon and Georgia, according to On3's Director of Recruiting Chad Simmons.
"This is huge for Tennessee and Josh Heupel, obviously," Simmons said. "I think Nico will have a huge impact on this class, not just quarterbacks but all the positions and for this Tennessee recruiting class. But as far as impacting the country at the quarterback spot, it's crazy.
"A lot of these guys and the schools are intertwined together. One affects the other. What does this mean for Alabama and Georgia? What about Oregon, who was thought to be No. 2? Miami as well. I think Nico will have a huge domino effect for so many schools. It's unlike anything that we've seen at quarterback in the past few classes."
Arch Manning still biggest recruiting domino
Even with the decision from Iamaleava, the biggest target at the quarterback position is still on the board. Five-Star Plus+ Arch Manning of New Orleans (La.) Isidore Newman is still very much in play for Alabama and Georgia.
Alabama and Texas are in a good position for Manning, according to the On3 Recruiting Prediction Machine. But Georgia made some headway this past weekend with a solid unofficial visit, Simmons said. Yet, additional upcoming spring visits could dictate where Manning's recruitment eventually heads.
And it'll also likely dictate what happens with other quarterbacks in the class, especially a guy like No. 5 signal-caller Christopher Vizzina of Birmingham (Ala.) Briarwood Christian.
"Obviously Arch is still that guy," Simmons said. "But what about Christopher Vizzina? Does he become a hotter commodity for those guys? Does Bama offer a kid like that? He grew up a huge Bama fan.
"I think Nico's decision set this all into motion and will have a big effect in the coming months with how schools maybe reset the top of their board with maybe who is No. 2 and No. 3 for them coming up in the spring and the summer."
Eli Holstein also impacted by falling QB dominoes
On3 national recruiting analyst Sam Spiegelman said another quarterback that's greatly impacted by Iamaleava's decision is On3 Consensus four-star Eli Holstein out of Zachary (La.) High School.
Holstein made national news three days ago when he backed off his longtime commitment to Texas A&M. Spiegelman believes Alabama, Ohio State, Florida, Miami, LSU and even Oregon are potential landing spots for Holstein.
"Nico's decision now means that somebody like Oregon now has another option to look at with Holstein," Spiegelman said. "Oregon is one of the handful of teams in the mix. Alabama has quite a few options behind Nico. I don't think Nico was their top choice. I think certainly their top choices are still out there in Manning and Holstein.
"I have a feeling they're going to get one quarterback from Louisiana in this cycle. No matter what the last name is, they're going to be from The Boot."
Dante Moore could be next domino to fall
Simmons believes On3 Consensus five-star quarterback Dante Moore out of Detroit Martin Luther King could be next to commit.
"The buzz on Moore is this one could be over sooner than later," Simmons said. "The state champion out of Detroit King has not come out and said that, but one source said he is getting 'worn down' by the recruiting process and could commit by mid-spring. If he committed today, Notre Dame seems to be in the driver's seat."
And even Moore's decision could create another round of falling quarterback dominoes.
"If something were to change with Moore and Notre Dame, Vizzina probably becomes their No. 1 target," Simmons said. "Right now, he's probably No. 2 for Notre Dame. We know he's the clear-cut No. 1 for Clemson. But where is he at for Georgia? Could Bama jump in there if they don't start feeling well about Eli or Arch? Ohio State just offered.
"There's just a lot of moving pieces that really involve the same eight to 10 schools with these top-five to top-10 quarterbacks. It's going to create a wild few weeks with all the dominoes falling all over the place."