Report: Spirits during ACC call with commissioner Jim Phillips 'mostly positive'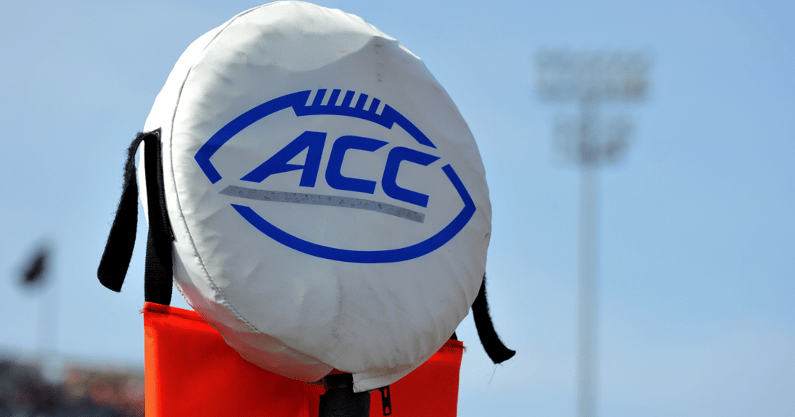 Two conferences seem to be rising to the top in college football — the Big Ten and SEC. With the news of USC and UCLA joining the Big Ten, the other three Power Five Conference have been left scrambling to figure out their plans. For the ACC, there was a call today with athletic directors which was reported as "mostly positive."
According to Matt Fortuna of The Athletic, when the ACC ADs met with commissioner Jim Phillips on Friday, everybody was in good spirits. Phillips says the conference's Grant of Rights will keep the ACC afloat before they went over potential moves.
"The spirit and candor on the ACC's AD call today was mostly positive, with commissioner Jim Phillips reiterating that the league's Grant of Rights holds things together, and with ADs going over potential options, be it to expand, stay pat or talk to the Big 12 and Pac-12," Fortuna said.
Fortuna was also able to confirm that Notre Dame athletic director Jack Swarbrick was on the call as well. He said everything was "business as usual" but did add a caveat of "for now."
Realignment has always been about college football but Notre Dame is still a member of the conference for its other sports. Whether or not they remain with the conference going forward is yet to be seen. Even so, their football program plays a significant amount of ACC teams every year.
Matt Fortuna discusses possible max exodus for ACC
UCLA and USC have shocked the college athletics world by reportedly making their intentions known to the Pac-12 that they'll be moving to the Big Ten in the coming seasons. With conference realignment at an all-time high, Fortuna discussed what that means for the ACC following the shocking news.
"The ACC grant of rights is through 2036 and keeps exiting teams from taking their media revenue to another conference," Fortuna wrote in a tweet thread. "That figure — believed to be north of $100 million — goes down with each year, and at some point that cost may not outweigh the cost of losing out on SEC money."
This now becomes an extra important season for Florida State, Miami, North Carolina, Virginia, and the rest of the pack that has been chasing Clemson for the label of the ACC's premier program. But now, Clemson has an even larger target on their back following their disappointing 2021 campaign.
"It's why this season is crucial for Clemson; a new-money power whose reign atop the ACC ended in 2021 and lost lots of key assistants," Fortuna continued. "If the Tigers fall from national power to 'really good team' — at the smallest ACC public school, no less — are they as attractive of a property?"