Takeaways from the weekend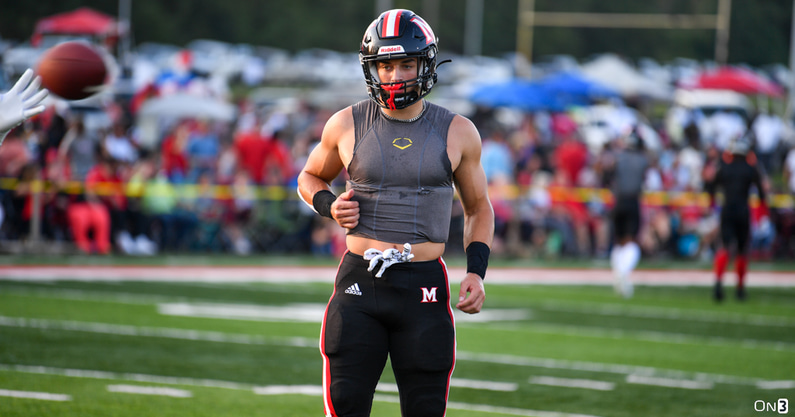 Football season is back. Week 4 got underway in Louisiana.
On3 National Recruiting Analyst Sam Spiegelman was on hand for the primetime showdown in Northwest Louisiana as New Orleans (La.) Isidore Newman and Many (La.) squared off Friday into a jam-packed crowd of 5,000 in Tiger Stadium. Here are some takeaways from the action and around the region:
Arch Manning leads the way
Five-star Plus QB Arch Manning and the Newman offense came away with a signature comeback victory at home in Week 3 against Benton (La.), but lost top pass-catcher TE Will Randle in the process. Randle, a Texas commit, tore his ACL. He's slated to have surgery next week and is expected to be back on his feet rehabbing in a few months.
The Newman offense had its hands full with Many without Randle, especially at the point of attack. Manning was under duress for much of the game while the defense played tight man coverage on the perimeter, which created issues. Nonetheless, the future Longhorn leaned on the quickest delivery in the country to find holes and mismatches as they presented themself and mustered positive drives in the second quarter and in spurts throughout the second half.
Much of Newman's success on offense came on quick strikes from Manning — vertically in the seam or in-breaking routes. With the Many defense inhabiting the line of scrimmage, Manning was able to matriculate within the pocket and deliver downfield, but was also sacked on a few occasions. Manning also called his own number a few times, and at 6-foot-4 and 220 pounds he moves way faster than he should.
Without his leading pass-catcher, the threat of a running game, and receivers struggling to beat press coverage, Manning still shined against an aggressive, physical defense that's well-coached and disciplined and had the offense in position to tie the game in the fourth quarter.
The Newman offense is going to look different without Randle the rest of the way, but Manning's performance on Friday is encouraging. We may see QB1 get even more creative as the games grow even more important. Next week against Pearl River, Manning (880 yards, 13 TD) will have a chance to break his uncle Peyton's school career passing yardage record (7,207). Manning is 110 yards shy of the mark and another 292 yards away from the all-time record set by his uncle Eli (7,389).
Tackett Curtis comes through with statement game
There have been several outstanding prospects to emerge from Northwest Louisiana powerhouse Many over the years, but none have been able to take over games in the same capacity as On300 linebacker Tackett Curtis. Curtis, a swollen USC commit, started as the Tigers' quarterback, punt returner and plays a hybrid ROVER role on defense where he's all-but quarterbacking from a high safety role 10 yards off the ball.
In that role, Curtis is brilliant. He's an old-school linebacker that comes downhill at 100 mph and takes direct paths to the ball and punishes ball-carriers like a MACK truck upon collision. Curtis checks in at 6-foot-2.5 and 220 pounds and can cover ground out to the flat and is a strong open-field tackler. He also made big plays blitzing up the gut and off the edge.
Curtis plays with outstanding instincts on the defensive side of the ball and his big plays toting the rock and in the return game is an encouraging sign as he's asked to drop back in coverage more at USC. That was a statement outing for the On3 Consensus top-100 player.
Tylen Singleton brings versatility on D
Rare does a Class 3A program like Many have a blue-chipper like Curtis, but two? Curtis made the transition from safety to linebacker as a junior and 2024 standout Tylen Singleton is following a similar trajectory. The uber-athletic 6-foot-2, 200-pounder is also excelling in a hybrid role as an in-the-box defender on early downs that shifts out to cover on passing downs.
Singleton plays with a chip on his shoulder and delivered some awe-inspiring knockdowns in the open field in this contest. He covers ground like a safety and takes good angles to the football, and he's a versatile piece to use around the line of scrimmage. The versatility is reminiscent of hybrid linebacker Patrick Queen. Many (La.) has its own version of the Mighty Ducks' Bash Brothers.
The in-state Tigers hold the early advantage on On3's Recruiting Prediction Machine, and Oklahoma, Notre Dame, Oregon, Arkansas and Texas A&M are all in pursuit.
Records shattered around The Boot
As a sophomore, Farmerville (La.) Union Parish RB Trey Holly finished fourth nationally in pushing as the driving force of his Farmers' offense. A month into his senior season, Holly is rewriting the record books.
On Friday, Holly eclipsed former LSU back Nicholas Brossette with 272 yards and a score to become Louisiana's all-time leading rusher. With six weeks left in the regular season and another deep playoff run expected for the LSU commit, Holly is up to 8,707 yards and counting. There's a good chance that Holly finishes his prep career with close to or more than 10,000 career rushing yards.
In South Louisiana, five-star WR Shelton Sampson Jr. became the new Baton Rouge (La.) Catholic receiving yardage leader with 1,750 yards. The LSU commit has been exceptional as a senior this fall with north of 21 receptions and 300 yards and 7 TD this season (6 receiving), and shattering a 30-year-old mark in the process. On3 is higher on Sampson than the rest of the recruiting industry.
Additional notes