New NIL program means Texas tight ends about to get paid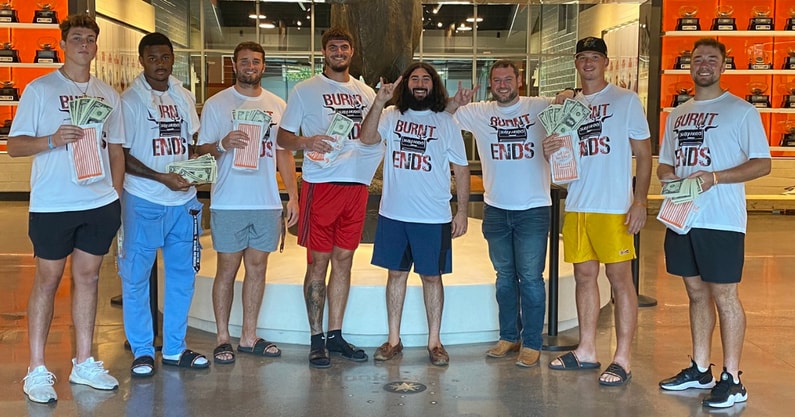 If you play tight end on the Texas football team, you will now earn a four-figure monthly stipend no matter if you're an All-Big 12 performer or a freshman walk-on.
The creative "Burnt Ends" program will enable the Longhorns' tight ends to monetize their Name, Image and Likeness by tapping into the zealous community within the popular Texas message board, Surly Horns, and beyond. Organizers are characterizing this initiative as the nation's first fully crowdsourced NIL program, with all of the profits funneling directly to the Texas tight end room.
The Burnt Ends program could serve as a blueprint for other large fan bases of the biggest college sports brands. Prominent boosters can pool membership fees in similar programs to pay athletes — in any sport — a monthly stipend.
The brains behind the Burnt Ends operation are two swashbuckling characters, Rob Blair and Rick Vasquez, who are as fluent in NIL legislation as they are in four-letter words. The objective for Blair, the director of sales for a shipping company in Houston area, and Vasquez, a serial tech entrepreneur who owns Surly Horns and is an executive at a Fortune 200 company, is to enable all players in a position group to enjoy the fruits of the NIL era, not just the stars.
While standout running back Bijan Robinson is "going to get taken care of," Blair told On3, "the fourth-string tight end who's receiving nothing is who we need to take care of. … It was kind of kismet. It was too easy of an idea."
Surly Horns states on its website that the mission is to sponsor the Texas tight end room and to maintain yearly endowments to attract and keep top tight end talent in the program. 
Here is how the program works: Each tight end will receive the same monthly share. There is a four-figure monthly baseline dollar guarantee for each tight end. Anything crowdsourced above that also will go into the tight ends' pockets. It's an August-to-August annual deal, Blair said, meaning that if a tight end switches positions or transfers, he still will reap financial benefits until the following August. 
The compensation each tight end receives, Vasquez told On3, will fall into the top 5 percent of all NIL deals nationwide.
NIL funding through crowdsourcing
Funds are generated through an auto-renewal subscription with a signup link on the Surly Horns' website and with all membership money going to the athletes. Vasquez said the message board, which is long on passion and short on censorship, is comprised of fans who are "unreasonably passionate" about Texas football and the state of Texas in general.
Signing up for the $10-per-month membership gets a fan access to a special part of their board just for the tight ends, who will take part in "ask me anything" chat sessions. The $25-per-month tier gets you a cup and bumper sticker. And $50 per month gets you a group dinner with all the tight ends, which will be sponsored by Pinkerton's Barbecue, the popular Texas staple that is owned by Texas alum Grant Pinkerton.
Blair said there also are plans for merchandise — polo shirts, beer koozies and the like — with all the profits going to the tight ends.
Tight ends also will participate in Sunday post-game wrap-up sessions and join forces for an annual podcast. There will also be a camp for the tight ends, where Blair said, "they'll teach a bunch of fat guys drinking beer how to use blocking sleds and stuff."
In other words, Vasquez said, there is plenty that the tight ends actually have to do as part of the deal, adding, "It's not just eating a burrito and calling it 'Breakfast with the Bigs' or some bullshit like that."
In just a few hours after the initiative launched Friday, more than 250 fans already had signed up. 
"We didn't see anybody in the market that was able to create anything that can let Joe Blow the fan contribute to something," said Blair, who also co-hosts the Surly Horns podcast with Vasquez. "It's always, 'Hey, here's this gym owner or here's $5,000 from a barbecue joint sponsoring the offensive line.' There really hasn't been a single crowdsourcing endeavor at all in NIL. So we've made it, and it makes so much sense."
With the Surly Horns' community, Blair added, they already had built-in consumers with "people who spend half their day bitching about NIL on the board."
Is, say, the wide receiver room next?
The more they thought about a concept, Vasquez said, the less it made sense to just pay the top prospect or player. He referenced the attention-grabbing $1.4 million autograph-signing deal that quarterback phenom Quinn Ewers secured now that he has skipped his final season at state power Southlake Carroll and instead jumped into the lucrative NIL world at Ohio State. 
The thinking became "how can you have the top five tight ends of every class fighting to go to the same school?" Vasquez said. "And it started to become very, very clear to us that the way that you can influence that is by saying, 'Hey, you don't need to play in year one to get an NIL deal; you don't even need to play in year two.' "
Blair and Vasquez like to say that this entire concept was hatched during a four-margarita night last month when they had an epiphany and Blair "made the worst PowerPoint anybody's ever seen." But the process actually was a lot more buttoned-up and sophisticated, with the duo consulting with some 15 individuals, including an attorney.
"We may come off like we are a bunch of irreverent (expletive) on the Internet," Vasquez said. "But actually we have a pretty talented team of people running things behind the scenes."
Their hope is that the NIL deal with the tight ends is just the beginning. 
"Those are our guys. We're their Internet fathers," Blair said of the tight ends. "Besides getting these kids paid, we want somebody else to come by and be richer than us and do it for the wide receiver room."
The lesson for others who want to create a similar program?
"If we can get through compliance, anyone can," Blair said.