This Week In Coaching: Which head coach is next to be fired? The latest at Nebraska & more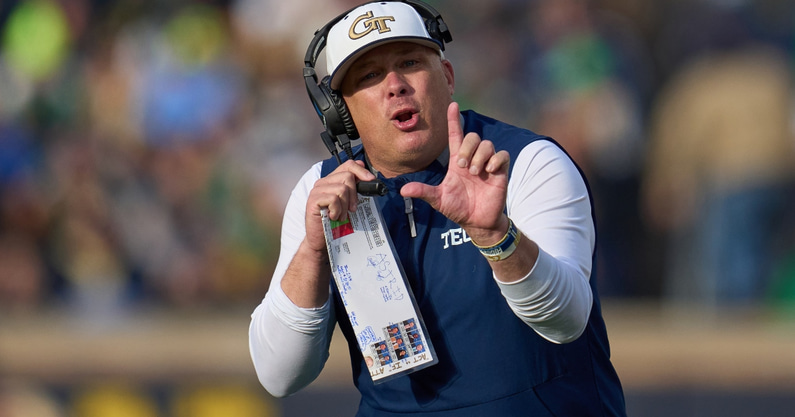 For the second-straight September, the coaching carousel started spinning early, as ADs across the country have their fingers hovering on the fast-forward button these days. 
Coaches are getting fired earlier and earlier every fall, with Nebraska and Arizona State the first to make a move in 2022 in an effort to get out ahead of their searches.
Should these coaches have been shown the exit after last season? Probably.
While it doesn't make sense for every program with a hot-seat coach to make a swift move, there is a domino effect within the landscape. One firing could beget another, especially if schools are targeting the same candidates. 
In This Week in Coaching, let's take a look at some other coaches in danger of seeing their name slapped on ESPN's BREAKING NEWS ticker here soon. 
Georgia Tech's Geoff Collins is just 10-27 with the Yellow Jackets, failing to win back-to-back games even once. The apathy in Atlanta is at an all-time low, and the Bees' recruiting has completely tanked with Collins' future in doubt. 
Collins' buyout — over $11 million until Dec. 31 — saved him last year, with Tech's administration forcing him to overhaul his coaching staff. But the eight new assistants haven't changed the dynamics around the program, as the Bees are still getting blasted against any team with a pulse. Georgia Tech has lost eight straight games to FBS teams — the past four by a combined 183-10. They play at UCF this weekend. 
Last weekend, Ole Miss head coach Lane Kiffin lamented how he wanted to get his backup quarterback more quality work but the Rebels were beating the Yellow Jackets so badly he didn't want to rub it in on Collins. 
"I would have liked the opportunity to throw more with Luke, but having empathy for what was going on in that game on the other sideline and the hot seat or whatever he's on, just didn't really feel like it was right," Kiffin said. 
It's inevitable that there will be an opening at Georgia Tech, we're simply waiting for the press release at this point. Collins could be canned midseason (the Bees have a bye week after Duke) or shown the exit at the end of the year.
At Auburn, Bryan Harsin's situation is perhaps even sadder, as the former Boise State head coach had success just a year ago on The Plains before a never-ending backslide that has no end in sight.  
The Tigers were 6-2 and a Top 12 team on Nov. 1 last season. But after getting embarrassed at home by Penn State last week, Harsin's squad has dropped six straight games to Power 5 teams. 
Harsin thwarted boosters looking to out him in February, but he looks unlikely to survive Auburn's gauntlet schedule. Harsin will be well-compensated ($18 million buyout) for taking however many Ls the administration (albeit one without an AD right now) sees fit.
Lose at home to Missouri on Saturday and that could do it. Win, and a move could come anytime after LSU, Georgia, Ole Miss, etc. 
Finally, Colorado head coach Karl Dorrell received a semi-vote of confidence from his AD Rick George earlier this week after the Buffs were blown out by Minnesota. 
Colorado is 0-3 this season and ranks last among all Power 5 schools in scoring offense and scoring defense.
"Like all of you, I have been disappointed to watch our football team struggle this fall, most recently yesterday at Minnesota. I know that our coaches and our student athletes are capable of so much more and that all of you deserve better results," George wrote. 
"I want you to know that I hear you. I recognize and understand your disappointment and frustration and perhaps, even anger," George continued. "We have not come close to meeting our expectations this season and we own that. I know that Coach Dorrell, our coaching staff and support staff, and our student-athlete are working hard to get us on track, and with conference play starting this Saturday, we hope we all will enjoy a home victory over UCLA."
Reading between the lines here: Dorrell is safe for now, as George and the rest of the administration truly have a good working relationship with the struggling head coach. But the added layer here too is that CU simply might not have the money to pay Dorrell a reported $11 million in buyout money that won't drop until Dec. 31. 
A couple other situations worth monitoring include Ken Niumatalolo at Navy, Seth Littrell at North Texas and Scott Satterfield at Louisville. 
THE LATEST AT NEBRASKA 
Less than two weeks into their coaching search, Cornhuskers AD Trev Alberts is eyeing three main candidates early in the process. 
According to The Athletic's college football insider Bruce Feldman, Nebraska is "high on" Kansas head coach Lance Leipold, Iowa State's Matt Campbell and Alabama offensive coordinator Bill O'Brien. 
It's no surprise to see Leipold or Campbell atop Alberts' wish list, as both are seen as strong program builders and culture changers. 
O'Brien's name may appear a bit more out of left field, but he has a relationship with Alberts and did coach in the Big Ten at Penn State from 2012-13 before going to the Houston Texans for six seasons. O'Brien is looking for his next head coaching gig, so don't be shocked when his name surfaces for a number of openings this fall. 
Meanwhile, Nebraska continues to shake up its coaching staff even after Scott Frost was ousted. Interim head coach Mickey Joseph shuffled the deck last week before playing Oklahoma, but after the Cornhuskers' 49-14 loss where the defense was torched again, Jospeh fired DC Erik Chinander over the weekend. 
Chinander had NU's defense ranked 41st in yards per play in 2021, but rank No. 116th so far in 2022. 
DID YOU KNOW?
That former BYU and Virginia head coach Bronco Mendenhall has a podcast called 'HeadCoachU' and is eying a return to the sidelines after sitting out the 2022 season?
Mendenhall made a rather stunning move last offseason when he resigned as UVA's head coach. Despite a couple lowly seasons with the Cavaliers (5-5 in 2020, 6-6 in 2021), Mendenhall was in no danger of losing his job. 
Yet he stepped away, to "reconnect with life." But now he wants back in. 
Mendenhall is viewed as a "wild-card" candidate at Nebraska, and while that fit seems strange, the veteran coach could be an option for several other schools depending on how some moves shake out. 
QUOTABLE 
"The resume is on the tape. So, right now, I'm a horseshit football coach. That's honestly how I think about it. So, we've got to get better."
— Michigan State head coach Mel Tucker 
Despite fielding the worst pass defense in the country in 2021, Spartans went a surprising 11-2 in Mel Tucker's second year in East Lancing. 
Michigan State allowed 324 passing yards per game and 27 touchdowns — the most in the Big Ten. 
After the season, Tucker shuffled his coaching staff, firing cornerbacks coach Travares Tillman and making Harlon Barnett the new secondary coach. The former Georgia defensive coordinator also said he would personally coach the Spartans' corners. 
But in their first test of the 2022 season, MSU's new-look secondary — with different coaches and multiple transfers — looked a lot like last year's unit, as Washington torched State's pass defense for 397 passing yards and four touchdowns in last week's 39-28 loss. 
Tucker said he "takes it all personal" when his unit specifically underperforms. 
The Spartans will be tested once again Saturday, as it hosts a Minnesota offense capable of making plays on the ground and through the air. Kirk Cirarrocca's offense currently ranks No. 2 nationally in yards per game (554.7).