To vote or not to vote? The SEC is still split on future schedule models at spring meetings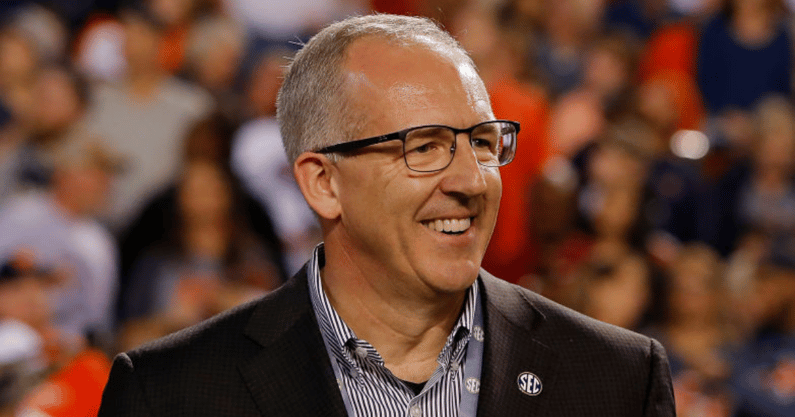 DESTIN, Fla. — The SEC is going to look a whole lot different in 2025 — from the makeup of the league with Oklahoma and Texas joining the conference — to a schedule that is unlikely to include divisions. 
The question is what will the schedule model look like and when will the format be announced?
The SEC has debated more than 30 models this offseason and has whittled down the options to two proposals, commissioner Greg Sankey confirmed at the league's spring meetings this week. 
The conference is focused on a "single-division model," per Sankey, with one option, an eight-game schedule where schools would have just a single permeant opponent and seven rotating opponents. The other potential proposal is a nine-game format where every school would have three permanent opponents and six rotating league games — thus preserving more rivalries and creating more regular matchups.  
Since Arkansas and South Carolina joined the league in 1992, the SEC has had two divisions with an eight-game slate.
Texas A&M head coach Jimbo Fisher said Wednesday there was "no consensus" on one proposal or the other — a notable reversal from the feeling of folks on the ground in Destin who believed a nine-game slate had slowly started to gain some momentum. However, schools like Kentucky, which also plays Louisville every year, have continued to push an 8-game slate. Arkansas is another known program in favor of eight over nine. It's unclear where South Carolina, who has an annual matchup against Clemson, stands as Shane Beamer acknowledged he saw benefits of both proposals.
Sankey indicated there's more "work to do" and a few "issues to resolve. On Tuesday, Sankey said, "I expect something sooner rather than later," but he confirmed Fisher's feeling by tapping the breaks Wednesday and saying time is on the SEC's side here. 
"We get to set our own timetable here," Sankey said, as the SEC doesn't need a finalized format Friday or even in 2023. 
To date, Alabama's Nick Saban and Florida athletic director Scott Stricklin have been the most vocal proponents of a nine-game slate, while a few SEC coaches had little opinion on either proposal, including Auburn's Bryan Harsin — this despite the Tigers playing one of the hardest schedules annually. 
"I don't have a preference right now," Harsin said. 
Meanwhile, officials from Oklahoma and Texas are not present in Destin but have been looped into the scheduling conversations and have had their input heard. 
What is the SEC schedule at 8 vs. 9-game debate all about?
It's pretty obvious that a nine-game schedule is best path for the league writ large.
It would provide the SEC with more good games, protect more secondary rivalries, give the conference added TV and gate revenue plus provide an opportunity for coaches and players to face every team in the conference every other season.
In the eight-game model, Auburn and Georgia would no longer play each other annually. Although Fisher expressed a desire for Texas to be the Aggies' permanent rival, that wouldn't happen either, as Oklahoma would hold that spot. 
"I've always been for playing more conference games. I've always been for improving the college schedule, trying to eliminate some of these games that you play that fans, players, supporters are not really interested in," said Saban, who has been arguing for a nine-game conference schedule for a decade now. 
"I think the nine-game format is a start in that direction, but what is the best model? I think that's the issue. What is the best model? That's No. 1. And No. 2 is, are other conferences doing the same thing? Are they going to play more conference games? Are they going to have the same kind of competitive balance?"
The answer to No. 2 to is an easy YES, as both the Big-12 and Big Ten already play nine conference games. The ACC could potentially follow suit, too. 
Balance is another issue, though. 
Among the debates regarding the eight vs. nine-game slate is sacrificing potential bowl eligibility for some schools.  
There's also the College Football Playoff uncertainty after 2026, which could be a pro or con for the 9-game slate. If there's no expansion, some in the SEC view the 8-game slate a safer short-term option. Also, which schools start off in 2025 with only four home games and five SEC road games — something that would continue every other season — is another debated issue.
Then there's the horse-trading over who gets which permanent opponents. It's a complicated puzzle, and one that's guaranteed to leave multiple programs frustrated at however the outcome falls.
"I'm into what's best for our conference," said Georgia's Kirby Smart, who had previously expressed favor for a nine-game schedule but took a more middle-of-the-road approach in Destin. 
"What's best for our conference long term? What gives us the best opportunity to compete for national championships and not try to look at it through the straw of only what's best for Georgia, because sometimes those two are hard to coexist. You try to keep 14 or 16 teams happy, and there's not a lot for that. Somebody's going to have something they dislike about this model. It's about the student-athletes and their experience more so than it is about scheduling."
Importantly, the league's coaches do not hold the final decision on whatever model the SEC ultimately adopts. Sankey did not ask the coaches to vote on either proposal this week and it's unclear if there will be a vote Friday among the league's ADs and presidents.
Multiple times Wednesday the SEC's commissioner answered questions with, "We'll see" and "Wait until Friday."
So that's where we're at. 8 vs. 9? Will it get decided this week?
We'll see.