Top 10 recruiting classes in 2023 On3 Consensus Team Rankings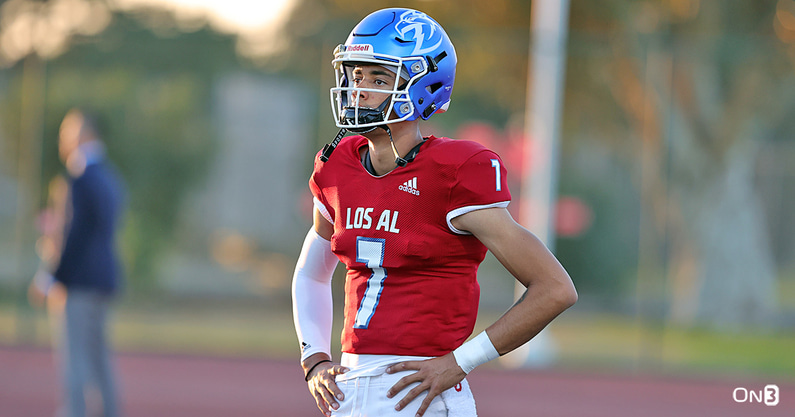 Even when the 2022 recruiting rankings and classes look to be finalized, there is more work to be done. A pair of five-star prospects — offensive tackle Josh Conerly and newly reclassified defensive lineman Lebbeus Overton — remain on the board. But otherwise, the book is shut on 2022 and another is opened for the Class of 2023.
The rising 2023 class is one full of intrigue, especially at the quarterback position, where four signal-callers are currently ranked among the top 20 prospects nationally. Only one is committed, though. And just three of the top 32 prospects are currently pledged. A lot can and will change between now and next February when this cycle is finalized. But a handful of teams have jumped out to an early headstart.
No. 1 USC
Commits: 3
Average Rating: 96.13
Avg. NIL Valuation: $47K
Blue Chips: 100%
After moving over from Oklahoma, USC head coach Lincoln Riley was able to salvage a decent high school class in 2022. The Trojans went heavy into the transfer portal and landed, among others, former Sooners quarterback Caleb Williams. The 2023 class is where Riley and Co. have made some major hay, though. Five-Star Plus+ quarterback Malachi Nelson and four-star receiver Makai Lemon switched their commitments from Oklahoma to USC when Riley left, and he's also added five-star receiver Zachariah Branch.
With a strong in-state class in California, this cycle — including 21 prospects ranked in the top 350 nationally — look for the Trojans to be a fixture at or near the top of this list by the time next February rolls around.
No. 2 Notre Dame
Commits: 8
Average Rating: 92.15
Avg. NIL Valuation: $18K
Blue Chips: 100%
Notre Dame was largely able to keep its staff intact after Brian Kelly left for LSU, and that has served as a big springboard into the 2023 cycle. The Fighting Irish already have eight commits in the fold, with seven on the defensive side of the ball.
That includes elite EDGE Keon Keeley, one of the top prospects in the entire class. Even more impressive is where they've landed commits from. Marcus Freeman and his staff have already dipped into talent-rich Florida, Texas, California and Ohio and look poised to continue that trend.
No. 3 Georgia
Commits: 9
Average Rating: 91.03
Avg. NIL Valuation: $24K
Blue Chips: 67%
It's barely February, and the Georgia Bulldogs already have more than a third of their allotted 25 scholarships accounted for. Granted, with the NCAA's new rules, they could take as many as 32 high school prospects in the 2022 class after taking 29 in the 2022 cycle.
Georgia's biggest target, Five-Star Plus+ QB Arch Manning, still remains uncommitted. But Kirby Smart and Co. have already fortified their offensive line and skill positions.
The Bulldogs have a pair of tight ends committed with Pearce Spurlin and Lawson Luckie, have locked in four-star tackle Bo Hughley, and grabbed top-60 cornerback Marcus Washington all the way back in May. Georgia continues to be a force throughout the Southeast, with all of their current pledges coming from either Florida, Georgia, or Alabama.
No. 4 Michigan
Commits: 4
Average Rating: 91.23
Avg. NIL Valuation: $23K
Blue Chips: 50%
Michigan was dealt a curveball this week when head coach Jim Harbaugh interviewed for the Minnesota Vikings job. But now that he's back, all the attention will be on the 2023 recruiting cycle. And after finishing hot on the trail to end this past cycle, the Wolverines are off to a strong start with four early commitments.
That includes top-100 linebacker Raylen Wilson, who they pulled out of Florida, and New York tight end Andrew Rappleyea.
No. 5 Arkansas
Commits: 8
Average Rating: 89.20
Avg. NIL Valuation: $17K
Blue Chips: 50%
Arkansas went heavy on in-state prospects in the 2022 class. But with a significantly weaker 2023 class, the Razorbacks have made an early effort to secure out-of-state kids.
After holding on to coordinators Kendal Briles and Barry Odom, Arkansas has a strong start to the next cycle already in place. Top-100 tight ends Luke Hasz — a former Oklahoma commit — and Shamar Easter are at the head of the class. But Sam Pittman also snagged four-star corner Dallas Young out of Alabama and another four-star tight end, Jaden Hamm, out of Kansas.
The Razorbacks have to fight some brutal recruiting battles in the SEC West with the likes of Alabama, LSU and Ole Miss. But Pittman and Co. have made a statement so far.
No. 6 Ohio State
Commits: 4
Average Rating: 90.87
Avg. NIL Valuation: $15K
Blue Chips: 75%
The Buckeyes finished No. 4 in the 2022 On3 Consensus Team Recruiting Rankings — behind three current SEC teams and just ahead of a future one.
Outside of the Southeast, the Buckeyes are the biggest recruiting game in town and that doesn't appear to be changing. They've already locked in four-star IOL Josh Padilla, as well as four-stars in Tennessee tight end Ty Lockwood and Florida safety Cedrick Hawkins. Legacy prospect Will Smith Jr. could be a sneaky good addition as well.
But Ohio State typically does most of its damage later in the recruiting cycle, and they're front and center for some of the country's top prospects. That includes the nation's No. 2 running back, Richard Young, elite wide receiver Carnell Tate, and top-60 offensive lineman Luke Montgomery, to name a few.
No. 7 Texas A&M
Commits: 4
Average Rating: 90.68
Avg. NIL Valuation: $21K
Blue Chips: 75%
The 2022 cycle is going to be tough, and probably statistically impossible, for Texas A&M to top. The Aggies cemented the No. 1 class in the internet recruiting era by landing a pair of five-star prospects on Signing Day. But the kicker is that their 2022 class could end up stealing from 2023, where Five-Star Plus+ defensive lineman Lebbeus Overton announced he is reclassifying up a year. The Aggies are the major favorites to land him.
But with 2022 (almost) completely in the rearview, Texas A&M now turns to 2023, where it already has a quartet of commits. Top-100 quarterback Eli Holstein is the ringleader, with a pair of defensive line commits and one on the offensive line. Like Ohio State, expect the Aggies to turn things up as we get later in the cycle.
No. 8 Kentucky
Commits: 3
Average Rating: 91.17
Avg. NIL Valuation: $15K
Blue Chips: 33%
Mark Stoops and Kentucky are coming off of their best recruiting class in recent memory — and maybe ever. Now, the Wildcats are looking to use that and the momentum of a 10-win season to build another record-breaking class in 2023. The Wildcats are off to a good start, adding four-star receiver Shamar Porter out of Nashville, the same area they nabbed Barion Brown from in the 2022 cycle.
No. 9 Penn State
Commits: 7
Average Rating: 89.48
Avg. NIL Valuation: $16K
Blue Chips: 43%
Penn State sewed up the overwhelming majority of its 2022 class way before the Early Signing Period. For a while, the Nittany Lions had the No. 1 class in the country. Ultimately, they finished seventh in the On3 Consensus Team Recruiting Rankings, 12 spots better than 2020.
James Franklin and Co. already have a big jumpstart in 2023, with seven commits already on board by early February. Top-30 offensive lineman Alex Birchmeier is the cornerstone of the class and a huge get for the Nittany Lions this early. Joining him are four-star tight end Neeo Avery, four-star athlete Mathias Barnwell and four other commits ranked in the top 500 nationally.
No. 10 Michigan State
Commits: 4
Average Rating: 89.71
Avg. NIL Valuation: $12K
Blue Chips: 75%
Michigan State coach Mel Tucker has been a master in the transfer portal, including in 2022. But after overhauling the Spartans' roster, he and his staff have put a bigger emphasis on high school prospects. Michigan State finished No. 24 nationally in 2022, with six signees among the top 350 prospects in the country.
And they're off to a hot start in 2023, with a trio of four stars — Andrew DePaepe, Kedrick Reescano and Brennan Parachek already on board. The prize of the 2023 class they're making a major push for is elite Detroit King quarterback Dante Moore, who will be one of the most sought-after prospects in the country.