WATCH: Peyton Manning destroying kicker Mike Vanderjagt in 2003 goes viral after Manning Cast roast of Brett Maher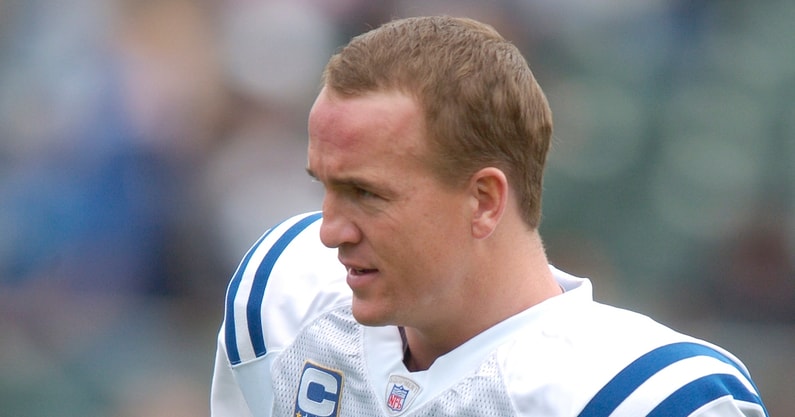 The Manning Cast was up and running for the Tampa Bay Buccaneers and Dallas Cowboys playoff game. In that game, Cowboys kicker Brett Maher remarkably missed four extra points, causing Peyton Manning to lose his mind on the broadcast.
However, this wasn't the first time that Manning has lost his cool at a kicker. In light of his reactions to Maher's troubles, a video from 2003 went viral. In that video, Manning is speaking to a reporter at the Pro Bowl. He's asked about comments that then Indianapolis Colts kicker Mike Vanderjagt made about him. Manning responded mocking Vanderjagt, clearly disdainful of him.
You can watch the video, here:
"I'm out at my third Pro Bowl, I'm about to go in and throw a touchdown to Jerry Rice, we're honoring the Hall of Fame, and we're talking about our idiot kicker who got liquored up and ran his mouth off," Peyton Manning ranted.
"When I get home, I'll deal with it. If he is still a teammate, we'll deal with it. That remains to be seen."
That rant occurred in 2003 and Vanderjagt stayed with Indianapolis through the 2005 season. So, he and Manning had to at least get along professionally for another couple of seasons. Though, he was eventually replaced by Adam Vinatieri, who Manning praised during that rant.
Mike Vanderjagt's original comments
The Colts were frustrated after the 2003 season. Despite going 12-4 and making the AFC Championship Game, the Colts looked lost against eventual Super Bowl Champions, New England. They were looking for a way to get better and Vanderjagt didn't think they were successful at that.
"I'm not a real big Colts fan right now, unfortunately. I just don't see us getting better," Vanderjagt said.
"All week before the Jets game I'm like, '(No.) 18, we're going to handle it, me and you we're going to win this game.' And he's like, 'Yeah, yeah, OK.' And I'm like, 'Peyton, show some enthusiasm, you're the quarterback and we need to win this game.' I just don't see it from him. We need somebody who is going to get in people's faces and yell and scream. I've gone over there to the offense and said, 'Come on.' They're just like, 'Mike, go sit down. You're the kicker.'"
Along with criticizing Peyton Manning, Vanderjagt also went after head coach Tony Dungy for not being a good motivator.
Peyton Manning reacting to Brett Maher
During the Manning Cast, Peyton Manning's best reaction was probably to Brett Maher's third missed extra point in the first half.
Manning exploded, standing up and walking off-camera. He couldn't believe Dallas was still kicking extra points at this point, eventually asking, "Can you cut a guy halftime of a playoff game?"
You can watch Manning's reaction, here.