What to make of a messy last few weeks in recruiting for Billy Napier and the Florida Gators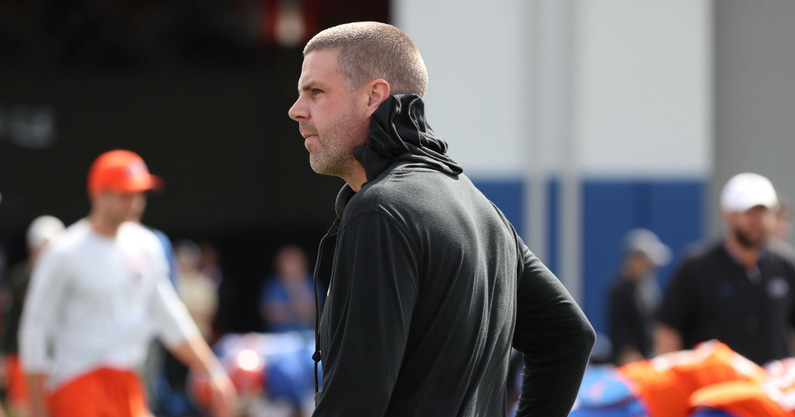 Billy Napier is 0-0 at Florida, yet the first-year SEC head coach is already feeling the heat.
Gainesville's bubbling temperatures and steaming humidity have seeped into UF's football facilities, as a tough two weeks in recruiting has led to a mini-fan revolt on social media and message boards. 
Here's just a small sampling of some of the greatest hits:
If you're not a die-hard and missed the mess that's happened with Florida's 2023 recruiting class as June winds down, here's a cliff notes rundown of events involving lots of UF's marquee targets:
"Napier has probably lost the fan base before a game is played."
That was posted before Florida lost the Rashada sweepstakes, which leaves the Gators scrambling for a 2023 quarterback in a class that's running out of chairs and the music looks ready to stop soon. 
I repeat: It's not even July 1 yet, and many UF fans are panicking. While the die-hard, knee-jerkers don't represent Florida's overall fan base, the recruitniks are a loud and angry group right now that's making plenty of noise. 
Their frustrations were cranked up to a foghorn level by Sunday night, as the fallout from Rashada's decision took multiple strange twists and turns in the new-age NIL world of recruiting. 
In a story to On3's Jeremy Crabtree, California attorney Michael Caspino, who represents Rashada, made multiple controversial comments including torching Florida's noteworthy NIL Gator Collective.
"Florida is the most dysfunctional collective in all of college football," Caspino said regarding the alleged NIL deals presented to Rashada. 
 "I plan on steering my clients away from them. From my standpoint, I never ever want to deal with them again. If it weren't for the collective that's completely dysfunctional at Florida, he probably would have been there."
The Gator Collective punched back, denying they ever had any dealings with Caspino and didn't offer Rashada a dime.
It's all a mess. And regardless of who's at fault, Napier is the one left holding the broom to clean it all up.
Good luck, Billy.
Recruiting is so much about optics and narrative, and right now, UF is holding a losing hand. Regardless of what exactly is happening behind the scenes within the various Florida-associated collectives, publicly, there's now the notion that the Gators simply aren't as organized or attractive as Miami or Florida State — much less Georgia, Alabama or others. 
That's a problem. 
Billy Napier was hired by Florida precisely because he could do what his predecessor could not: Recruit at an elite level. Dan Mullen won at least 10 games in his first two seasons at UF, but Year 3 fell off a cliff because Mullen failed to restock the roster with the requisite talent compared to Florida's SEC rivals. 
In stepped Napier, who demanded and was handed "an army" of support staffers and recruiting analysts — rivaling similar staffs at UGA, Alabama and Texas A&M. The charismatic and confident 42-year-old former Louisiana-Lafayette head coach came to Gainesville preaching patience and vision, and then underpromised but overdelivered during his first Early Signing Period — namely beating out the Bulldogs for 5-star IMG Academy safety Kamari Wilson. 
He teased the possibility that Florida could become a recruiting power again, especially in a Sunshine State full of flux with a fellow new regime in a Miami and a coach in Tallahassee entering a put-up-or-shut-up season. 
"This is a talent acquisition business," Billy Napier said when he was hired. 
Flash forward six months, and the Gators don't have a single Top 150 prospect among their eight commits.
Napier & Co., strongly believe in their board and their ability to evaluate and develop talent — but the guy who was at Clemson and Alabama before turning ULL into Group of 5 power knows as well as anyone "talent" is not created equally. It's why the last two weeks — chalked with blue-chip prospects Florida had developed strong relationships with heading elsewhere — stings like a bad sunburn. There's still time for the Gators to build a foundational 2023 recruiting class, but the path looks imminently more difficult than it did just a month ago. And a lost cycle just puts you that much farther behind your rivals.
In completely coincidental (but unfortunate!) timing for a marketing campaign for the athletic department, Napier wrote an open letter to Florida fans late last week amid all the recruiting chaos.
"Our fans' passion is evident and unmatched," he said. 
"One thing we have learned in the past six months is that Gators are resilient and passionate. In all kinds of weather. I can assure you that no one has higher expectations for what we want to accomplish than me."
It's always hot in Gainesville come mid-summer, but it wasn't supposed to be this hard for Napier to breathe before he ever coached a game.