Inside the NIL-filled Jaden Rashada debacle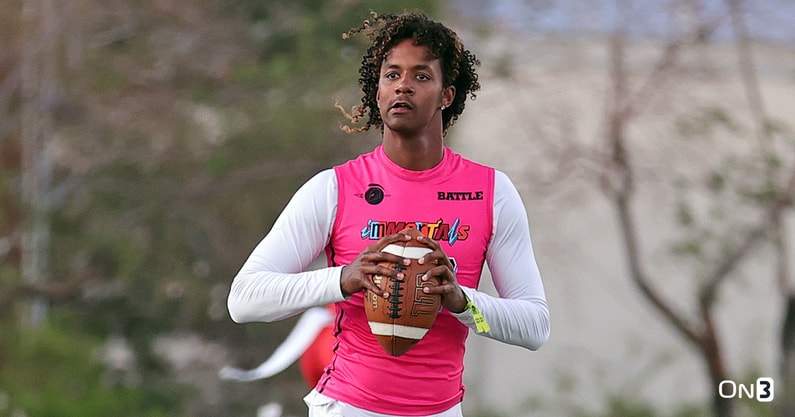 In the ever-evolving story of University of Miami quarterback commit Jaden Rashada, everyone seems to have their own narrative. None are lining up, however.
That's the consensus nearly 24 hours after On3 reported Rashada left millions in potential NIL earnings on the table with his commitment to the Hurricanes, according to his lawyer Michael Caspino. The On3 Consensus four-star quarterback chose Miami over Florida and Texas A&M.
Since the news broke, multiple parties involved in the story have issued statements or walked back their comments. Jackson Zager, Rashada's old teammate at IMG Academy, told On3 on Monday the Rashada family was "stressed out and caught off guard" by Caspino's comments Sunday night.
Zager was serving as the family's NIL representation in regard to endorsements. As a high school athlete in the state of California, Rashada is allowed to sign partnership agreements. Zager told On3 he flew to Miami last week to broker a deal between LifeWallet and the quarterback, but was told to "sit tight."
At that point, he and his partner Tommy Thomsen received a cease and desist text message from Caspino regarding Rashada's NIL recruitment. Zager told On3 that after Sunday, he and Thomsen are unsure of their standing with the family moving forward. The duo claims they represented Rashada in endorsement talks with multiple companies.
"The family told me to tell them to stop doing that," Caspino said to On3 on Monday afternoon. "I stand by the statement he did not take the highest offer. Absolutely."
Zager is 19 years old and just finished his freshman year at SMU. The president and founder of JTM Sports, he holds an athlete agent license in multiple states. His partner and chief business operator at JTM, Thomsen is a 22-year-old commercial real estate agent.
The two met back at IMG Academy in 2016. With the new age of NIL, they decided to open JTM Sports to represent athletes. Rashada is their most notable client. They also represent former Minnessota quarterback and Illinois State transfer Zack Annexstad, 2024 Mater Dei cornerback prospect Zabien Brown and 2024 Millikan quarterback prospect Myles Jackson.
Murky details surrounding Jaden Rashada's deal
The specifics of Rashada's reported NIL deal remain murky. Caspino and Zager each told On3 that no paper contract has been signed.
Caspino continues to claim The Gator Collective offered Rashada "a lot of money," but a Gator Collective representative and Florida football staffer indicated to On3 the Gators never offered him a dollar. The same member of the collective told On3 that the lawyer has attempted to reach them through "multiple pathways" in the past few months. Other collectives have shared similar stories.
A Florida football staffer also indicated that Caspino reached out on multiple occasions. The lawyer refutes the story, claiming he was called by the assistant.
The staffer went on to say Caspino takes roughly 13% from each deal he strikes. Caspino reaffirmed his previous statement that he doesn't take any money from deals, only a one to three-percent fee collectives pay for his legal work.
When asked specifically about the Miami deal, Caspino shot down any possibility of inducement or Rashada having a contract in hand before his commitment. He is also not a member of the Florida bar association.
"It's a deal in progress, it's a deal in process. That's all I can say," Caspino said. "We don't have a deal with Miami right now. We don't. There's things in process. We don't have a deal right now."
Zager indicated to On3 that Caspino retains a "runner," which is another term for a street agent. This is an agent who spots a talented prospect, develops a relationship with him and his family and secures him an NIL deal. Caspino acknowledged street agents are part of the NIL process in a previous interview with On3.
"I don't even know what that is, people call me all day long," Caspino said Monday. "I don't do advertisements. I've gotten calls all day today. I've never heard the term 'runner' before."
Jaden Rashada's future is with Miami
Jaden Rashada's future is still with Miami.
The four-star quarterback has announced his verbal commitment, but he has not signed a National Letter of Intent to play for the Hurricanes. He released a statement on Monday night regarding the reported NIL deal.
"All reports of my decision involving a NIL deal is inaccurate. I would never make a life/career choice for any monetary value," he said. "As I stated in my commitment live on TV I chose Miami because of the relationship I have with the coaches, players, and the direction the program is headed."
Speaking to On3 on Monday night, LifeWallet owner John Ruiz confirmed there has not been a deal struck or signed between LifeWallet and Rashada. He also went on to say there have not been negotiations with Caspino.
On3 previously reported Rashada agreed to a NIL deal with Ruiz for $9.5 million. That figure is larger than the report from the The Athletic that that detailed how one unnamed five-star prospect in the Class of 2023 has signed a contract with an unnamed school's collective that could pay him more than $8 million by his junior year of college. Most believe five-star Tennessee quarterback commitment Nico Iamaleava is that prospect.
If a non-disclosure agreement had been signed, it would have been produced by LifeWallet, Ruiz said. No such agreement has been created. Ruiz confirmed to On3 earlier this month that he had met with the NCAA to discuss NIL deals his company had made with Miami athletes.
"We're in the process now there has been a commitment, there can be a discussion," Ruiz told On3 on Monday. "It's still in transit. We still have to dot Is and cross Ts. I had a conversation with Michael Caspino months ago. Ninety percent of it was about his kids and my kids. … I'm not in any feud with anybody."
Ruiz read his previous text messages to Caspino over the phone to On3. The exchange had nothing to do with NIL, but only consisted of Caspino asking for Ruiz's son's number. Ruiz then went on to confirm neither of his sons have met with Caspino.
For Zager and Thomsen, they continue to reaffirm they want what is best for Jaden Rashada.
"He's committed to Miami. No letter of intent has been signed. That's where it lies," said Thomsen. "I think he's happy with his decision. We also want to put this to bed for him. We want to keep other athletes coming up in the future in the know and protect them and their best interests. Make sure we don't have more horror stories."
Ramifications of Michael Caspino's comments
Darren Heitner and Michael Caspino have been exchanging words over email and Twitter for the better part of the last month.
The two lawyers, one based in Florida and the other in California, respectively, have developed a feud that has been the talk in many NIL circles. It was even a talking point for some at the NIL Summit. Heitner has been on the forefront of the NIL landscape, helping craft contracts and guiding collectives behind the scenes. He also helped craft the Sunshine State's NIL legislation.
He's also a Florida alumnus and has provided counsel to the Gator Collective.
Caspino's comments directed towards the Gators on Sunday night was just the kicker to their ongoing argument and a clear shot at the Florida-based lawyer. Heitner told On3 on Monday night the admission from Caspino that Rashada left "millions on the table" is all the NCAA needs to investigate the lawyer.
The NCAA's guidance on NIL clearly states boosters and donors cannot be in contact with prospective student-athletes. The organization has made it known NIL cannot be used to induce recruits. Enforcement director Jeff Duncan reminded members in a letter in June that the NCAA is "working tirelessly to develop information and investigate potential violations."
The NCAA released updated NIL guidance in early May, stating collectives – groups of boosters and businesses – are not to be involved in the recruiting process or in the transfer portal. Collectives have pooled together funds to help bankroll teams.
"He tied the knot. He put together the present and put it on the NCAA's doorstep," Heitner said.