What to Watch: Storylines, players and pressing questions to keep an eye on during today's SEC spring games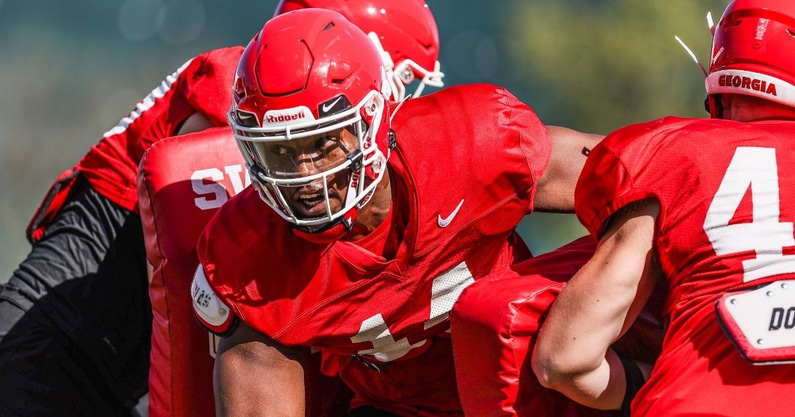 Saturday's slate is chock-full of SEC spring games, with six programs holding their annual scrimmage to close out camp. 
Sam Pittman and Shane Beamer both have teams overflowing with offseason optimism, while Mike Leach is set to enter a pivotal Year 3. Then there's the two opposite ends of the conference, with Clark Lea hoping last season was the nadir for Vanderbilt, while Alabama and Georgia look to reload for a championship rematch come the fall. 
There's plenty to ascertain during a busy afternoon of scrimmages, so here's what to watch. But remember, in these parts, we ignore spring stats. 
Arkansas Razorbacks (Sat., 12 p.m) What to Watch: Does KJ Jefferson have a new favorite target?
KJ Jefferson is one of the top quarterbacks in the conference, but the Arkansas Razorbacks' second-year starter lost his primary target with Treylon Burks' 66 catches and 11 touchdowns off to the NFL. His top returning receiver is former FSU transfer Warren Thompson, who had just 19 catches last season. The Hogs did add former five-star recruit Jadon Haselwood from Oklahoma, but he's been limited some this spring with a shoulder injury. The guy who has created the most buzz is sophomore Ketron Jackson Jr., a blue-chip recruit in Arkansas' 2021 class. He had just five receptions last season but could emerge as Jefferson's go-to guy this fall. We'll see what that chemistry looks like today. 
Mississippi State Bulldogs (Sat., 12 p.m.) What to Watch: What does the offensive tackle situation look like?
The Mississippi State Bulldogs return the bulk of their interior offensive line, but they have huge shoes to fill at both tackle spots, with likely Top-15 pick Charles Cross headed to the league, along with Scott Lashley, who exhausted his eligibility. To date, Mississippi State hasn't found firm solutions this spring, especially at left tackle. It's been all experimentation, with multiple guys rotating at both spots. Senior guard Kwatrivous Johnson has worked some at left tackle, competing with massive JUCO transfer Percy Lewis (6-8, 345 pounds). Middle Tennessee transfer Steven Lasoya III has also played some tackle this spring, but likely projects as an interior lineman. At right tackle, redshirt freshman Albert Reese has received the longest look. So who gets the most run with the 1s Saturday could foreshadow the team's plans for the fall.
Georgia Bulldogs (Sat., 1 p.m.) What to Watch: The reintroduction of Arik Gilbert
The reigning national champion Georgia Bulldogs are loaded at tight end with All-American freshman Brock Bowers and Darnell 'Big O' Washington, but with both players sidelined with injuries this spring, it's another former five-star receiving all the buzz in camp. Arik Gilbert was one of the nation's top recruits in 2020 and starred as a freshman at LSU (35 catches for 368 yards). He transferred home to Georgia last season but sat out the year due to personal reasons. Well, Gilbert is back and it will be fascinating to see how he's utilized in Todd Monken's scheme. Is he truly an in-line tight end? A hybrid guy? Georgia led the SEC with multiple tight end sets in 2021 (more than 50% of snaps), so there's room for Bowers, Washington and Gilbert to all co-exist. But he'll be out there solo Saturday, so what will that look like?
Vanderbilt Commodores (Sat., 2 p.m.) What to Watch: Will the offense show any signs of life? 
The Vanderbilt Commodores are a beat up football team right now, struggling with numbers all spring thanks to attrition and injuries. Still, the intel out of Nashville this spring is Clark Lea's defense, which was gutted by the portal this offseason, has shown signs of improvement, albeit baby steps. But what about the offense? Vandy averaged just 15.8 points per game last season and is still undecided at quarterback with Ken Seals and Mike Wright. Vandy's running back room has some promise with Temple transfer Re'Mahn Davis, as well as Rocko Griffin and Patrick Smith, but in the team's second scrimmage last weekend, the offense had two fumbles on its first four drives. Can it even show a pulse on Saturday?
Alabama Crimson Tide (Sat., 3 p.m.) What to Watch: The J&J booster for Bama's offense
We've spent time already noting the excitement and potential around both Jermaine Burton and Jahmyr Gibbs within Alabama's offense, but there's no reason to get cute here. Both players have generated tons of buzz throughout the spring, and could put on a show Saturday. While Jermaine Burton's role is a bit more defined within the framework of Bill O'Brien's offense, it will be very fun to see how Alabama plans on utilizing Jahmyr Gibbs' versatile skill-set. He's an excellent running back, but just as impressively, he might be one of Alabama's best receiving threats too. O'Brien isn't going to spill all his fall plans on A-Day, but he may tease a package or two that showcases Gibbs' immense talent. 
South Carolina Gamecocks (Sat., 7 p.m.) What to Watch: What is Dakereon Joyner's offensive role?
Shane Beamer hammered the transfer portal to improve South Carolina's 2022 offense, and while there's natural excitement to see Spencer Rattler & Co., debut with the Gamecocks, I'm curious to see what the plans are for the quarterback who got Beamer that mayo bath last December. Dakereon Joyner was the star of the bowl win over North Carolina, but now he's transitioning back to receiver where's he struggled to find a real footing the last three seasons. Joyner has athletic traits, so can OC Marcus Satterfield find a role to make the playmaker a key part of the team's offensive renaissance this fall?