When it comes to NIL marketing value, the CFP teams score well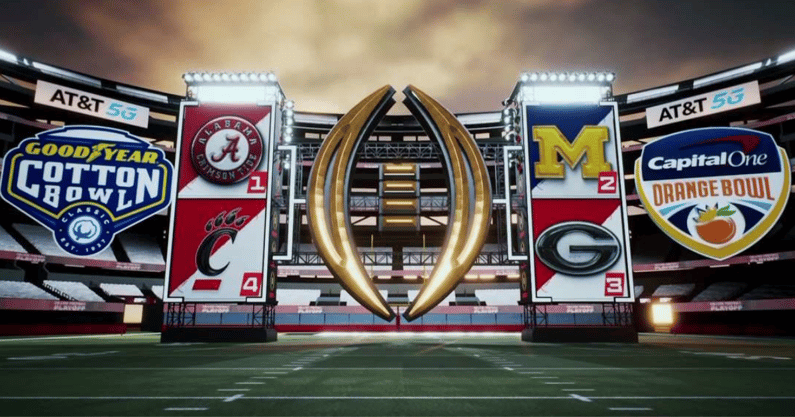 The four College Football Playoff participants aren't just in elite company on the football field. Alabama, Cincinnati, Georgia and Michigan each rank among the nation's best in the NIL marketing value each offers its athletes, according to new, multi-faceted proprietary Nielsen data that the company will announce later today.
Dive into the treasure trove of data from Nielsen, the company synonymous with TV ratings, to find that Alabama has the most robust local support from fans of any college football or college basketball team nationwide. Cincinnati ranks second nationally in social media engagement among Group of 5 teams. And Michigan and Georgia both rank in the top 10 nationally in the three main categories that Nielsen homes in on: national exposure, local market impact and social media engagement.
The first-of-its-kind data comes from the Nielsen Impact Score database, which the company has expanded to include more than 100 college football programs. The premise is simple: Nielsen is positioned to offer a quantitative measurement of the marketing impact a college sports team can deliver to its athletes, ranking programs nationwide in the three key aforementioned categories. As Jon Stainer, managing director of Nielsen Sports in the Americas, told On3: "The data doesn't lie."
Unveiling the football database comes on the heels of Nielsen earlier in the fall announcing its college basketball database of nearly 100 schools. 
To date, two basketball programs, first Duke and then Dayton, have signed up as clients. After meeting with schools the past three weeks about the football database, Nielsen says it is poised to surge into 2022 to make its marketing impact scores what its TV ratings long have been: the standard. It is ready to equip universities with metrics similar to those a brand would consider when evaluating sports marketing partnerships. Now coaches can reference Nielsen's rankings as part of personalized recruiting pitches to athletes, spotlighting the categories where their school compares favorably to rivals.
"We picked up a lot of momentum following the launch of the program," Stainer said. "NIL is a little bit of a long-term play for everyone, and we certainly see that for Nielsen as well."
Nielsen executives have used the first three months since the basketball database launch to drive awareness and build familiarization in how the metrics can be used by schools in the NIL era. To that point, Stainer provided On3 with an exclusive look at some of the granular data and insights related to the marketing value that the four CFP teams possess, examining where each stood out and why.
The CFP schools rank highly
Overall, all four schools come from states where college football fandom is above 45 percent of the general population. In collaboration with Nielsen Scarborough, which provides local market research data, they aim to understand what fans are consuming in what markets.
Alabama, Georgia and Michigan are ranked in the top 10 in overall Nielsen Impact Score, which is not a surprise. Cincinnati is the highest-ranked Group of 5 school, undoubtedly boosted by the national exposure it generated this fall as it became the first G5 program to qualify for the CFP.
Three of the CFP teams — Alabama, Georgia and Michigan — rank in the top eight nationally in social media engagement index score. Considering that most NIL deals involve social media promotion, Nielsen examines each program's social media engagement. It looks at a program's social media profile across platforms in terms of followers and engagement, including interaction rates.
Drilling down on Alabama specifically, it's clear that allegiance to the Crimson Tide runs deep, and Nielsen has metrics to underscore the extent of that fandom. At least 65 percent of those in Alabama's local market are fans of the football team. That percentage represents the highest that Nielsen has seen across more than 200 programs in college football and basketball. 
Equally impressive is that Alabama's social media engagement metric is the second-highest across all 200 programs, behind only Duke's men's basketball. 
"They crush it across all three metrics," Stainer said.
Usable data in the NIL era
Cincinnati is a unique study. Despite its G5 affiliation, the program offers marketing value at least as great, or greater, than many well-known Power 5 programs. 
The Bearcats, for instance, rank among the top 50 in all three categories, including in the top 40 in local market impact. They rank in the top 35 nationally in social media engagement. And among Group of 5 programs, Cincinnati has the second-highest social media engagement score, behind only Bowling Green. 
The Bearcats also are one of only five Group of 5 schools that average 1 million viewers. In quantifying national exposure, the company looks at Nielsen TV ratings, including three-year average per game viewership and three-year total viewership figures.
"Obviously a playoff run here will only improve their overall marketing index," Stainer said. "There is huge potential here for athletes looking at Cincinnati as an option."
Georgia's football program lands in the top five across all three metrics. While their national exposure and social media reach is undoubtedly strong, the Bulldogs truly distinguish themselves in local market impact. College sports marketing relies heavily on local advertisers. This metric quantifies how a program's local market fanbase engages with its local activations. 
"They really own Atlanta," Stainer said. "Their local market score is significant. The university ranks first in the total number of fans in that marketplace. That is the real standout data point for Georgia."
Michigan has a particularly strong presence in Ann Arbor and the surrounding area. The Wolverines rank in the top 10 across all three Nielsen metrics. But among the three categories, they are strongest in their local market score. 
The database includes schools from the AAC, ACC, Big 12, Big Ten, MAC, MWC, Pac-12, SEC and independents. In the future, the insights can serve as an important data point to help recruits make college decisions in the NIL era.
As Stainer said, "What I am excited about is that we got in the [NIL space] early, we have data on the marketplace and that data is now being used in the marketplace to make decisions."