Steve Sarkisian visiting Arch Manning's game on Thursday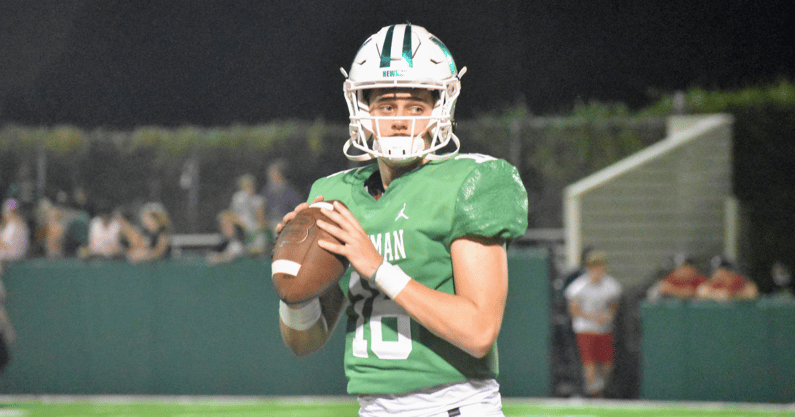 Texas head coach Steve Sarkisian will be at 2023 No. 1 overall recruit Arch Manning's game for New Orleans Isidore Newman on Thursday night, according to On3's Chad Simmons.
The visit will come two days before Manning's visit to Austin on Oct. 16.
New Orleans Isidore Newman is playing at LaPlace (La.) St. Charles Catholic, and it is the team's only Thursday game of the season.
The Longhorns are considered one of the favorites to sign Manning, perhaps the current leader to do so now. Alabama, Clemson, Georgia and Ole Miss are also very much in the race to land Manning as well.
The relationship between Sarkisian and Arch Manning is great, and Manning praised the first-year head coach this past Friday in an interview with InsideTexas.
Manning said Sarkisian is a football genius and appreciates that he is not always pitching him and makes sure to check in and see how he is doing.
He also told DawgsHQ's Jake Reuse a few weeks prior that he vibes with the personalities of Sarkisian and his staff.
"They are just good guys," Arch Manning said. "They're just laid back, good people. That's the kind of guys I like."
He visited Georgia on Sept. 18 and Alabama on Oct. 2. He will visit Clemson and Ole Miss later this month.
Arch Manning's HS coach praised Sarkisian on a podcast
New Orleans Isidore Newman head coach Nelson Stewart recently appeared on an episode of the "Pros Like Us" podcast and talked about what it is like coaching Arch Manning.
He also talked about watching Manning's recruiting process, and only one coach was mentioned twice: Steve Sarkisian.
"Steve Sarkisian has been phenomenal, just on zooms, talking football, installs what they're doing," Stewart said on the podcast.
On3's Gerry Hamilton recently said that if Texas signs Arch Manning, it would be the biggest win on the recruiting trail for the program in two decades.
"If Texas could win out for Arch Manning, it would be so similar to when Mack Brown won out for Chris Sims in 1999 recruiting class," Hamilton said. "It signaled to the nation that Texas is going to be back. Texas is now a legitimate threat again. If Arch Manning shut down his recruitment and Texas ended up beating out Georgia and Alabama and Clemson and Ole Miss for him, that would be the biggest thing that happened for Texas football recruiting probably since Vince Young signed in 2002."