The $8 million NIL deal: 'If it's allowed to stand, it's just open sesame for recruiting inducements'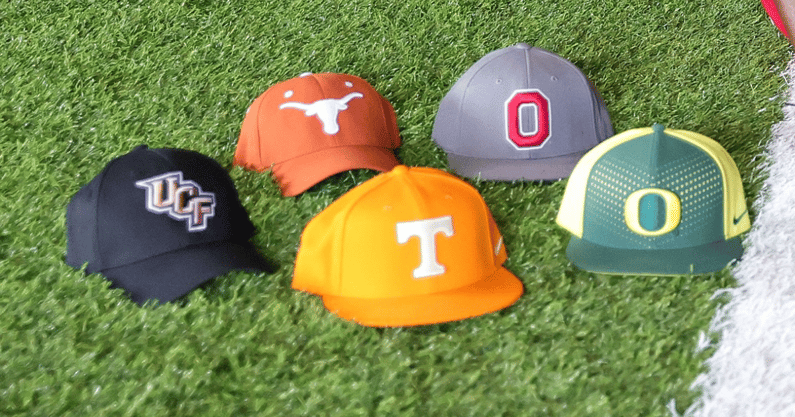 Without intervention from Congress or the NCAA to enact uniform NIL regulations, industry leaders believe the practice of donor-driven collectives providing elite high school athletes with multimillion dollar deals could become the new normal.
The NIL space continues to buzz with reaction following The Athletic's story Friday that detailed how one unnamed five-star prospect in the Class of 2023 has signed a contract with an unnamed school's collective that could pay him more than $8 million by his junior year of college. School-specific collectives typically pool funds from boosters to help the school's athletes monetize their brands.
This is an extreme example of an escalating arms race — one that's been ongoing for months — among the most ambitious, most aggressive collectives to pool millions of dollars from boosters in hopes of signing celebrated recruiting classes.
"I'm sure we are going to see a lot more of this," Tom McMillen, the former U.S. Congressman who is now CEO of LEAD1 Association, which represents athletic directors from the 130 FBS institutions, told On3 on Monday. "The arms race has been transferred to Name, Image and Likeness. … Bottom line, these are recruiting inducements. It may not be called that, but if it quacks like a duck, looks like a duck, it probably is a duck."
The Athletic was allowed to peruse the contract, which reportedly states that it doesn't constitute an inducement to enroll at any specific school. Yet a school-specific collective, by its definition, is created to help athletes at that particular school create and be compensated for NIL deals.
McMillen deemed such a lucrative deal from a collective a "seminal change," adding that this is "just a whole new world for college sports." If the NCAA opts not to enlist its enforcement arm to investigate this type of deal — and doing so has challenges — McMillen said this will be a sign of what's to come. 
"The precedent, if it's allowed to stand, it's just open sesame for recruiting inducements," McMillen said.
Does NCAA have the stomach for investigations?
One central question among industry leaders is whether the NCAA has the will to try to enforce its interim NIL policy. Granted, it has been asking questions of BYU, Oregon and Miami, but that is much different that launching a formal investigation. The association doesn't have many NIL rules, but it does prohibit pay-for-play NIL deals and recruiting inducements. Without subpoena power, former NCAA enforcement staff said, the challenge of proving the intent of a collective creating an NIL deal is considerable. 
Often founded (and funded) by deep-pocketed boosters and alums, collectives operate independently of schools. More than 30 exist nationwide, with more launching each week. NIL experts have predicted to On3 that every Power 5 school will be affiliated with at least one by the end of the year. It's projected that if a Power 5 collective does not amass at least $5 million in an annual war chest, it will be difficult for it to keep pace with rival school collectives in the ultra-competitive world of football and basketball recruiting. The most ambitious ones aim to raise upward of $25 million per year, with sights set squarely on securing the best recruiting classes possible.
"When you have the Wild West, you're going to have the wild actors," Peter Schoenthal, CEO of Athliance, told On3 on Monday. "That happens with agents, that's going to happen with collectives, that's going to happen with some schools. That's definitely going to happen with boosters, and I think we're starting to see it."
It is important to note that many, if not most, collectives seek to help student-athletes monetize their brands by engaging in activities such as autograph signings or meet-and-greets so they can receive fair market value for their services. More brazen collectives strive to flex considerable financial muscle, driven to land elite recruits with, as Notre Dame athletic director Jack Swarbrick told local media, "talent acquisition fees described as NIL."
The prospect depicted in The Athletic story is to be paid $350,000 almost immediately, with monthly payouts escalating to more than $2 million per year once he enrolls in college. In return, he will make public appearances and take part in social media promotions and other NIL activities. 
The dollar figures alone raise eyebrows. Equally striking, sources said, is that the contract states that the athlete gives the collective exclusive rights to use of his NIL. That raises myriad issues, not the least of which is it could be used to strongly dissuade the athlete from transferring schools. If the athlete did transfer following a coaching change, or for any reason, would that collective continue to help create NIL activity and compensate the athlete while he competes for another school?
This NIL news 'another big splash in the bucket – not a drop'
McMillen said turning over your NIL rights exclusively to the collective amounts to "golden handcuffs," referring to benefits meant to discourage one from seeking enrollment elsewhere. He also compared it to the music industry, when record companies at times receive a share of an artist's future earnings, often resulting in litigation. 
"There's a quid pro quo — you get a lot of money, you've got to stay here," he said. "All I can say to these athletes is 'Buyer beware.' Make sure you get the right counsel and the right advice here because these things can be very, very damaging to your to your life and your career."
After National Signing Day, rumblings grew loud that some collectives were throwing big dollars at prospects to secure commitments. The $8 million news, Schoenthal said, is "just another big splash in the bucket — not a drop in the bucket — that shows that signing day wasn't a one-time thing."
Change is afoot. With the NCAA's constitution being rewritten, and conferences assuming more autonomy, another question is whether conferences in the future permit these types of deals. A lot of athletic directors, McMillen said, are currently trying to cope with this unregulated landscape.
The NCAA's Board of Directors has asked the Division I Council to assess the impact of NIL, with recommendations expected by the summer. Schoenthal anticipated that move. He also believes the association is in no rush to make consequential changes to its policy because it has a "formidable opponent in Mr. [Jeffrey] Kessler [who led the plaintiffs' team in Alston v. NCAA], and anything that they do, they need to make sure that it is airtight."
In terms of creating NIL rules, McMillen said, "It's a legal hot potato. Whatever rules you make, you're going to get sued."
In the meantime, cutthroat recruiting wars will be waged on a new battleground, with donor-driven collectives starring as the marquee actors. Unless and until uniform regulations — and an enforcement mechanism with teeth — arrive, the envelope-pushing phase of the NIL era will continue. Right now, there's no stopping it. 
"NIL should be the greatest thing that ever happened to college athletics, and I think we get there," Schoenthal said. "Whenever you have new legislation, people are going to push the envelope, they're going to look for the loopholes. That is the stage we're in. But usually when that happens, it leads to positive legislation and uniform enforcement."