Bella Rasmussen makes history again as 1st female football player with NIL deal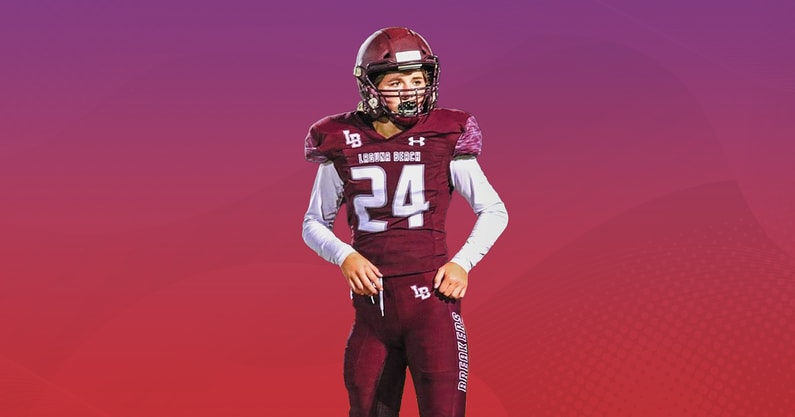 In mid-October, Bella Rasmussen made California high school history when she became the first girl to score two touchdowns in a varsity football game. Fast forward nine weeks and the Laguna Beach High senior is making history again as the first female football player to land a NIL deal.
Rasmussen has agreed to a NIL deal with KeyWise to promote its newly released KeyWise Skye app. The app acts as a fitness tracker for your brain. The agreement was facilitated by MarketPryce and announced Tuesday. Multiple experts told On3 they believe the NIL agreement is the first for a female football player.
It's another exciting moment in what has been a whirlwind of "mind-blowing opportunities" ever since Rasmussen scored two touchdowns in a 48-0 victory over Godinez Fundamental on Oct. 14. Rasmussen scored on runs of 4 and 1 yards against Godinez, and ever since that moment she's garnered nationwide attention.
She appeared on "The Today Show," the "Jennifer Hudson Show," and on "Access Hollywood" earlier this week. Heck, Rasmussen even got to fire off the Los Angeles Chargers' canon before a game against the Seahawks.
Many in her shoes would use the newfound stardom to make a quick NIL buck. But that's not who Rasmussen is and what she's all about.
"From the time Bella could walk, we knew she was bound for great things," Annette Rasmussen, her mother, told On3. "Everyone told us, 'That girl is going to change the world.' We were like, 'Yeah, she's crazy enough to do it.' Did I ever think that the last few weeks would ever, ever be like they were? No. Never in a million years. I knew she was going to do big things. But this still feels very surreal."
Bella Rasmussen wanted to do NIL deal that mattered
Once word of her record got out, Bella Rasmussen was inundated with companies looking to attach themselves to her success story. Her mom said all sorts of companies reached out to get her to promote them. But Rasmussen knew early on that if she was going to do a NIL deal, it had to be a deal that helped others out.
"Mental health is important for anybody, not just somebody that's an athlete on an all boys' team as a girl," she told On3. "Being an athlete, there's a huge mental toll. That's not talked about a lot. That's especially true when you're trying to keep together your social life, school, work and things like that while also performing well on the field. I don't think that's focused on enough.
"But outside of that in general, I've seen the effects of bad mental health and mental illnesses and how that's damaged communities and people close to me, too. That's always been something that's important to me. It's something I've wanted to work on and try to help. And to finally have a place to go out and do that through this partnership with KeyWise is awesome."
Rasmussen's family strongly supported using her NIL for good.
"She's always been super interested in helping other people and doing it the right, right way," Annette Rasmussen said. "She wanted to make sure No. 1 that her social media wasn't a shopping mall or a walking billboard. And No. 2 that she was making a difference.
"This deal was all about meeting her goals with integrity. It's important to her and it's something that's been important to her for a very long time, not just after she scored the touchdowns. Using her NIL for good is something that she's very dedicated to."
Experts impressed by deal
KeyWise cofounder Raeanne Moore said Bella Rasmussen is the perfect NIL partner. The company was impressed with her "story and authenticity," along with her desire to use the platform to discuss her own mental health journey and inspire others on their personal journeys.
Michael Ehrlich, MarketPryce's head of athlete engagement, connected with the Rasmussen family after Bella's historic moment to offer NIL education and resources. He helped facilitate the deal and is excited her KeyWise partnership will be long-term.
"To connect the dots in such an important space as mental health is the best part about this," he said. "It's why we do what we do – to connect inspiring athletes with impactful brands and let them work their magic to make a difference."
The deal is a win for both Rasmussen and KeyWise, according to Mit Winter, a sports attorney at Kennyhertz Perry LLC.
"I think it makes a ton of sense for a brand or business to do a deal with Bella," Winter said. "Not only is she experiencing a ton of success on the field, but that success is translating to a lot of notoriety, national media attention and presumed social media growth. Brands that partner with Bella will likely be able to use that notoriety and attention to get their products in front of a wide audience."
What's next for Rasmussen?
Bella Rasmussen already misses the Friday night lights.
Along with her individual success, Laguna Beach defeated Diamond Bar in the CIF Southern Section Division 9 final, giving the school its first football championship since 1946. Truth be told, sharing in that team accomplishment means more to Rasmussen than the two touchdowns.
"For me, it's like I was on a football team my senior year, and we ended up winning a CIF championship for the first time in 76 years, and we had this record-breaking season," she said. "Seeing them celebrate and be excited about accomplishing their goals is the most important part to me. That part has not settled in and the fact that football is over is still settling in for sure. That's a weird feeling."
Rasmussen plans on majoring in psychology and is applying to Utah, Oregon, Colorado, Michigan and Vanderbilt. But she also left the door open to playing football again if somebody is interested in giving her another opportunity.
"I feel like it goes well with the narrative," Rasmussen said. "Every single time people told me, 'You shouldn't be playing high school football,' then I went and played high school football. Then they were like, 'You shouldn't be playing varsity because the kids are going to be a lot bigger,' and then I went and played varsity football and I did something incredible.
"So, if somebody were to tell me they were going to give me an opportunity to go play college football, would it probably be pretty dangerous? Yes. Will I maybe get hurt? Most likely. But why the hell not? I would go do it. If I had the opportunity to play tackle football again, I would do it in a heartbeat."
Making a positive impact on the future
Bella Rasmussen has an On3 NIL Valuation of $18,400, and that's surely going to expand as her social media presence expands and more people and brands become aware of her story. Until she decides what's next, Rasmussen said she's going to continue to look for ways she can make a positive impact through her NIL.
"Football definitely gave me the platform," she said. "It is what put me on the map. It's what gave me the attention. But I'd like to think that what is going to keep me there are my goals and things that are important to me.
"How I'm using these opportunities for good and making sure it leaves a great impact matter. People are going to look at my name in 20 years, and I don't want them to say, 'Remember when she was famous for a few minutes for scoring those touchdowns?' I want them to say, 'She took that and created something where people can feel more comfortable looking for help.'"