Kentucky's Devin Leary signs with Athlete Advantage for NIL representation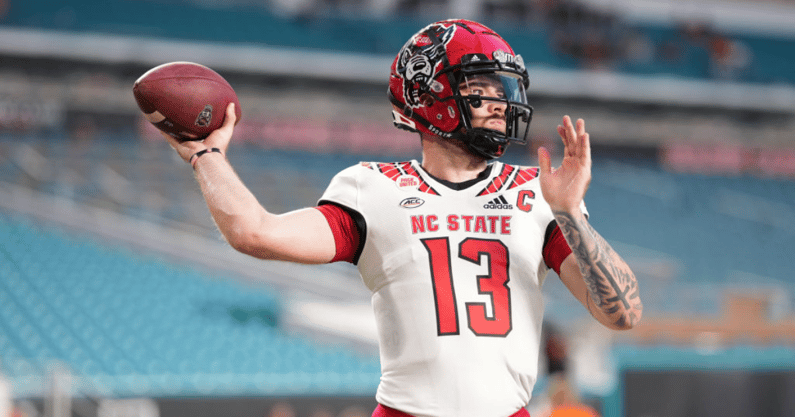 Devin Leary announced his transfer to Kentucky last month.
He is now making sure to capitalize on his NIL potential during his time in Lexington. On Monday, the former NC State quarterback signed with Athlete Advantage.
Also based out of Lexington, the NIL agency has represented a handful of college football players including former Kentucky quarterback and NFL draft prospect Will Levis. Athlete Advantage founded and assists in running the day-to-day operations of The 15 Club, Kentucky's sole NIL collective, too.
It's a smart move by Leary. While Steinberg Sports already works with the quarterback and will eventually take over when he moves to the NFL, Athlete Advantage can assist him immediately.
"We've really been getting blown up with different agents from from all the big firms," Athlete Advantage founder Ryan Miller said in a Monday phone call. "We're starting to handle — if you look at Devin Leary. Devin is handled by the Lee Steinberg's agency, one of the best out there. They know what they're doing. But then we're able to work in that dual role, similar to how we did with Will [Levis]. Technically they're his agent, but we're helping him in the NIL space."
Will Levis set framework for Devin Leary
Athlete Advantage set the precedent for what a Kentucky football star can achieve in the NIL market. Working closely with Levis, the NIL firm was able to set up opportunities with Paul Miller Ford and NOBULL.
Levis also inked a deal with Boone's Trace National Golf Club, which established a 14-man league featuring the quarterback and 13 of his teammates. For six weeks, the players were able to play one competitive nine-hole round a week in return for promoting the course on their social media accounts.
And then, right before the season, Levis agreed to terms on a partnership with the Winchester, Kentucky-based soda brand Ale-8-One. 
Leary is now headed to an SEC fan base where he will be partnered with a marketing agent catered to the area. In a six-game season shortened due to injury this last fall, the quarterback threw for 1,265 yards with 11 touchdowns and just four interceptions.
There's no doubting the success Leary have on the field, especially with offensive coordinator Liam Coen coming back to Kentucky. But for a quarterback who has signed a small number of partnerships thus far, Leary could be looking at plenty of success thanks to his partnership with with Athlete Advantage.
Devin Leary's On3 NIL Valuation
The former NC State quarterback currently holds a $276,000 On3 NIL Valuation. The valuation ranks in the top 150 of college football.
Leary's social media following has only grown since his transfer, sitting at more than 36,000 between Instagram and Twitter.
The On3 NIL Valuation is the industry's leading index that sets the standard market NIL value for high school and college athletes. A proprietary algorithm, the On3 NIL Valuation calculates an athlete's NIL value using dynamic data points targeting three primary categories: performance, influence and exposure.
About On3 NIL Valuation, Brand Value, Roster Value
While the algorithm includes deal data, it does not act as a tracker of the value of NIL deals athletes have completed to date, nor does it set an athlete's NIL valuation for their entire career.
The On3 NIL Valuation accounts for an athlete's roster value and brand value. Roster value is the value an athlete has by being a member of his or her team at his or her school, which factors into the role of NIL collectives. Brand value factors in an athlete's personal brand and the value it could bring to regional and national brands outside of the scope of NIL collectives.