Georgia tight end Brock Bowers re-signs with NOBULL with NIL deal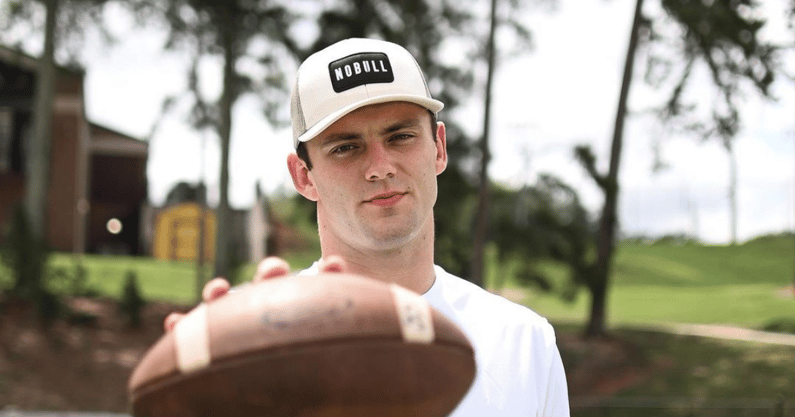 Georgia tight end Brock Bowers has re-signed with NOBULL in advance of the 2023 season. He is expected to become a leading face for the brand next to New England Patriots quarterback Mac Jones.
Part of the athletic training brand's inaugural NIL class back in August, he has signed a one-year extension.
Everett Sports Management (ESM) facilitated the deal for Bowers, who is expected to become one of leading football faces for the brand. It is his first deal following Georgia's national championship win over TCU in January, too.
The terms of the agreement were not disclosed but the move from NOBULL shows a significant commitment.
Bowers helped Georgia win back-to-back national titles as he has become one of the most biggest names in college football. He was the leading receiver for the Bulldogs last year and he has been able to craft his brand off the field.
While he still has at least another year at Georgia in front of him, he is expected to be one of the top prospects in the 2024 NFL Draft.
"At NOBULL's core is a training brand for people who work hard and don't believe in excuses," ESM co-founder Dan Everett told On3. "There is no better athlete in collegiate sport to epitomize that belief than Brock Bowers. We are excited to extend Brock's partnership with NOBULL through the 2023 college season as he loves the brand's style and comfort and those values which he shares."
Bowers has not taken cash from the Classic City Collective, the preferred Georgia NIL collective. He has not accepted a deal from the organization, nor has he gone soliciting one, sources close to the situation previously told On3.
Brock Bowers continues to build strong resume
Since NOBULL is the official training partner of the NFL, prospects are required to wear NOBULL apparel and accessories during all on and off-field activities during the NFL combine.
NFL franchises are likely anticipating Bowers' appearance there in the future. He finished last season with 63 catches for 942 yards and seven touchdowns. He also rushed for 109 yards and three scores on nine rushes. With 20 career touchdown receptions, Bowers is 10 away from breaking Terrence Edwards' school record.
Bowers has a $688,000 On3 NIL Valuation, which ranks 36th among college football players. It also sits at No. 55 in the On3 NIL 100, which is the first of its kind and defacto NIL ranking of the top 100 high school and college athletes ranked by their On3 NIL Valuation.
The On3 NIL Valuation accounts for an athlete's roster value and brand value. Roster value is the value an athlete has by being a member of his or her team at his or her school, which factors into the role of NIL collectives. Brand value factors in an athlete's personal brand and the value it could bring to regional and national brands outside of the scope of NIL collectives.
With multiple pieces of the national title team leaving for the NFL draft, there's little doubt he will be one of the most recognizable faces in the program. Bowers already has previous NIL relationships with Dick's Sporting Goods and Zaxby's.