Florida quarterback Graham Mertz signs with Athlete Advantage for NIL representation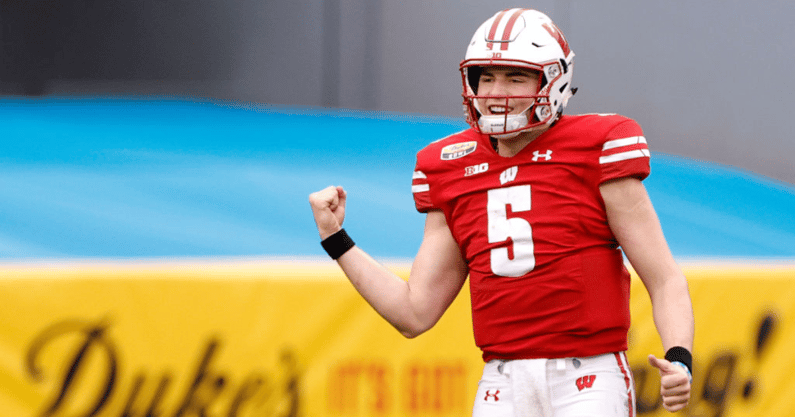 Graham Mertz spent four seasons at Wisconsin.
But before he was a Badger, the quarterback was a a highly-touted four-star quarterback. A top-60 player in the 2019 class per the On3 Consensus, he was considered a top-five player at his position.
Mertz is looking to get back to that version of himself with his transfer to Florida. He showed flashes of his potential at Wisconsin, including a strong finish to the 2020 season. Now he is starting fresh, signing with Athlete Advantage for NIL representation.
"We have a lot of relationships and the phone has already been ringing with pro agents out there, but we're specifically staying in the NIL space with Graham," Athlete Advantage founder Ryan Miller told On3 in a phone interview on Monday. "An incredibly marketable guy. … Him being in a new system down in Florida, he will be able to shine and actually showcase his abilities.
"I don't know if he's been in just the right system for the talent he truly has with his arm and ability to read. This kid is really good, he just needs the opportunity to be in the right system."
The Lexington, Kentucky based NIL agency has worked with former Kentucky quarterback Will Levis and recently signed Cedric Baxter and Devin Leary. The company initially founded The 15, a Kentucky-focused collective in December 2021. However, the collective was reorganized and relaunched under The 15 Club name in November 2022. 
Growing NIL brand
Within days of Luke Fickell landing at Wisconsin, Mertz announced his intentions to enter the portal. He finished this past season throwing for 2,136 yards with 19 touchdowns and 10 interceptions. One of the top recruits during Paul Chryst's tenure, he had a 19–13 record at Wisconsin.
During his time with the Badgers, Mertz signed a handful of NIL partnership. The quarterback initially signed with Engage for representation.
He did join forces with Panini America in the first month of the NIL Era, agreeing to have the company sell exclusive Graham Mertz signed merchandise and collectibles. He also announced a partnership with Pepsi back in August, the latest example of a national brand wanting to connect with the quarterback.
Graham Mertz's On3 NIL Valuation
The former Wisconsin quarterback has a $168,000 On3 NIL Valuation. The valuation ranks in the top 310 of college football.
Since announcing his decision to transfer to Florida, Mertz has seen his social media following rise. He currently has more than 98,000 followers across Instagram, TikTok and Twitter.
The On3 NIL Valuation is the industry's leading index that sets the standard market NIL value for high school and college athletes. A proprietary algorithm, the On3 NIL Valuation calculates an athlete's NIL value using dynamic data points targeting three primary categories: performance, influence and exposure.
About On3 NIL Valuation, Brand Value, Roster Value
While the algorithm includes deal data, it does not act as a tracker of the value of NIL deals athletes have completed to date, nor does it set an athlete's NIL valuation for their entire career.
The On3 NIL Valuation accounts for an athlete's roster value and brand value. Roster value is the value an athlete has by being a member of his or her team at his or her school, which factors into the role of NIL collectives. Brand value factors in an athlete's personal brand and the value it could bring to regional and national brands outside of the scope of NIL collectives.