A QnA about the potential impact of group licensing in the NIL era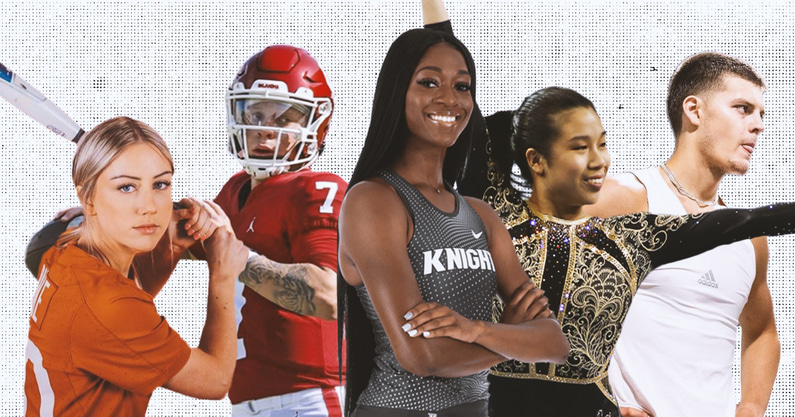 Malaika Underwood, a former college athlete who is the senior vice president of licensing for OneTeam Partners, has emerged as one of the leading voices in the new NIL era. 
In 2019, OneTeam launched as a joint venture between the NFL Players Association, Major League Baseball Players Association and RedBird Capital Partners to maximize the value of athletes' rights. The mission of OneTeam in the college NIL space is to bring the group licensing model to campuses nationwide. Group licensing enables athletes to receive compensation for co-branded products — jerseys, trading cards, video games, etc. — that incorporate their NIL as well as the school's trademarks and logo. 
In April, OneTeam acquired a minority stake in the Florida-based licensing agency, The Brandr Group, a move that positioned the firms to collaborate on group licensing for college athletes. Starting with North Carolina — where Underwood played volleyball — an increasing number of schools have announced group licensing deals. Athletes have the option to opt-in to the programs. 
OneTeam also has strategic partnerships with NIL-related companies INFLCR, Opendorse and Altius Sports. And it entered into a multiyear deal this summer with Panini America to produce and distribute both physical trading cards of athletes as well as digital cards on its NFT/Blockchain platform. Once seen as untenable by the NCAA, group licensing deals are here and becoming more prevalent by the week.
On3 caught up with Underwood to discuss the group licensing model as well as her early impressions of the NIL era. (Some questions and answers were edited for brevity, clarity and context.)
Q: As the NCAA was exploring NIL, it didn't think group licensing was feasible because it would be too complicated without a players' union. You didn't buy that. Why not?
Underwood: I have the advantage of working in the space, so I understand how group licensing functions and ultimately know that the efficiencies that are afforded through group licensing can happen when a group of athletes, a collective of athletes, decide to opt into something. I think what was unclear to so many, including the NCAA, is sort of how you want to aggregate those rights. And then, number two, is how best or who best commercializes those rights. … Those are challenges that we can address and overcome. But the idea of group licensing absolutely can work in college space. And it will. We're starting to see that play out.
Q: What is OneTeam's overall goal or ambition when it comes to the NIL space?
Underwood: Our focus is really on bringing the group licensing model to the college space. We are focused on, particularly, some major categories because we know that there's consumer demand and interest from both athletes and schools in having products like trading cards and video games and jerseys available for fans to buy of their favorite athletes. So that's really our focus at this point. It's quite a niche and a relatively narrow focus. When you look at the landscape, there's a lot going on, and we're only two and a half months in. I think the dust will settle a bit. … We do think that group licensing is something (that is) sort of low-hanging fruit and I know (North Carolina athletic director) Bubba (Cunningham) shares that same opinion. It's something that we can do on behalf of the athletes, and I think it will help grow the entire pie and be incremental for those athletes to whatever they end up doing individually. And that's an important point, too, that athletes need to understand: This isn't in conflict with any individual deals they might do. And that same dynamic is true in the pro space. You've got athletes who do individual deals with whichever company they think is best and they get endorsement dollars. But they also participate in their group licensing through their players' associations.
Q: Regarding the "M Den" deal at Michigan (the school's official merchandise retailer produces customized jerseys), you've written that the return is somewhat limited. But when you consider broad-based deals with big brands, Fanatics, Nike or Under Armour, there is more potential. Could you elaborate on that?
Underwood: What those types of opportunities provide are broader scale, multi-school, multi-athlete opportunities, things that will go 3,000 miles wide, if you will. You're going to see the Paninis and the EA Sports and the Fanatics, Nikes, Adidas and Under Armours of the world including athletes from various schools. Obviously, the "M Den" example is specific to Michigan, and then even more specific to the football team. I do think that there has to be some acknowledgment, though, that the scale that we're talking about in the college space is massive. And the switch from basically pre-July 1, when this wasn't an opportunity for athletes, to where we are now, the opportunities all lay in front of us. … The expectations may be tempered a bit thinking that all of a sudden, overnight, every athlete on the planet is going to have a jersey available is a bit unrealistic. Will we get there? Will we get to a place where more athletes have the opportunity to have their jerseys available? Yes. And will they be included on trading cards and in video games? Yes. But we are not there yet. So I do provide a bit of maybe caution that we've got to build this up. And we've got to see what the market bears to a certain extent, as well. But I know through our experience on the pro side that group licensing is the mechanism to get there because those brands that we're talking to who are interested in this need those efficiencies because of those things that I just said — scale and, to a certain degree, fragmentation because there's so many colleges, so many athletes.
Q: I talked with the University of Miami a few weeks ago about their plan to drop about 200 NFTs over the next year. So far, I haven't seen other schools taking a similar approach. Do you think other schools will? What potential is there with NFTs in the college space?
Underwood: There is tremendous opportunity in that space. And with the NFT technology being pervasive throughout many different categories, collectibles and games and things like that, I think that we'll see more of it. It's just a matter of who, which licensees end up doing it, and what players are included, what schools embrace it, those types of things. But inevitably, I imagine we'll see much more of that.
Q: We're seeing an increasing number of schools announce group licensing deals, mostly bigger brands such as North Carolina, Ohio State, Texas and Alabama. But I did see Appalachian State, as well. Do you think we will see the majority of schools have some sort of group licensing deal? And is there a market there even for the less high-profile school?
Underwood: I will rephrase the question just a bit and say that it's really about the opportunity for those athletes. And in that regard, I would say there's absolutely opportunity for athletes across all types of schools and all sports. The real question, though, is what does that opportunity look like? Some of that is to be determined, right? What does the market demand? Where's the interest? But some of it is also dependent on events happening. Is there a Cinderella team that makes a run in the NCAA tournament? If those athletes are participating in a group licensing program, immediately there are going to be licensees, companies who want to include their NIL on products. That will turn into some amount of revenue for those teams. So I don't know that through every athlete's career, will they all be included in some type of group licensing program and receive compensation? No. But should they all consider opting into group licensing? Yes, for that very opportunity to be included in stuff, whether it's sort of planned consumer products or if it's hot-market type of opportunities that come up.
Q: The NIL era is still less than 3 months old. What has surprised you so far?
Underwood: What has surprised me so far is the speed at which we are here. Things that I imagined would take years and months to develop are really developing over days and weeks. That has been surprising. … But I would also kind of remind people, we are two and a half months in. Things are going to look different in a couple more months and look different in a couple years.
Q: What specifically has surprised you in moving quicker than anticipated?
Underwood: Specifically, schools' openness to co-branding. If we were to go back to June 15, close to 100 percent of the schools would tell you we're not going to or not going to be able to approve co-branding. And here we are a couple of months later, and the majority of schools, if they haven't officially opened the door to co-branding — at least through the idea of group licensing because there may be a little bit more to consider as it relates to individual executions and activations — the majority of schools are at a point where they're open to, if not already officially approving, co-branded opportunities.
Q: You played Division I college athletics at UNC. We're about to go through the first firing and hiring season of the NIL era in college football in a few months. But, really, with any sport, when a school is hiring a coach now, how important is it to hire a coach who not only understands NIL but also fully embraces it?
Underwood:  You want coaches who kind of understand the current landscape. I think that's important. If you're hiring for any position at any company, you're going to look for folks who understand what's going on around them and can adjust to new things. You and I have been talking this whole time and we've said multiple times, "We're two and a half months in." Where are we going to be when that coach comes on board? We're going to be in a different place. I think it's important. We're in a new era of college athletics for certain. What exactly everything looks like, none of us know. It's also important to be able to adjust to things as they unfold here as well.
Q: No one knows what turns NIL will take in the coming months. But what do you envision may be the next phase of NIL?
Underwood:  There's kind of two things. I imagine, one, the dust settling a bit. There has just been a lot of hype and headline-grabbing and that type of stuff. So I see the dust settling a bit. That's not to say that the activity in this space will settle, but we'll get used to the fact that this exists, and that athletes have these opportunities to sign deals, or to be a part of group licensing. And so I think the dust will settle, and I also imagine that we'll get more, as some of those big companies figure out how to implement NIL into their licensing and marketing, we'll start to see some pretty cool executions, whether that be again at the marketing level or through group licensing and included on consumer products that — frankly, when I was in college and before that, no one could even imagine a jersey with your name on it being included in a video game, having a trading card. Regardless of what amount you're getting compensated for that, as long as you're getting compensated fairly, how cool is it to be on a trading card if you're a college athlete, or included in a video game — your likeness — and you're getting some amount of compensation for it? We will get to that point.
Q: What about the potential of the college licensing product market? Do you believe the college licensing product market overall will grow exponentially because of group licensing?
Underwood: I do think the pie will grow for all. Athletes will get their fair piece of compensation. But in general, I think more products are going to be sold because fans want jerseys of their favorite players, not a generic jersey. Fans are dying to see their favorite football players in the video game, and I think collectors and fans alike will respond to trading cards that include college athletes. The overall market will definitely grow and that'll benefit the athletes and the schools involved because of the use of their (intellectual property) as well.