5-star DL James Smith has an On3 NIL Valuation of $237,000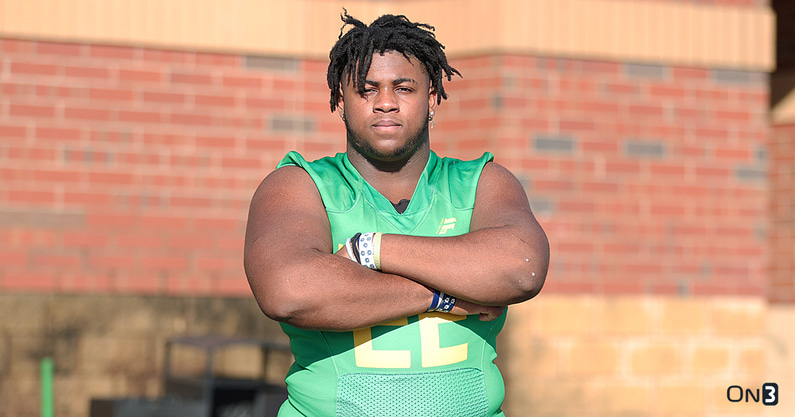 One of the most important recruiting battles in the Class of 2023 is the one for James Smith. The five-star defensive lineman from Montgomery (Ala.) Carver is the seventh overall prospect in the class and the second-best defensive lineman. The excitement around his recruiting has helped boost his On3 NIL Valuation to $237,000.
James Smith is currently 21st on the On3 NIL top-100 for high school athletes list, largely due to his prominence as a recruit. Meanwhile, he just misses all high school and college athletes evaluated in the On3 NIL top-100 list.
Smith has good value, including an On3 Per Post Value for social media like Instagram and Twitter of $160. This social media presence is a key factor in evaluating a player's On3 NIL Valuation, as it tangibly shows how many followers they have and the type of outreach they have. Smith's is boosted by 5,200 followers.
Over the last few months, James Smith's On3 NIL value held relatively steady. That is, until it shot up to $262,000. Since then, it fell to $237,000. That's a 1,237% growth rate over a 14-week period.
The On3 NIL Valuation index is a tool that is designed to evaluate the standard market value for high school and college athletes. Importantly, it does not track the value of deals that an individual player has received. It showcases their value at a moment in time. So, a player's On3 NIL Valuation and their deals could differ significantly.
On3's Charles Power is a big fan of Smith's potential.
"Smith possesses the best combination of first-step quickness and power among interior defensive line prospects in the 2023 cycle," Power said. "Extremely quick off the ball, often beating opposing offensive linemen out of their stance. Follows up his first step with considerable upper body and hand strength. Stuns offensive linemen with his punch and gets off of blocks at a high rate. Has a wide-hipped frame without much bad weight. Plays with high energy and violent physicality."
What is the On3 NIL Valuation?
The On3 NIL Valuation is an index designed to set a fair NIL market value for high school and college athletes. This is not a tracker of deals that they have received. Rather, it tracks their NIL value at a given moment in time.
The On3 NIL Valuation process comes from three different categories. The first is their social media presence, the second is their own athletic achievement, and finally, the opportunities that have been presented to them.
Social media is arguably the most important part of a player's valuation because it is the most tangible to real-world marketing value. Their follower count and engagement are keys to this. After that, players are judged by what they do on the field. Obviously, things like the position they play and how well they play matter too. Known existing deals can help see their value on the open market too. There are also other factors, like a player's personal legacy. That's where someone like Arch Manning benefits, as his family boosts his profile.
The current stage of James Smith's recruitment
James Smith's recruitment is one of the biggest in the country. As the top-ranked defensive lineman, he's drawn attention from around the country. Of his long list of Power Five offers, Smith has two that appear to have a realistic shot at earning the services of the 5-star — Alabama and Georgia.
According to the On3 Recruiting Prediction Machine, Alabama has a 50% chance to land James Smith, while Georgia has a 39.6% chance. It's also worth pointing out that Auburn is a distant third, with an 8.1% chance. There aren't any other teams with more than a 1% chance, though miracles can always happen.