Joel Klatt: NIL has swung too far towards the players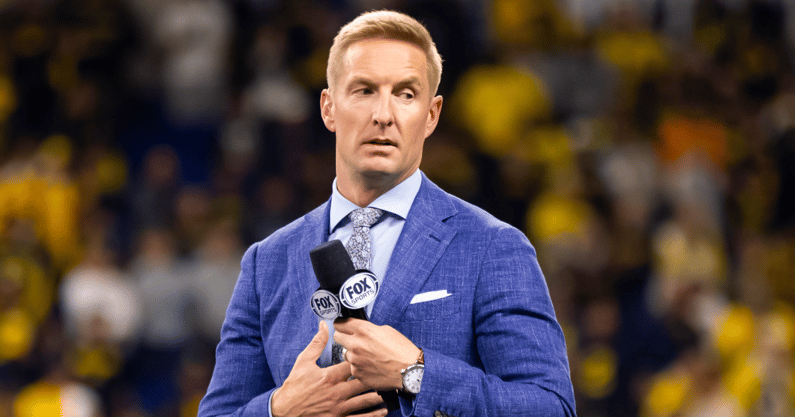 As we get close to the two-year mark of NIL, it still has its fair share of supporters and critics. It's been highly beneficial to student-athletes across the nation but, as all new things do, it has required some ironing out.
However, FOX Sports' Joel Klatt believes that the new "Name, Image and Likeness rules" are in need of some very serious work in the near future. As he explained on his show recently, Klatt says NIL has started to favor the players far too much, especially considering how far other things around them have come over the last decade or two.
"I think that the pendulum has swung too far towards the players. Again, they're gonna sound like they're contradictions but they're not. They're not," said Klatt. "We are entering into a golden age of college football because of NIL. And, yet, the parameters surrounding NIL have swung way too far toward the player.
"I think my perspective is interesting because I played in the early 2000s and now I've covered the sport my entire adult life. So I have seen how much better the environment is and the overall life is for a player, even outside of NIL. The increase in stipend money, the increase in meal plan money, the increase into the investment of mental health, nurtrition, development. That's even before NIL," Klatt explained. "Now, put NIL on top of that, and you can actually go out and make really good money. Really good money. And then you can also transfer any time you want. So now the portal is open.
"College football players have never had more power than they do right now," Klatt continued. "And I'm here to tell you that the pendulum has swung too far."
That's a lot to digest yet, still, there's some truth in what Klatt is preaching. The quality of life of a college athlete is at an all-time high which, obviously, is a good thing. Even so, as Klatt continues, it has become uneven as universities and athletic departments from all over try to juggle this in a way where they can find ground to benefit upon too.
"There's got to be some parameters because, in every contract worth its salt and every relationship worth its salt, there's got to be equal benefits as well as equal responsibility. There's got to be come recourse," Klatt said. "Is it great that they're getting these things? Yes. (But) does there need to be some parameters? Absolutely. Because every good contract has both benefit and responsibility.
"Until that happens, schools are going to have to take a hard look at where they are investing the money. How is their collective working, how much they are giving to them in the form of cash," Klatt added. "Right now, it's one-sided and it can't continue that way. When I talk with coaches around the country, they all say the same thing. This is unsustainable and it's unsustainable because there's no recourse. As soon as there's some responsibility for the player or some recourse for the school, those contracts will start to even out."
From Klatt's eyes, NIL is a real catch-22 for the schools and the players. They both depend on the other but, after years of only the schools seeing benefits, it's now the athletes who are profiting more and more. Unless that evens out, Klatt doesn't see a way for this to continue to work the way that it has moving forward.
"Are we in the golden era and age and at the dawn of that age because of NIL? Yes. (But) there's does need to be some guidelines," Klatt said. "We need to rein this in a little bit because you cannot have one-way contracts. It will not work. It will not work in the long term."