Four-star recruit John Bol signs with Level 13 Agency for NIL representation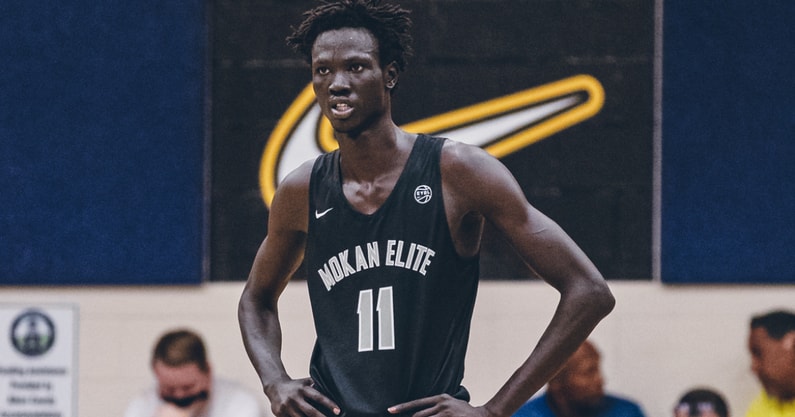 John Bol has yet to make a decision on where he will play college basketball.
The four-star prospect in the 2024 recruiting class is ready to start evaluating NIL opportunities. The 7-foot-2, 190-pound center has signed with Level 13 Agency for representation ahead of his senior season.
Based out of Lubbock, Texas, Level 13 made headlines when it fundraised and facilitated $25,000 NIL deals with each member of the Texas Tech women's basketball team. Co-founded by Kirk Noles, the agency has committed to working with a number of high school and college athletes, including quarterback Tyler Shough and wide receiver Jerand Bradley.
"I am thrilled to announce I have signed with Level 13 Agency to represent me in marketing and branding," Bol said in a graphic released on social media. "As a basketball player, I understand the importance of having a strong team behind me, and I'm confident that Level 13 Agency has the expertise and resources to help take my career to the next level."
Because Sunrise Christian Academy is a private school, the No. 2 center in the nation is able to start building out an NIL brand. Based out of Wichita, Kansas, if Sunrise was regulated by the Kansas State High Schools Activities Association, Bol would still be able to begin striking NIL deals.
John Bol closing in on decision
Originally from South Sudan, the center ended up in St. Louis, Missouri, where he played for Jayson Tatum's father, Justin, at Christian Brothers. He quickly broke the school record for blocks in his sophomore season before transferring to Sunrise Christian for this past season.
Bol narrowed down his list of schools to Florida, Michigan, Missouri, Texas, UConn, USC and Wake Forest, as well as the Overtime Elite league (OTE), earlier this month. The top-ranked player coming out of Kansas in the 2024 recruiting cycle has made visits to Florida, Michigan and Missouri.
While his length obviously sets him apart around the rim on defense, Bol has been able to become a physical presence in the paint. His offensive game has thrived on put backs and lobs, but his upside makes him an attractive prospect.
"I'll look for a program that actually wants me," Bol recently told On3's Joe Tipton. "Not as just a big, but a school that actually sees me and sees my potential and how much I can grow in this game. I can do more than just screen and run the floor, both of which I'm really good at, but I also want to play for a coach who sees the best for me. I want to keep growing and keep getting better.
"The culture of the team is something I will look at too. The team being together as a family. Sometimes, it can be hard for you as a player, like something happens at home, and you need a teammate or somebody there for you."
John Bol's rising NIL value
The center has a $114,000 On3 NIL Valuation, which ranks in the top 70 of the high school basketball NIL rankings. With roughly 13,000 social media followers, John Bol will see his following jump as his recruitment process picks up speed.
His On3 NIL Valuation has seen notable growth the last 10 weeks, rising $63,000.
The On3 NIL Valuation is the industry's leading index that sets the standard market NIL value for high school and college athletes. A proprietary algorithm, the On3 NIL Valuation calculates an athlete's NIL value using dynamic data points targeting three primary categories: performance, influence and exposure.
About On3 NIL Valuation, Brand Value, Roster Value
While the algorithm includes deal data, it does not act as a tracker of the value of NIL deals athletes have completed to date, nor does it set an athlete's NIL valuation for their entire career. The On3 NIL Valuation calculates the optimized NIL opportunity for athletes relative to the overall NIL market and projects out to as long as 12 months into the future.