Kentucky quarterback Will Levis inks deal with Mercury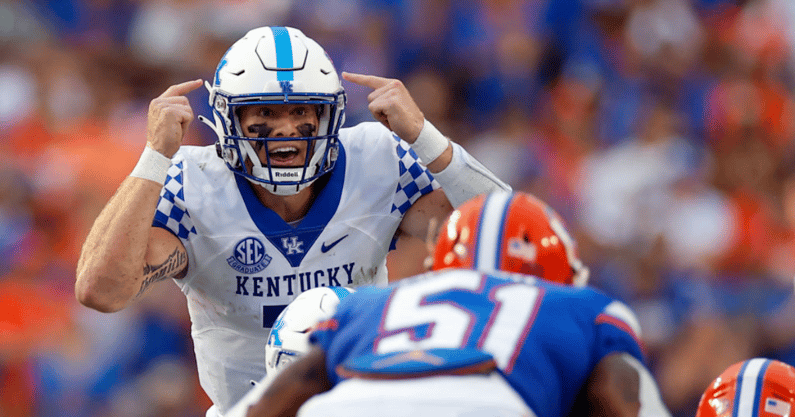 Kentucky quarterback Will Levis picked up a major win at Florida this weekend, placing the Wildcats back in the AP top 10.
He's now added another NIL deal. Levis has signed on with Mercury, which creates exclusive digital-first platforms and communities for top collegiate brands to bring fans closer to their favorite athletes and teams. 
As part of the deal, the quarterback will partner with Mercury for the remainder of the season through the company's Kentucky-centric Blue Chips digital platform. Levis will be a monthly guest on the company's Next Up podcast with Adam Breneman, who serves as Mercury's vice president of NIL.
The quarterback will also be able to drop digital collectibles and experiences on Blue Chips. He'll also be a member of the platform's Discord chats with Kentucky fans.
"Will is one of the top athletes in college football this season, and just as importantly, his compelling story, leadership style, and personality make him a perfect fit for Mercury," Breneman said in a statement. "He's much more than number seven on the field and our partnership will allow fans to hear from and engage firsthand with the player they love to watch on Saturdays."
Levis has taken a slow approach to NIL, opting to not sign any contracts until he finished the 2021 season. He's signed on with Paul Miller Ford, Boone's Trace National Golf Club and NOBULL. This is all from guy who did not want to execute a single deal during the 2021 season.
And right before college football season, the senior signed with Winchester, Kentucky-based soda brand Ale-8-One. Athlete Advantage represents Levis and helped arrange the deal.
The Penn State transfer has won over the Bluegrass State, though. He led the Wildcats to a win in the Citrus Bowl over Iowa, including an 80-yard drive late in the fourth quarter to give them the go-ahead score.
Will Levis' soaring On3 NIL Valuation
Will Levis' On3 NIL Valuation has soared since his breakout season. He currently holds an On3 NIL Valuation of $518,000. The Kentucky quarterback's evaluation ranks 82nd in the NIL 100 and No. 50 among among college football NIL rankings.
He also has a per post value of $1,800 thanks to a social media following of 253,000. In Saturday's win over Florida, Levis was 13 of 22 for 202 yards and a touchdown.
The On3 NIL Valuation is the industry's leading index that sets the standard market NIL value for high school and college athletes. A proprietary algorithm, the On3 NIL Valuation calculates an athlete's NIL value using dynamic data points targeting three primary categories: