Kansas QB Jason Bean gets serious in NIL deal with bean company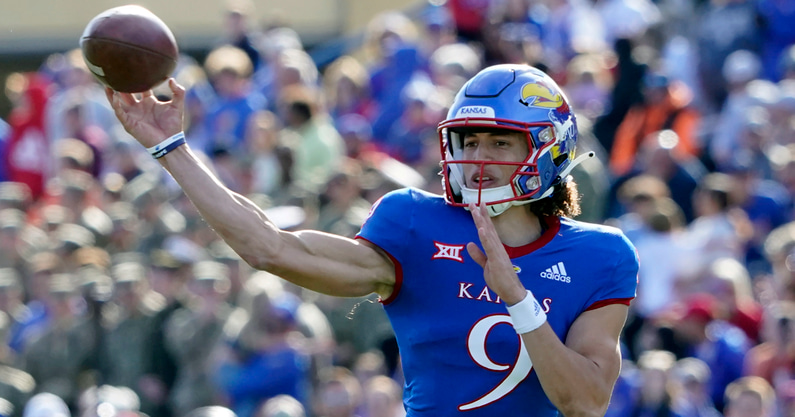 There are moments when the NIL stars align perfectly either through timing, through a catchy jingle, or because of a player's name. Then there are moments when all of the above happens. Take the latest NIL deal between Kansas Jayhawks quarterback Jason Bean and Serious Bean Co. for example.
Bean announced his new NIL partnership with Serious Bean Co. on Saturday. It was the same day Bean guided the Jayhawks to a 37-16 victory over Oklahoma State by throwing for 203 yards and two touchdowns and also rushing for 93 yards and a score. Since he took over for the injured Jalon Daniels, Bean has thrown for 986 yards and 11 touchdowns and rushed for three additional scores.
The showing against the Cowboys was an unforgettable performance that helped the once lowly Jayhawks become bowl eligible for the first time since 2008. The victory was celebrated by KU fans storming the field and depositing a goalpost in Potter Lake.
Bean can celebrate because of his deal that rivals Decoldest Crawford's viral air conditioning commercial as one of the best use of NIL so far.
The ad is the perfect amount of comedy and brand awareness. The terms of the agreement were not released, but it was facilitated by KU collective Mass Strategies. Callahan Agency represented Serious Bean Co. and also helped execute the spot.
"Hey, it's Jason Bean, quarterback for KU and your favorite Bean," Bean says in the spot. "When I'm not playing football, I'm eating Serious Beans. I gotta say I like all the different flavors in their lineup, especially the jalapeno & bacon. It really is the perfect bean for tailgating recipes.
"You can run the bean. Can pass the bean. You can even wave the bean."
1st major deal for Jason Bean
Mass Strategies Chief Operating Officer Dan Beckler said his group helped arrange everything for Jason Bean's first impact NIL agreement.
"We set it up with the company, worked with the Callahan Agency, and executed it all," Beckler said. "It was a win-win for their brand and for Jason's."
Mit Winter, a sports attorney at Kennyhertz Perry LLC and NIL expert, agreed.
"Another NIL deal that plays off an athlete's name," Winter said on social media. "These are always the best."
Bean currently has an On3 NIL Valuation of $42,000. But don't be surprised if that increases in the coming weeks now that KU is bowl eligible and because of the excellent deal with Serious Bean Co.
The On3 NIL Valuation is the industry's leading index that sets the standard market NIL value for high school and college athletes. The On3 NIL Valuation calculates the optimized NIL opportunity for athletes relative to the overall NIL market and projects out to as long as 12 months into the future.