LSU's Garrett Nussmeier signs NIL deal with Gordon McKernan Injury Attorneys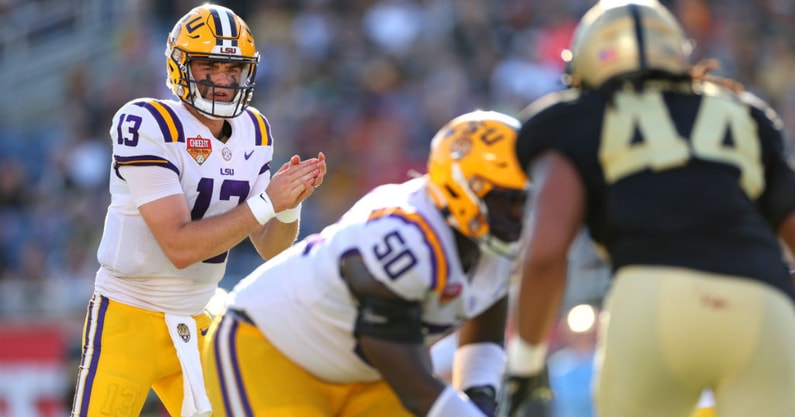 Garrett Nussmeier opted not to enter his name into the transfer portal this spring.
With a clear future at LSU, the quarterback chose to stay in Baton Rouge and wait out his opportunity. He has now signed an NIL deal with Gordon McKernan Injury Attorneys, announced Tuesday on social media. The law firm has emerged as one of the largest spenders in the LSU market, disbursing major marketing dollars on endorsement deals with college athletes.
Nussmeier can add his name to the list. The former four-star prospect in the 2021 recruiting cycle went in for an injured Jayden Daniels in the SEC championship game, throwing for 294 yards and averaging 10.9 yards per attempt against the eventual national champion Georgia.
He saw significant playing time in LSU's win in the Cheez-It Citrus Bowl over Purdue, too, tossing two touchdowns on 11 of 15 passing for 173 yards. LSU has added the pieces to be a national title contender this fall. While Daniels will start this season, Nussmeier expected to eventually be LSU's quarterback.
"I've said this analogy, I just dipped my toe in the pool with NIL with [former LSU women's basketball star] Alexis Morris," McKernan previously told On3 when asked why he entered the NIL space. "I'm arguably the largest advertiser in Louisiana, just all in on what I spend and what I do. It just seemed like another potential avenue for me to try.
"I'm willing to reach outside the normal parameters of football. I think it speaks to my entire potential client base. It says, 'I'm one for all and all for one.'"
Gordon McKernan's growing NIL roster
Gordon McKernan has become one of the most active figures in NIL. He hasn't generated as much national attention as Miami mega-booster John Ruiz and LifeWallet. But McKernan and his firm have struck significant deals with top student-athletes at all of the top college programs in Louisiana.
He told On3 in January that he spent well into the seven figures in endorsement deals in the 2022 calendar year. McKernan previously told Sports Illustrated the price tag for elite players is often at least $100,000.
Those dollar figures have played a factor in LSU maintaining its roster. Kayshon Boutte is now in the NFL, however, a deal with the attorney ensured his return to Baton Rouge for a final season.
"I don't think it hurts," McKernan said of his NIL activity. "I would think most of these kids, not all, especially our higher-profile players, are attracted to the chance to play for a great coach and a great program and position themselves to get to the NFL better equipped. I think coach [Brian] Kelly provides that. I think that's why you're seeing a lot of these players come here, because he runs that organization similar to how a pro team runs it.
"Now, I think if we didn't have anything going on from an NIL standpoint, some of these guys would think, 'I can go get this at this school or that school.' I do think that what I'm doing and others are is certainly helping maintain our attractiveness."
Garrett Nussmeier's growing NIL brand
Nussmeier previously signed with Cheez-It ahead of LSU's bowl game, staying in the brand's Cheez-It "Feelin' the Cheeziest" hotel room. The rooms included furniture inspired by the brand. He also has partnered with the LSU-focused NIL collective Bayou Traditions last month.
The LSU quarterback has a $194,000 On3 NIL Valuation, which ranks in the top 305 of college football. Garrett Nussmeier has more than 301,000 social media followers. His valuation and following could see substantial growth this fall depending on his playing time.
The On3 NIL Valuation is the industry's leading index that sets the standard market NIL value for high school and college athletes. A proprietary algorithm, the On3 NIL Valuation calculates an athlete's NIL value using dynamic data points targeting three primary categories: performance, influence and exposure.
About On3 NIL Valuation, Brand Value, Roster Value
While the algorithm includes deal data, it does not act as a tracker of the value of NIL deals athletes have completed to date, nor does it set an athlete's NIL valuation for their entire career. The On3 NIL Valuation calculates the optimized NIL opportunity for athletes relative to the overall NIL market and projects out to as long as 12 months into the future.