Illinois NIL Store launches Matthew Mayer 'Mullet Monster' T-shirt campaign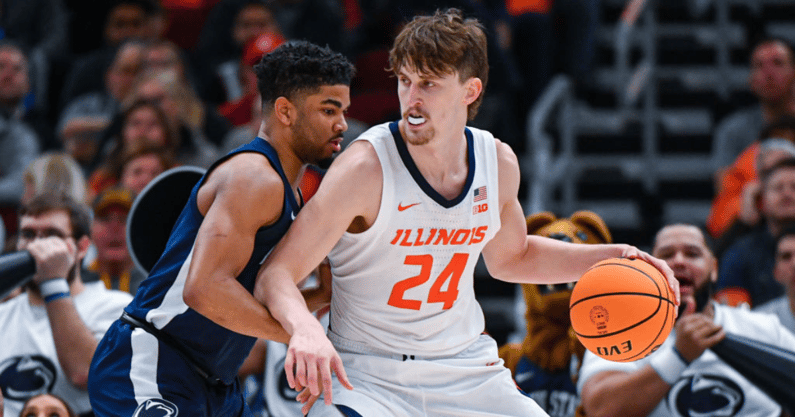 Matthew Mayer might have not known it at the time but his desire for caffeine unintentionally created a marketing opportunity.
The Illinois forward missed multiple days of practice earlier this month for what he described as "caffeine poisoning." He said he drank six Monster energy drinks the same day the Illini played at Ohio State with all but one coming after the game.
"I had six Monsters the day of the game — I only had one before, but I had five after — because I had like a caffeine-induced euphoria to play video games," he said when he returned to practice. "So I could barely get out of bed the next day. It was basically like a caffeine hangover."
Campus Ink did not waste time putting together an NIL opportunity. The company, which runs the NIL Store platform, started to have internal discussions soon after and had some designs sketched up within a day, Campus Ink Director of Athlete Development and Partnerships Adam Cook told On3 on Friday.
Soon after, Campus Ink presented a few options to Mayer's camp. After winning a national title at Baylor in 2021, he transferred into the Big Ten last offseason. The 6-foot-9, 225-pound forward now has his own T-shirt and crewneck playing up his caffeine overdose on the Illinois NIL Store.
The shirt depicts Mayer holding up two energy drink cans, with the words "Mullet Monster" in the middle. Campus Ink made sure to play up the "monster" part of the shirt so it had some resemblance to the Monster Energy logo.
Limited pre-order on the merchandise ends on Monday, March 20. The tee is $34.99, while the crewneck is priced at $49.99.
"This is something that's pretty special about Campus Ink, and something that we're really proud to be able to do," Cook said. "We're fans first and foremost. We love being able to capitalize on those moments. And so when that story came out, and he's such a goofy guy, he's got the mullet going on. We were like, 'God, this is great, man.' Knowing the Illinois fan base, knowing him coming in as a transfer and being able to play pretty well this year, what a cool opportunity to kind of connect with the fan base and lean into that goofiness."
The design does a nice job of playing up on Mayer's caffeine situation. Campus Ink's website says the company has more than 20 school licenses. The company has nearly partnered with every Big Ten institution, along with UConn. It is also printing apparel for the Big Ten Tournament this week. Cook admitted with a laugh that March has been and will continue to be a busy month for Campus Ink.
While brand deals have become one of the most popular activations in the NIL era, being able to create unique, licensed apparel has been a win for athletes. Illinois' logo is prominently featured on the "Mullet Monster" T-shirt.
"We have pulse on what we think fans would resonate with," Cook said. "We're obviously listening for those fun storylines. We have a team that works directly with Matt and in his representation and then we have our creative team. So it really is like an all hands on deck, full-team effort. We try to let people lean into their strengths."
Matthew Mayer will profit off 'Mullet Monster' shirt
Since making the move to Illinois, Mayer has pieced together his strongest season of his college career. In four seasons at Baylor, the most points he averaged in a year was 9.8. At Illinois, he has emerged as a greater offensive threat.
The forward is averaging 12.8 and 5.5 rebounds per game while shooting 41.4 percent from the field. He has scored more than 20 points seven times, too. He also holds a $115,000 On3 NIL Valuation, which ranks in the top 70 among men's basketball players.
The Fighting Illini were bounced from the second round of the Big Ten Tournament earlier this week by Penn State. But the latest bracketology has Illinois making the Big Dance as a No. 7 seed.
His fans will be able to support him at games while also putting some cash towards his caffeine adventures. Mayer will profit between $8 and $15 per each jersey sold, Cook told On3.
"Illini fans are — they're a really fun fan base to work with because they love they those unique designs," Cook said. "You know, being able to snatch up those those limited things and be able to kind of show them off in stadiums."