Michael Vick hosts high school camp in partnership with Triumph NIL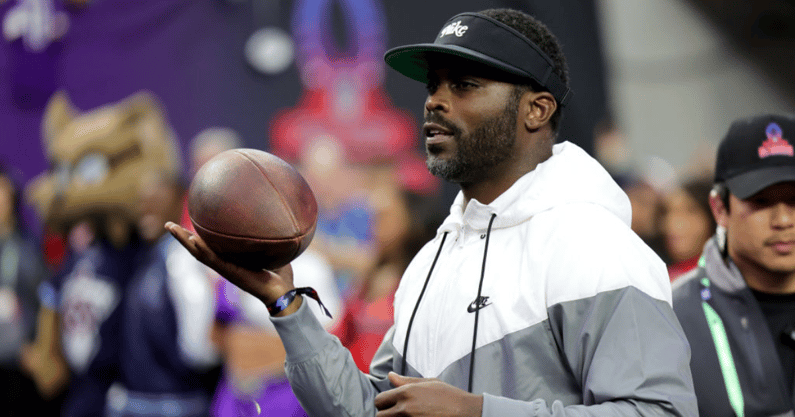 Michael Vick is preparing the next generation of football players for the college experience.
The former Virginia Tech star and NFL quarterback is back in Blacksburg, Virginia, this weekend to run the first edition of the "Mick Vick Experience Camp." Run in partnership with the Virginia Tech-focused collective Triumph NIL, more than 20 high school recruits made the trip to learn from Vick.
A three-day camp focused on football, Vick is spending time covering a number of different topics athletes now need to focus on during their college careers, including financial wellness, mental health and NIL.
Triumph NIL functions as a sports marketing agency focused on Virginia Tech athletes and has a large group of well-known Hokies alumni and former stars on its board, including former No. 1 recruit and first-round draft pick Kevin Jones. The collective organized the event, securing partnerships with the V7 Brand, The Network Advisory and Legends clothing.
List of camp attendees include:
Role of NIL in high school recruiting
The NIL landscape has naturally matured as it approaches its two-year anniversary. Boosters and institutions scrambled throughout 2021 and into 2022 to establish NIL collectives to pool funds together. Now those organizations are trying to figure out how to run sustainable models while managing a budget and helping field a competitive roster. 
High school football recruiting has been dominated by lucrative financial packages in the last 22 months. More collectives at the Power 5 level are operating in the $3 million to $6 million ballpark. Each is forced to devise different strategies to attack recruiting. Some have decided to just stop spending significant dollars on high school prospects altogether. 
Mike Vick is obviously qualified to offer advice on the field. But the former star quarterback was also a highly-touted prospect who had to go through the recruiting process. His experiences could be crucial for some of the top athletes in the 2025 and 2026 cycles.