Michigan State player-driven NIL collective setting new trend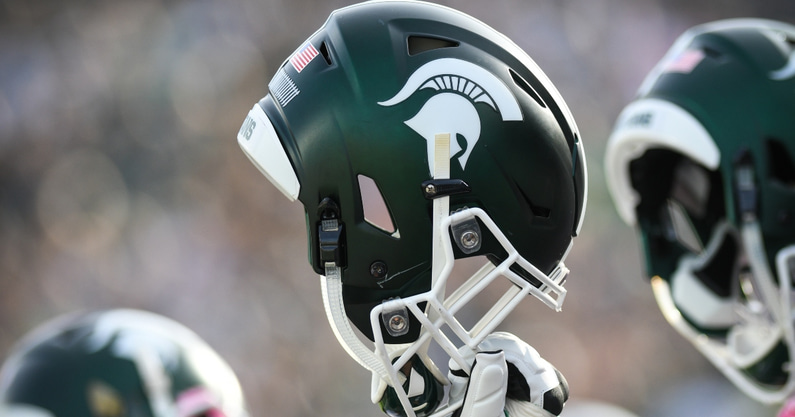 When Michigan State football players launched the East Lansing NIL Club earlier this week, they set off a new era of collectives in college sports.
The player-led group is the first of its kind. Aimed at connecting the athletes directly to fans, it takes out the third party. Collectives have been the biggest trend to emerge in the new era of NIL. Often founded by prominent alumni and influential supporters, school-specific collectives pool funds from a wide swath of donors to help create NIL opportunities for student-athletes through an array of activities.
Typically independent of the university, collectives look to support players financially. This latest launch from Michigan State has the same action plan, but fan engagement will be the driving force.
"Basically, as a team, we got together and just wanted to do something good for us," Michigan State safety Dillon Tatum told On3. "We can make a little bit of profit for all the entire team. You know, something we can make our own. Just get out there and reach out to Spartan Nations because of how much they love us and how much we love them. Give them opportunity to see more of us."
The East Lansing NIL Club launched earlier this week when Michigan State players started to post messages on Twitter. The club plans to allow fans to purchase passes for access to in-person events with players. Participating players will split the proceeds equally.
A limited number of passes will begin to go on sale in July, and an early access list is available. Passes will only be good for one season. Fans who purchase passes for the 2022 season will be given early access to 2023 passes.
Fans also can buy multiple passes, which can be re-sold using blockchain technology on the ELNC site. Merchandise will soon be on sale, too.
Tatum told On3 the idea came from the upperclassmen on the team. The freshman and former four-star recruit said the root cause behind the player-driven collective was to keep the control with the players. They don't want NIL to become the distraction that hinders them from competing for Big Ten championships.
Players can opt in or out of the program.
"This is just me personally, I think maybe we'll get like position groups to go to events a fan wants us at," he said. "Or we can do videos, like just put on there to appreciate the fan. We can also do behind the at scenes practice, I think that will like do very well. And maybe even play video games.
"A lot of people who watch football love video games. Maybe they get a chance to play with one of their favorite players on the Michigan State football team. I know if I was in ninth high grade and I got to play with a big-time college football player, I'd be bragging to all my friends about it."
East Lansing NIL Club relationship with Michigan State
Possibly the most interesting piece of this player-led collective is the role the university can plan in this. While each state has its own rules about the relationship between a collective and institution, there is no previous relationship to look back on as a framework.
For the ELNC, the plan is to keep it player run. But that doesn't mean they haven't had conversations with the coaching staff about their plans. The only piece that would break NCAA rules is assistants directing the student-athletes how to operate the organization.
"So we can talk to them about it, but per NCAA rule, they can't help us with it," Tatum said. "So we can say something, but they're not gonna say, 'Oh, I can shoot you here or you should talk to this person.' I mean everyone's excited and is on board. When we meet about it, we only meet as players never meet with coaches. It's very good for us."
While Michigan State has launched multiple programs to set its athletes up for success in the NIL era, boosters have not launched a collective.
Tatum was also blunt — the goal for these Michigan State players is not to fund recruiting. Collectives have started to play a larger role in recruiting since an unnamed five-star prospect in the Class of 2023 signed a contract with an unnamed school's collective that could pay him more than $8 million. Quarterback is Nico Iamaleava is suspected to be the recruit.
"If you if you come to become part of Michigan State, we expect you to be here all four years and give your all for the team. It wasn't to get more attention for recruiting, it was just for the team," he said in regards to recruiting and the transfer portal.
New trend across college football
Auburn football players announced on Wednesday night that they have launched a player-led collective. Titled "The Plains NIL Club," the organization is set to start selling memberships in July.
The move follows only days after the ELNC announcement.
Experts are not surprised by players making a move to have a seat at the table. The move also gives student-athletes the opportunity to have the cash funnel directly to them.
"I'm not surprised that they are giving it a try," said Mit Winter, a sports attorney at Kansas City-based Kennyhertz Perry LLC. "With players running the collective, theoretically more of the revenue generated by the collective will flow to the players than with a collective run by a third-party business."
And on top of that, the accessibility to coaching staffs is much easier.
"Even if a state law prevents a school and its employees from communicating with a collective, the school and employees would still be communicating with the athletes about other things," Winter added. "If there is strict adherence to a law like that they'd be prevented from talking about the collective and its activities, but it would be difficult to keep athletics issues and collective issues separate when talking."