Michigan fans donate to Purdue collective to support Aidan O'Connell after brother's death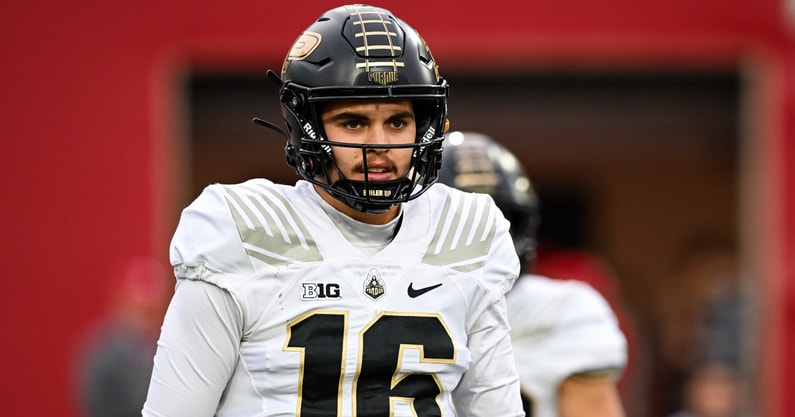 Rivalries are what make college football amazing. And sometimes the battles between schools can get heated. Yet, there are other times when rivalries create good. Take what's happening this week with Michigan fans, who are raising funds ahead of Saturday's Big Ten Championship game to support Purdue quarterback Aidan O'Connell.
O'Connell is expected to play this weekend in the Big Ten title game against the Wolverines with a heavy heart. The Boilermakers' starting quarterback has been back home in Illinois for most of this week with his family, mourning the recent death of O'Connell's oldest brother, Sean.
To support O'Connell and his family, Michigan fans have been donating $16 to Boilermaker Alliance – Purdue's top NIL collective – in honor of his brother. Boilermaker Alliance said in a social media post that group leaders are "humbled" by the gesture.
"We are humbled by the goodwill of numerous Michigan fans who donated $16 to Boilermaker Alliance to honor #16 Aidan O'Connell and his brother," the post said. "Humanity has triumphed over rivalry, and our hearts are full of gratitude."
Boilermaker Alliance didn't reveal how much has been donated to this point. But all indications are that it's a significant amount and the totals continued to increase on Wednesday morning. One of the donations on Wednesday came from Michigan punter Brad Robbins.
A Boilermaker Alliance spokesperson told On3 all the money received will be donated directly to a charity the O'Connell family chooses.
Aidan O'Connell 'played heart out' after brother's passing
Aidan O'Connell announced his brother died in a statement posted Sunday on Twitter. The cause of death has not been revealed.
"He played his heart out for his teammates," coach Jeff Brohm said Monday, describing O'Connell's performance last weekend against Indiana. "Gave us a great effort. Of course, he's got things he has to deal with this week. But we'll be there to support him. Whenever we get him back to work, we look forward to that."
Brohm said he believes the sixth-year senior from Lincolnshire, Illinois, will play Saturday when the Boilermakers face No. 2 Michigan.
O'Connell went 18-of-29 for 290 yards and two touchdowns in a 30-16 West Division-clinching victory after learning of his brother's death.
Television cameras caught the emotional O'Connell crying into a towel on the sideline after Purdue sealed what he called a "dream come true" on the Boilermakers' radio broadcast.
"He's a special person. You don't get guys like that all the time," tight end Payne Durham told the Associated Press. "He doesn't identify as a football player. He's a man of faith who wants to do things for other people."