Michigan Wolverines star Mike Morris puts acting skills to use in new NIL deal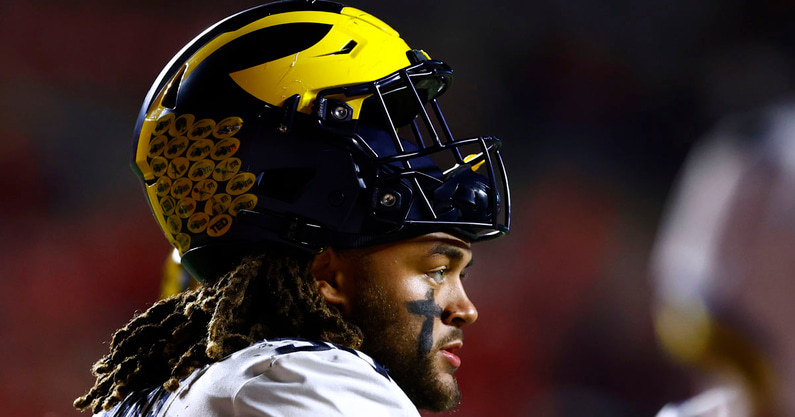 Mike Morris, one of college football's top defenders, has tackled another NIL deal.
Morris, a senior EDGE for the Michigan Wolverines, announced on Thursday he's partnered with the Mike Morse Law Firm through a NIL deal. The terms of the agreement weren't released.
Morris has been a star defender for the third-ranked Wolverines. Through nine games, Morris has 11 tackles for a loss, 7.5 sacks, four quarterback hurries and a forced fumble. He was also named to several midseason All-America teams, which is why Morse said the timing for a NIL deal was perfect.
"Mike Morris is an incredible football player," Morse said in a statement. "But, more importantly, he's an incredible person too. Seeing him tear up the field each week, and noticing the similarities between our names, there was an obvious opportunity to do something creative together."
As part of the partnership, Morris has filmed a series of TV commercials that will air on the local ABC affiliate during Saturday's game against Nebraska. Morris also appears in a social media campaign "Morris vs. Morse" and there's also a contest offering to win items signed by Morris.
Morris, a self-confessed "theater kid" in high school, is excited about the opportunity to partner with Morse and be featured in the firm's TV commercials and social media.
"This partnership made a lot of sense not just because our names are similar, but because the firm is well-known for winning and giving back to the community," Morris said in a statement. "Plus, it let me put my acting skills to use."
Mike Morris has high On3 NIL Valuation
Mike Morris currently has an On3 NIL Valuation of $473,000, which puts him at No. 100 in the On3 NIL 100 and No. 58 in the College Football NIL Rankings.
A proprietary algorithm, the On3 NIL Valuation calculates an athlete's NIL value using dynamic data points targeting three primary categories:
+ Performance
+ Influence
+ Exposure
While the algorithm includes deal data, it does not act as a tracker of the value of NIL deals athletes have completed to date, nor does it set an athlete's NIL valuation for their entire career. The On3 NIL Valuation calculates the optimized NIL opportunity for athletes relative to the overall NIL market and projects out to as long as 12 months into the future.
Performance, Influence, and Exposure ratings are available only to the athlete in the "Athlete Verified" private dashboard (Dec 2022). The On3 NIL 100 is the first of its kind and the defacto NIL ranking of the top 100 high school and college athletes ranked by market valuation.
The deal with the Mike Morse Law Firm is the third known major deal that Mike Morris has executed. He also has partnerships with Athlytic and NextGen America.