Northwestern's reaction as only Big Ten school without NIL collective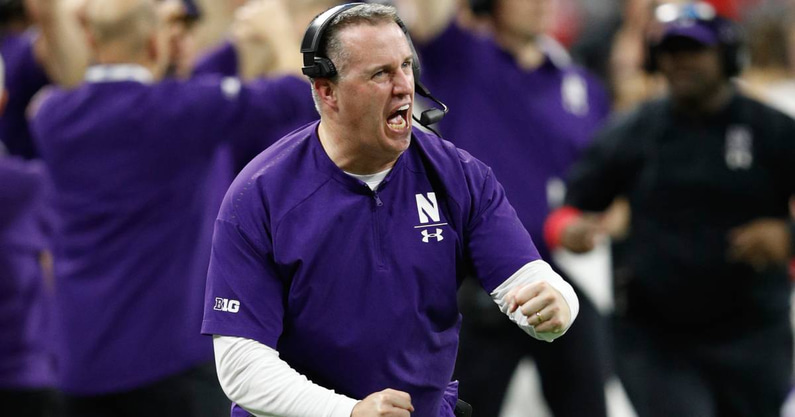 INDIANAPOLIS — Before the latest installment of Big Ten Media Days, and with the second college football season of the NCAA's NIL era approaching, if you searched "Northwestern collective" on Twitter, results for an IPA (Kings County Brewers Collective's Spaghetti Northwestern) and student groups at the university, such as a labor union for graduate workers and a multicultural theater board. However, you would've found little discussion regarding the prospect of an NIL collective at the school.
Of the Big Ten's 14 current member institutions, Northwestern is the only one whose fan base hasn't publicly announced the creation of a collective. NIL collectives are an umbrella term for third-party organizations or marketing agencies that help pool funds from fans and/or businesses to create NIL opportunities for athletes at a specific university.
The other 13 Big Ten schools combine for at least 23 collectives, school-specific marketing agencies or player-driven membership-based communities. Soon-to-be Big Ten members USC and UCLA are each supported by at least one of those entities, too.
Northwestern coach Pat Fitzgerald immediately turned to humor when On3 asked if he's aware of any plans for a collective to support the Wildcats, and if not, whether the lack of one concerns him.
"Yeah, Andy, private school. We don't have to tell you," Fitzgerald said in a tongue-in-cheek comment that drew laughter last week at Big Ten Football Media Days. "No, I'm just joking."
In May, one Twitter user said he thinks Northwestern "could be poised to be a top tier team in the B1G and perennial Top 20. Big investment in facilities, excellent school and a successful, resource rich alumni base to fund a competitive NIL collective."
However, there's a difference between an alumni base with the resources to fund a competitive NIL collective and putting a plan into action.
"There's obviously a lot of things that are in the works," Fitzgerald said.
Northwestern partners with Altius for in-house GM
The day before the first day of Big Ten Football Media Days, Altius Sports Partners announced a program in which it will place a general manager on the campuses of Cincinnati, LSU, Northwestern, Oklahoma State, South Carolina and Virginia. The program is intended to improve each athletic department's in-house NIL-related services.
"The GM program represents the future of centralizing NIL as a standalone vertical within athletics departments," stated a university release. "This includes comprehensive education of all stakeholders, as well as a bespoke approach for each athletics department for maximizing each athlete's NIL opportunities. Each institution will have a customized approach to connecting athletes with brand partnerships, which could include providing opportunities and resources or making appropriate introductions depending on the nature of involvement."
Fitzgerald, who was a two-time recipient of the Bronko Nagurski Trophy, Chuck Bednarik Award, Big Ten Defensive Player of the Year and consensus All-American honors, joked that the NIL era is about 30 years too late.
"I'm a little jealous of the guys right now," he said. "The mid-'90s, NIL. You know? It would've been a good deal for me. But I'm doing fine and have no complaints. I'm all for whatever makes the experience of the guys better."
The video Northwestern's athletic department shared on Twitter as part of the announcement of its ICON NIL program ended with drone footage of the university's lakeside athletic facilities, with the Chicago skyline off in the distance. That's typical of marketing material from the university and athletic department, which bill the Wildcats as "Chicago's Big Ten Team."
"We're going to do it OUR way," Fitzgerald said in a quote tweet of the video. "What makes us different is what makes us dangerous!"
He touted a similar line on-stage the next day.
"We're going to do things at Northwestern the Northwestern way," he said. "It's not about being first, it's about trying to strive to do what's best and doing it the right way."
Later on, he explained in more detail what, exactly, is the Northwestern way and what makes the Wildcats different. As far as collectives go, Fitzgerald said, "the outside entities, you really can't control."
Northwestern players react to lack of collective
NIL can be a niche topic among casual college sports fans. Collectives are a niche within that niche. It could be asking a lot for a college athlete to understand the nuances of the different organizational structures of collectives, particularly if his or her fan base hasn't started one. That being said, however, what do Northwestern football players think of the lack of a collective?
Is it a concern?
"I mean, we're working on it. At least for me personally, it's not a concern," said All-Big Ten honorable mention defensive lineman Adetomiwa Adebawore. "It doesn't really concern me."
Adebawore said he hasn't come across any collectives. While he said he's trying to arrange some NIL deals — ideally with companies that are involved in food or athletes' physical recovery — he said hasn't finalized any.
Northwestern defensive back Cameron Mitchell, who was also an all-conference honorable mention selection last season and whose On3 NIL Valuation is $140,000, had a similar refrain.
When asked if he has pursued any NIL opportunities in the greater Chicagoland area, Mitchell said, "Me personally, I wouldn't say that I've done anything like that, but we've got guys on the teams who have really taken advantage of it. Got deals with, like, Portillo's. That's one of the biggest chain restaurants in Chicago."
However, Mitchell was complimentary of the creation of collectives in college athletics and athletes' involvement with them.
"I mean, I think it definitely helps," Mitchell said. "It's really cool that a lot of these schools are doing that. I wouldn't say it's a concern because, you know, at the end of the day we're here to play football, but it helps. It's cool. Happy that a lot of those guys are using their opportunity to make that money."
On3 surveyed 11 Big Ten head coaches on their reaction to Ohio State coach Ryan Day's offseason comment that it would take $13 million in NIL compensation for the Buckeyes to keep their roster together. Fitzgerald's response included laughter.
"Good luck," Fitzgerald said before laughing. "Good luck. Yeah, good luck. That's not our roster."
Fitzgerald describes 'the Northwestern way'
Fitzgerald was emphatic when describing the meaning behind phrases like "the Northwestern way."
"I'm not going to give away trade secrets but we're going to take care of our locker room," he said. "I mean it's still illegal to recruit a transfer or a high school kid through inducements. I'm not going to do it. We're not going to do it and if the rules change, then we'll adapt but those are the rules and we're not going to do it and we're going to take care of our locker room. We're going to take care of our program."
Fitzgerald went on to cite the institutional importance of academics, professional growth and internships. In other words, "More holistically than maybe just a few more dollars for a burger or something like that," he said.
"What's the difference between our walk-ons that earn the privilege to get to Northwestern academically and socially and athletically compared to our quarterback?" Fitzgerald asked rhetorically. "There's nothing. You know, maybe somebody plays better football but so what? I think we're going to beat people by having the most cohesive, cultured team that's together for each other than maybe one or two individual players.
"If I'm wrong, I'll adjust, but I think from a consistency standpoint, that's what's going to fit us best."
As part of a breakout session at media days with a smaller number of reporters, Fitzgerald made his second reference of the day to Northwestern's distinction as the only private university in the Big Ten.
"You guys need to do the Freedom of Information Act [requests] for some of these contracts that these kids supposedly have," Fitzgerald said, a seemingly half-serious, half-joking suggestion that's not possible in practice. "I look forward to seeing it."