Altius Sports Partners creates 'GM Program' to help schools bring NIL in-house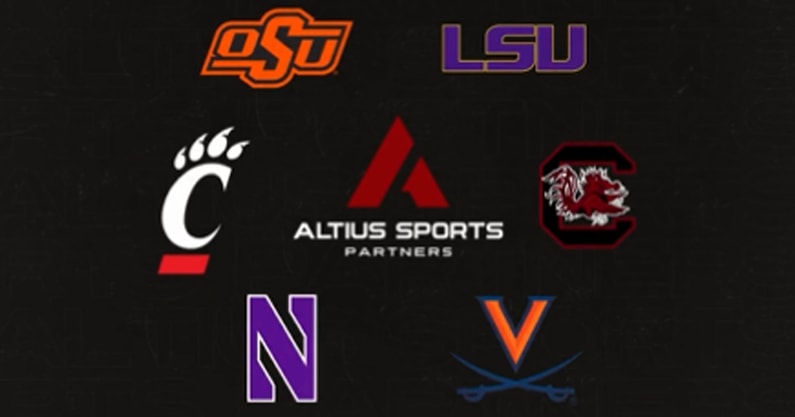 Altius Sports Partners has announced it's partnering with Cincinnati, LSU, Northwestern, Oklahoma State, South Carolina and Virginia as part of its new GM Program. The program aims to bring the inner workings of NIL in-house to athletic departments. It's a trend that's picking up speed across the country as schools try to help their student-athletes and coaches navigate the murky NIL world.
As part of the GM Program, Altius told the Sports Business Journal it's developed a new on-campus strategy that will help schools by placing a "general manager" within athletic departments. Altius says the intent is to create a NIL vertical within athletics departments that will support student-athletes, coaches and staff.
"This is the future," Casey Schwab, Altius' CEO and founding partner, told the Sports Business Journal.
Altius Sports Partners already advises 30 schools and nearly half of the Power 5 about NIL. The company told the Sports Business Journal that all six programs – and a potential seventh that could be announced shortly – will have general managers on campus. That will help the schools understand the national landscape and connect athletes with brands.
Altius Sports Partners will customize GM positions
Altius Sports Partners says it will customize the GM positions to fit each of the schools. In some cases, the company told the Sports Business Journal the GM will be facilitating local and national deals. In other cases, the GM will act as an expert, taking questions from all the different sports within the school. The GM will also work on education and reducing liability.
"One of the things we've heard time and time again is that schools want to be more involved," Schwab told the Sports Business Journal. "Especially when it comes to educating and protecting their athletes. They're in a much different place than they were a year ago when it comes to NIL. This is the evolution of the space and the evolution of schools deciding that they needed to get more involved."
The schools involved said they're excited about the new partnership.
"The NIL landscape is evolving and has been a tremendous opportunity for our student-athletes," said South Carolina Athletics Director Ray Tanner. "Since beginning our arrangement with Altius over a year ago, they have been beneficial to our process. Now that Altius will be having a Partner Service Manager on our campus, it will maximize the prospects for our student-athletes to engage in successful, meaningful NIL partnerships."
More schools looking to bring NIL in-house
To help run the GM Program, Altius Sports Partners hired Brittney Whiteside. She is a former athletic administrator at Virginia, Missouri and Appalachian State. She was brought on board on June 1.
"We are excited to launch the on-campus program, which will add significant value to our partners and expand NIL opportunities for their athletes," Whiteside said. "Our top priority is to provide innovative NIL strategies and solutions to maximize opportunities for athletes in this evolving landscape."
The Sports Business Journal reported the GMs will be Altius employees funded by additional investment from the school. The position will function much like a department head for NIL. Altius advisory deals typically cost in the low six figures annually.
Furthermore, the move to bring NIL in-house is starting to become more of a reality across the country. In June, the USC athletic department announced they signed media agency Stay Doubted as a third-party option for their student-athletes. This allows players to go in-house to support their pursuit of NIL opportunities.
Stay Doubted established a subsidiary, named BLVD LLC. This company will operate as an agency and media company exclusively serving USC athletes in their search for partnering with businesses. At least seven full-time Stay Doubted employees will be dedicated to BLVD activities.
Additionally, this unique move by USC and Stay Doubted will position the Trojans to assist student-athletes in NIL ventures on a day-to-day basis while not taking away time from the coaching staff. Only 3% of USC's student-athletes have engaged with professional service providers, per the school press release announcing the partnership.