What are NIL Collectives and how do they operate?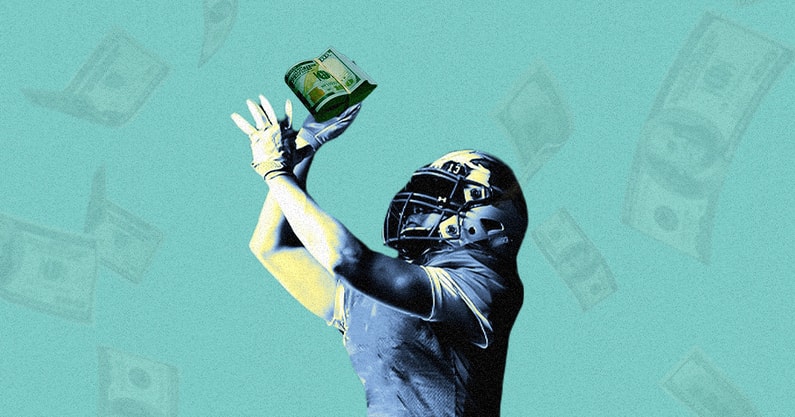 When the NCAA's Board of Directors adopted an interim rule opening the opportunity for NIL activity beginning July 1, 2021, student-athletes were finally able to receive financial compensation.
Sports attorney and NIL pioneer Darren Heitner recalls receiving a direct message from Eddie Rojas that morning. The former Florida baseball star described a business model that pooled together cash from boosters to provide opportunities for student-athletes.
The two tossed around names for the organization. A month later the Gator Collective was formed. Rojas is now the CEO of the leading Florida collective. That first organization set off a firestorm of donor-driven collectives across the college athletics landscape.
How did we get to collectives? 
The origin of NIL traces back to the late 2000s when former UCLA basketball player Ed O'Bannon and 19 others sued the NCAA. The athletes argued the organization violated United States antitrust laws by not allowing athletes to make a share of the revenues generated from the use of their NIL in broadcasts and video games. A judge later ordered the NCAA to pay $44.4 million in attorney fees along with another $1.5 million in costs to lawyers for the plaintiffs in O' Bannon's class-action lawsuit.
But the birth of collectives really comes from Supreme Court Justice Brett Kavanaugh's concurring opinion following the Alston decision. 
"Nowhere else in America can businesses get away with agreeing not to pay their workers a fair market rate on the theory that their product is defined by not paying their workers a fair market rate," Kavanaugh wrote. "And under ordinary principles of antitrust law, it is not evident why college sports should be any different.
"The NCAA is not above the law."
While the weakening of the NCAA following the court's decision did not immediately result in the formation of these collectives, it exposed a larger problem. Less than two weeks after Kavanaugh's opinion, the interim NIL policy went into effect. 
It appears the NCAA has a reluctance to invite and defend additional antitrust lawsuits. Because of that, NIL collectives and schools have been able to have internal conversations wondering if the NCAA has what it really takes to police the organizations.
What is a NIL collective?
As of July 1, 2022, there are more than 120 collectives either known or in the process of being formed, and that number is only growing. Of the 65 schools that make up the Power Five, 92% have at least one collective or are in the process of forming one. All 14 schools in the SEC have at least one organization. 
Often founded by prominent alumni and influential supporters, school-specific collectives pool funds from a wide swath of donors to help create NIL opportunities for student-athletes through an array of activities.
Collectives, which are independent of a university, can serve a variety of purposes. Most often, they pool funds from boosters and businesses, help facilitate NIL deals for athletes and also create their own ways for athletes to monetize their brands. The term "collective," which generally means a cooperative enterprise, has no particular legal significance.
Industry sources expect every Power 5 school to be affiliated with at least one NIL-related collective by the end of the year. Those programs that fail to be affiliated with a robust collective risk being left in the dust in the ultra-competitive world of football and basketball recruiting. 
A full directory of collectives can be found in the On3 database here.
How does a NIL Collective operate?
A NIL collective is typically driven by boosters, whether it be one-time payments or subscriptions. The NCAA defines a booster as an individual, independent agency, or corporate entity who is known by a member of the institution's athletics administration to have participated in, or to be a member of, an agency or organization promoting the school's intercollegiate athletics program. A booster may also assist in providing benefits to enrolled student-athletes or their family members. 
These organizations can be categorized as either for-profit or 501(c)(3) status non-profits. The non-profit collectives that obtain 501(c)(3) status under the IRS allow the group to be tax-exempt and potentially allow the benefactors to receive tax deductions for their payments. The go-to model for tax-exempt collectives involves college athletes picking a charity to provide their services in exchange for NIL payment from the collective. 
For-profit collectives are typically registered as an LLC – a limited liability company. It is a structure that combines the pass-through taxation of a partnership or sole proprietorship with the limited liability of a corporation.
Each collective sets out to accomplish a separate list of goals. For some, it may be streamlining NIL opportunities. Others may want to crowdsource funds from boosters. Most often across the college sports landscape, three types of collectives have emerged:
Marketplaces collectives

This organization sets out to create a meeting place for athletes and businesses to connect and create opportunities. Sometimes this collective can even serve as the agent representative for the athlete. Donations are typically earmarked to help support logistics. An example of this type of collective is Marketpryce Florida, Division Street, Happy Valley Talent and TigerImpact. 

Donor-driven collectives

These collectives are pooling together booster and supporter funds and creating opportunities for athletes to give the money back to them. This is the most common setup. They basically wash the donor money, paying these players in an NCAA-compliant manner. Each group has its own money collection format, with some opting for a subscription model while others welcome one-time payments. An example of this type of collective is The Wildcats' Den, The Foundation, The Fund, The Grove Collective and Spyre Sports Group. 

Dual collectives

These are collectives that feature both a marketplace and offer a place for supporters to place their donations. While the NCAA has yet to make a major move against a collective, many industry sources the donor-driven collective will be made an example of. That could set a dual collective up for success. Examples of this model include The Gator Collective, Rising Spear and Classic City Collective. 
Another type of collective has also emerged in the last month in YOKE-powered, player-driven collectives. This model has been launched at Auburn, Kansas State, Texas, Michigan State and Minnesota. While the organization is led by players, the infrastructure is put together by YOKE. The group sells access passes to the fanbase with the sales pitch of having opportunities to interact with the team from VIP tailgates to one-on-one interactions. Student-athletes will split 75% of the revenue, while YOKE takes 25%. 
The other collective launch that has caught the attention of many in the NIL industry is USC's latest move. The Trojans athletic department announced in June it signed media agency Stay Doubted as a third-party option for their student-athletes. This will allow players to go in-house to support their pursuit of NIL opportunities. 
Stay Doubted has established a subsidiary, named BLVD LLC. This company will operate as an agency and media company exclusively serving USC athletes in their search of partnering with businesses. At least seven full-time Stay Doubted employees will be dedicated to BLVD activities.
Concern over collectives
Collectives have also been the centerpiece of controversy in the first year of NIL, specifically when it comes to inducements and pay-to-play in recruiting and the Transfer Portal. 
The biggest storyline came in a report in March from The Athletic's Stewart Mandel, which outlined that a five-star recruit in the Class of 2023 signed an agreement with a school's NIL collective that could pay him more than $8 million by the end of his junior year of college. This recruit is widely believed to be Tennessee five-star quarterback commit Nico Iamaleava. 
The report went on to detail that the prospect will be paid $350,000 almost immediately, followed by monthly payouts escalating to more than $2 million per year once he begins his college career, in exchange for making public appearances and taking part in social media promotions and other NIL activities "on behalf of (the collective) or a third party."
Mandel's story exposed the underbelly of NIL, specifically in college football and college basketball. But that was really just the tipping point. Multiple NIL lawyers have emerged in this new era, serving athletes and negotiating contracts with collectives. 
Four-star quarterback Jaden Rashada recently committed to Miami. Yet, only hours later, his NIL attorney Michael Caspino was on the record telling On3 that the four-star recruit left millions on the table by not going to Florida. 
Head coach after head coach told stories this offseason of players entering the Transfer Portal because of the opportunity to cash in. With the mix of the portal and NIL, the offseason turned into college sports free agency. 
"We can't promise anybody any money for play," North Carolina head coach Mack Brown said back in February. "Just about every transfer I've talked to was being offered money (from other schools), so it was a little ridiculous."
The NCAA released updated guidance on NIL in early May, stating collectives are not to be involved in the recruiting process or in the transfer portal. There continues to be growing concern over the role of the collective. And the NCAA guidance has not slowed down any organizations. 
A majority of athletic directors expressed concern that collectives are using NIL payments as pay-to-play recruiting inducements, both with high school prospects and in the transfer portal, LEAD1 survey results showed. When asked how concerned they are about the role of collectives, 90% of ADs described themselves as concerned. And 73% of survey respondents expressed they are "extremely concerned."
LEAD1, which is a group representing the interests of FBS athletic directors, received feedback from 80 of the nation's 130 FBS ADs. The majority of participating athletic directors, 77%, believe an unregulated NIL market will lead to more scandals. Another 87% disagreed with NIL payments that are tied to an athlete solely being rostered on a team. 
Guidance for student-athletes, prospects working with NIL collectives
From the NCAA's NIL guidance released in May, there are takeaways for both student-athletes and recruits who come in contact with collectives. 
Here are the two principles current student-athletes need to consider when doing NIL business with collectives:
A NIL agreement between a college athlete and a collective that has triggered booster status may not be guaranteed or contingent upon enrollment at an institution.
Contracts must be based on an independent, case-by-case analysis of the value each athlete brings to a NIL agreement. This is opposed to providing compensation or incentives for transfer decisions, athletic performance, achievement or membership on a team.
The list of takeaways for recruits is significantly longer because they are not supposed to be in communication with boosters or collectives to begin with. Here is what the NCAA laid out: 
Recruiting conversations between a collective that has triggered booster status and a recruit are not permissible.
A collective that has triggered booster status may not communicate with a recruit, a recruit's family or others affiliated with the recruit for a recruiting purpose or to encourage the recruit's enrollment at a particular institution.
A NIL agreement between a recruit and a collective may not be guaranteed or contingent on enrollment at a particular institution.
Coaches and staff may not organize, facilitate or arrange a meeting between a collective and a recruit. This includes providing a collective with a recruiting list or watch list, including the NCAA Transfer Portal. Coaches are also prohibited from communicating directly with recruits on behalf of collectives. 
The relationships between collectives, institutions
Collectives will always be tied to universities, whether the schools want to recognize it or not. Early signs have shown, however, that the organization that is in lockstep with an institution's athletic department will produce the most beneficial results. 
The relationship between collectives and universities can be complicated, though. Certain states have enacted laws opening up the possibility for coaching staffs to directly talk with collectives, such as in Tennessee and Mississippi. At the same time, for example, in New York there's been talk of banning collectives. 
This all comes despite the NCAA stating the collective is not to be involved in the recruiting process or in the Transfer Portal. The NCAA requires NIL agreements to be based on an independent, case-by-case basis. The price tag on contract agreements needs to come from analysis of the value an athlete brings, not as an incentive for enrollment decisions or membership on a team. 
While the NCAA did not lay out any specific examples of this happening, industry sources continue to tell On3 that this is happening across the country. And it's a role that collectives are fulfilling.