On3 NIL Valuations: Top five ranked prospects visiting Miami, Texas A&M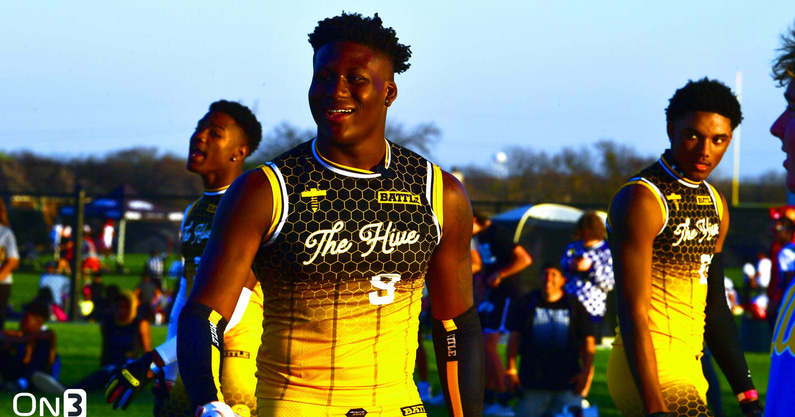 Texas A&M and Miami have had plenty of head-to-head recruiting battles in the 2023 cycle.
Since Mario Cristobal headed back to South Florida, the two schools have clashed multiple times on the recruiting trail. The Hurricanes won out on the recruitment of four-star quarterback Jaden Rashada. And the Aggies have had success, too, winning out with five-star linebacker Anthony Hill Jr. and four-star offensive lineman Chase Bisontis.
Saturday night's matchup will have plenty of recruiting implications. There will be plenty of NIL potential visiting College Station.
On3 is breaking down the top-five On3 NIL Valuations of prospects who will be visiting Texas A&M this weekend.
1. Anthony Hill
On3 NIL Valuation: $311,000
Position: Linebacker
On3 Consensus Ranking: No. 15
College choice: Texas A&M commit
Five-star linebacker Anthony Hill committed to Texas A&M in late July, shutting down his recruitment. But not in the eyes of Texas. Steve Sarkisian visited Hill's game Friday night. But Hill has stayed loyal to the Aggies, helping in recruitment. This weekend is big for two reasons for Texas A&M. Making sure that Hill is locked in for good. But the No. 1 linebacker in the 2023 cycle could also help lockdown some major commitments for the Aggies.
2. Tony Mitchell
On3 NIL Valuation: $257,000
Position: Safety
On3 Consensus Ranking: No. 29
College choice: Alabama
 Five-star Tony Mitchell has been committed to the Crimson Tide for a few months, but Texas A&M and Auburn have continued to recruit the safety. On3 Director of Recuriting Chad Simmons hopped on The Inside Scoop this week, saying Mitchell's recruitment is one to keep an eye on. He'll be in College Station this weekend, and he still plans to take an official visit at some point in November or December with the Aggies. TJ Rushing is the lead recruiter, but he still talks to Jimbo Fisher, DJ Durkin, Antonio Cromartie and Nick Williams.
3. David Hicks Jr.
On3 NIL Valuation: $248,000
Position: Defensive Line
On3 Consensus Ranking: No. 9
College choice: Uncommitted
The nation's No. 1 defensive tackle is officially down to seven schools, but the race is largely focused on Oklahoma and Texas A&M. David Hicks will be in College Station again this weekend, hanging out with Anthony Hill and continuing to foster his relationship with the Aggies' coaching staff. The physically-developed defensive lineman is the top-ranked recruit out of Texas. The On3 RPM currently gives Oklahoma a major edge in the recruitment, a 77.5 percent chance to land the five-star recruit.
4. Peyton Bowen
On3 NIL Valuation: $232,000
Position: Safety
On3 Consensus Ranking: No. 24
College choice: Notre Dame
Peyton Bowen has remained publicly committed to Notre Dame, but the five-star safety's recruitment is really coming down to Texas A&M and Oklahoma. He and his family will be watching Saturday night's matchup with Miami at Kyle Field. There's no questioning the 6-foot, 185-pounder's talent; he's earned comparisons to former five-star Caden Sterns due to his size, length, athleticism and playmaking. The On3 RPM currently gives the Sooners a 32.2 percent chance of flipping Bowen. The Aggies are slightly behind on the flip percentage at 14.2 percent.
5. Hykeem Williams
On3 NIL Valuation: $226,000
Position: Wide Receiver
On3 Consensus Ranking: No. 20
College choice: Uncommitted
The only uncommitted five-star wide receiver still on the board, Hykeem Williams' recruitment has come down to Texas A&M, Georgia and Florida State. An All-Broward County selection as a junior, he's the fifth-rated recruit out of Florida in the 2023 cycle. This will be Texas A&M's last chance to get the wideout in College Station before his Sept. 23 commitment. The On3 RPM currently gives the Aggies a 62.5 percent chance of landing the 6-foot-2, 215-pound athlete.
About the On3 NIL Valuation
The On3 NIL Valuation is the industry's leading index that sets the standard market NIL value for high school and college athletes. A proprietary algorithm, the On3 NIL Valuation calculates an athlete's NIL value using dynamic data points targeting three primary categories:
+ Performance
+ Influence
+ Exposure
While the algorithm includes deal data, it does not act as a tracker of the value of NIL deals athletes have completed to date, nor does it set an athlete's NIL valuation for their entire career. The On3 NIL Valuation calculates the optimized NIL opportunity for athletes relative to the overall NIL market and projects out to as long as 12 months into the future.