Inside Rhoback's aggressive NIL strategy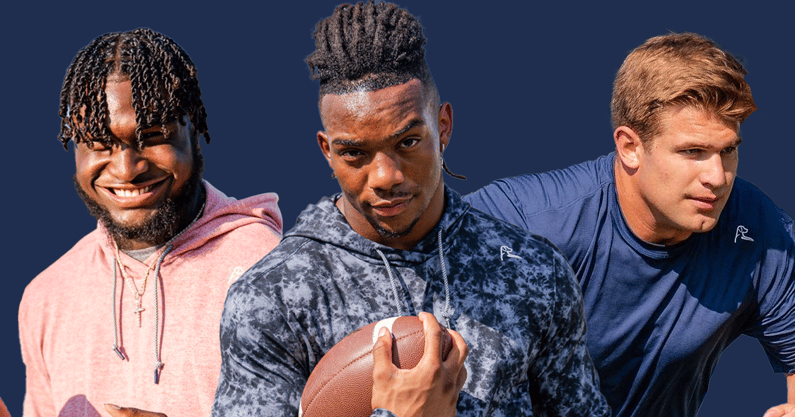 At the advent of NIL last summer, questions swirled about what the new world of college athletics would look like. But one of the most popular queries was which major sportswear brand would take a chance on student-athletes.
Turns out not many did. adidas has been the most aggressive, announcing a NIL network and signing 15 brand ambassadors to honor the 50th anniversary of Title IX. Nike and Under Armour have kept mostly quiet, though. Sources told On3 that lululemon plans to grow aggressively in the space in the coming months.
But Rhoback, the fast-rising apparel operation, has taken advantage of the market. There was never a master NIL plan — just a basic belief athletes deserve a right to be paid. Based in Charlottesville, Virginia, the company started the Rhoback U program in July 2021, shortly after the NCAA made its move.
"We felt strongly that everyone deserves to be compensated as a college athlete," Rhoback's athlete and brand relations rep Will Lawler told On3.
Rhoback has not slowed down. JT Daniels and Kyle Hamilton were the headliners of the inaugural ambassador program last year. Adding another layer to Rhoback U, the duo signed exclusive apparel deals and were featured in ads throughout the college football season. The company added Texas basketball captain Andrew Jones to the campaign last winter.
Alabama's Will Anderson, Notre Dame's Michael Mayer and Texas running back Bijan Robinson have been added to this year's class of "pillar athletes." Rhoback's set to add Alabama quarterback Jalen Milroe on Tuesday night, too.
"Those are kind of meant to be the faces of the program," Lawler said. "And to really put a put a face and name behind the Rhoback U program."
What Rhoback looks for in pillar NIL athletes
As Lawler explains it, Rhoback wants an athlete to embody the company's logo. The dog mascot that graces every polo and quarter zip is based on the breed of Ridgebacks, which crave activity. Rhoback is a shortened version of Rhodesian Ridgeback.
So when identifying which household names the company wanted to add, the same motto the company has at the top left corner of its website was put into use. For starters, Lawler said tapping into college football markets that fostered communities was key. Four of the biggest brands in college football — Texas, Alabama, Notre Dame and Georgia.
"These are some of the most loyal fan bases in the country and being able to really get introduced to them and associate ourselves with them is the end goal," Lawler said. "Whether that's through announcing a partnership, whether that's through deepening it through content, whether that's through apparel."
From there, picking out athletes who had name recognition in those markets was key. Obviously, Daniels is now playing at West Virginia, but Rhoback is still working with the quarterback. Social media following was not a make-or-break. Identification with the brand was a factor, too.
"We wanted to work with people that we knew were active," Lawler said. "And obviously, great people off the field, too."
Details of deals with Rhoback
Each one of the core athletes of the Rhoback U program is given four incentives to sign on. They are all compensated for their work, with a cash base fee. From there they still have an opportunity to earn a commission for sales they drive in, plus a substantial amount of gear.
The other unique aspect of signing with the company is content creation. Rhoback is in the process of creating a media house. That means athletes can work with the apparel company on their brand messaging, along with the creation of content for social media channels.
As for the exclusive apparel aspect of the partnership, the deal expires once they reach the NFL. Rhoback identifies itself in the activewear brand, meaning its athletes are open to signing on with business or formal apparel companies.
"I think we've been fortunate to work with guys that aren't necessarily loading themselves up on a million deals," Lawler said. "Some have more than others, but for the most part, they're not walking billboards at the same time. They are selective, just as we are. It's a two-way street."
Next steps for Rhoback U
There are no signs of Rhoback U slowing down. The program has since grown to nearly 3,000 players from across the college athletics landscape. Student-athletes from every school, sport and division are welcome to apply.
In those deals, Rhoback gives apparel along with the opportunity to earn 20% commission off sales the athlete drives to the website. Since the initiative began, the custom commission codes have led to more than 1,000 purchases.
The company hopes that its core, pillar athletes can continue to grow its brand in these college towns. Rhoback wants to grow that program, too, and will have more athletes sign on for the winter.
"Being able to offer NIL opportunities to athletes that otherwise aren't necessarily getting offered has been the best part," Lawler said. "It's been fun to deal with D-III compliance officers because they're the only student on their campus that's getting a NIL deal. … Being able to offer that to thousands of athletes across the country has been really cool."