Four-star receiver Rodney Gallagher becomes first to ink Pennsylvania NIL deal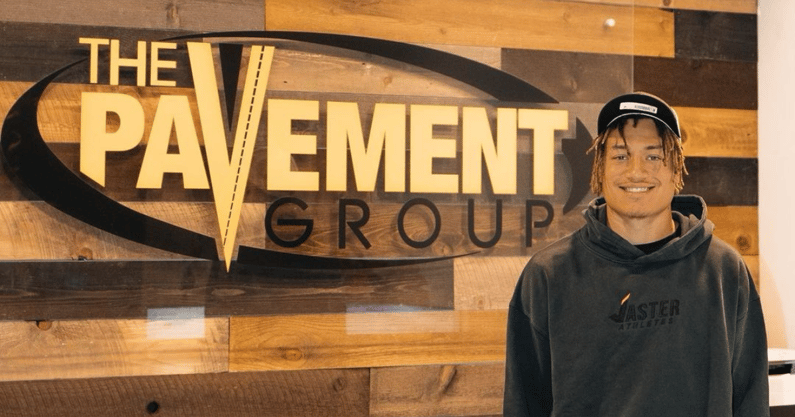 Rodney Gallagher has made history in the Keystone State.
Just hours after the Pennsylvania Interscholastic Athletic Association board of directors passed an amendment to the organization's rulebook allowing high school athletes to monetize their NIL, the class of 2023 recruit announced the state's first-ever NIL deal.
The four-star receiver out of Laurel Highlands is currently committed to West Virginia. And now he has has inked an endorsement deal with The Pavement Group. One of the leading paving contractors in the country, the company was founded by Laurel Highlands alumni Brian Hess.
On top of the compensation Gallagher will receive, the partnership includes a plan for the receiver to help Hess choose charities in their hometown that The Pavement Group will donate to. The deal was brokered by Jordon Rooney and Jaster Athletes.
"Met Jordon through Tre Tipton, who works for us now," Hess told On3 on Wednesday night. "He's our director of community relations. That's how all of this came about, it's pretty how those dots get connected. Being able to do something that's really in alignment with who we are as a company and also in perfect Rodney is as an athlete is pretty cool."
A former Pitt wide receiver, Tre Tipton won the 2021 Disney Spirit Award for his work promoting mental health awareness. Through his relationship with Rooney, he was able to introduce the NIL agent to his now-boss Brian Hess.
From there, working together to give back to his community through an NIL partnership with Gallagher made too much sense. As an alum, Hess had a previous relationship with the highly-touted high school prospect.
"I've always wanted to give back to my home community, what an awesome way," Hess said. "Rodney is the best example of someone who is already doing that in a lot of different ways. He sold apparel to the community to wear to games, and then gave the proceeds to children's hospitals.
"… NIL wasn't on my radar, man. But as a company we try to be innovative in every way possible. I think NIL is such a great tool for athletes to make them more of who they are. In this case, Rodney has a million talents. But the one that is most obvious is giving."
Putting together deal on the fly
While Rooney and Hess knew they wanted to make history with Rodney Gallagher, they also had to piece this together on the fly. News of the PIAA amending its rulebook dropped late this afternoon. Rooney quickly jumped on a call with NIL attorney Mit Winter, who has emerged as one of the go-to lawyers in this space, to make sure the new guidelines were followed.
High school student-athletes in Pennsylvania are not able to reference any member school, team or team nickname in NIL ads. Additionally, they may not promote third-party entities or goods during team or school activities. They also can't wear or display a company logo or insignia from a NIL deal during team activities, unless that logo or insignia is part of the team uniform.
"Really impressive [for it to come together so quickly]," Winter told On3. "The agent was ready, the athlete was ready and the business was ready. Obviously, they had been paying attention to what has been going on. They were ready and made it happen quick once the rule actually changed."
Pennsylvania's move Wednesday makes its the 22nd state to allow student-athletes to participate in NIL activity without losing eligibility.
Rodney Gallagher's On3 NIL Valuation
The West Virginia commit currently has an On3 NIL Valuation of $124,000. The third-ranked prospect out of Pennsylvania in the 2023 classn has built a massive social media following. Gallagher has more than 124,00 followers across Instagram, TikTok and Twitter. His per-post projection sits at $1,200.
His evaluation ranks in the top 135 of the high school football NIL rankings. And his valuation is the second-highest among Pennsylvania high school football players, only trailing Penn State commit Jven Williams' of $144,000.
The On3 NIL Valuation is a proprietary algorithm that calculates an athlete's projected annual value in the NIL landscape. It factors in an athlete's performance, influence and exposure.
The On3 NIL Valuation accounts for an athlete's roster value and brand value. Roster value is the value an athlete has by being a member of his or her team at his or her school, which factors in the role of NIL collectives. Brand value factors in an athlete's personal brand and the value it could bring to regional and national brands outside of the scope of NIL collectives.