Sen. Tommy Tuberville assesses timetable for NIL bill, state of college football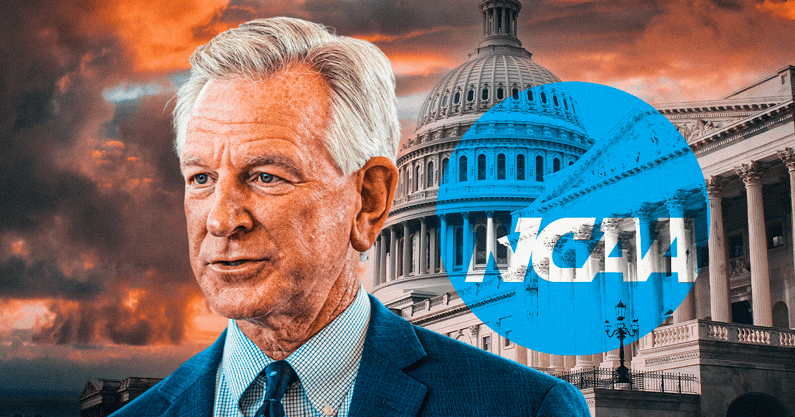 Tommy Tuberville was at football practice or out recruiting for nearly 40 years of his life. Winning games determined his career and livelihood. He earned the "Riverboat Gambler" moniker for his play-calling tactics, not budging on making the riskiest decision. 
Now the senior U.S. Senator from Alabama, college football found a way back into his world. With the NCAA pleading with Congress for name, image and likeness legislation, the Republican set out to craft his own bill more than a year ago. 
He worked closely with West Virginia Sen. Joe Manchin (D) on the bill. Both well-connected in college sports, they discussed NIL issues with coaches and administrators to introduce the "Protecting Athletes, Schools and Sports Act of 2023," nicknamed the "Pass Act," in July. Last fall, they also sought feedback from more than two dozen NIL collectives.
The Senate returned to Washington, D.C., last week and the House's recess ends Tuesday. The clock is officially on if any NIL legislation is going to be enacted forward before the presidential election slows down the congressional process. 
In a wide-ranging interview with On3, Tuberville discussed the next steps for the Pass Act, the impact conference realignment could play, and what he hopes the NIL legislation achieves.
"We're trying to set parameters where all 50 states have to go by the same basic rule," he told On3. "Because right now, you have some people that are doing different things in different states because there are different state laws. The only way we can get this working as Charlie Baker, the NCAA president, said, 'We need your help to get us on the right track.'"
Does conference realignment impact NIL reform?
The Pass Act attempts to address multiple facets the NCAA has been pushing for: uniform contracts, preemption of state NIL laws and an agent registry run by the Federal Trade Commission. The bill would also prohibit athletes from entering the transfer portal during their first three years of eligibility, something that raised plenty of eyebrows in July. 
The Pass Act would force boosters and collectives to be affiliated with a school, and NIL would be prohibited from being used as an inducement in recruiting and the transfer portal. 
Since the bill was introduced, realignment shook the college football landscape. The Pac-12, a 108-year-old conference, appears on track to shut down after this season. Just two schools – Washington State and Oregon State – remain. TV media dollars played a significant role in the reshuffling. 
Starting in 2024, the SEC will have 16 teams, while the Big Ten grows to 18. 
"I hope. I just don't know," said Tuberville when asked if realignment could have implications on the hill. "It's going to be a major battle. I think it's good that we're really going to be talking about this during football season and basketball season starting up soon to where people really understand how much they enjoy it. Let's get back to some sense of reality."
The Senator is not too far removed from the college football scene – his last season as head coach at Cincinnati came in 2016. He supports the sport pulling away from the NCAA.
"It's always been controlled by money, and the money has just got bigger and bigger," he said. "The SEC is going up to each team, starting to get $40, maybe $50 million in the future. And of course that helps all sports, and that's what people have to look at. Football is the only team that really makes money. 
"… I mean, it's probably one of the most watched sports in the world. Eventually, they're going to be one. I don't know whether you pull out of the NCAA. I know they really don't want to handle football because it's totally different than everything else. They don't make any money off of it. But there's got to be some kind of regulatory group that controls football and gets back to some sense of reality in the future."
Ted Cruz could deliver Commerce Committee win
Since returning to D.C. this month, Tuberville spent time with Sen. Ted Cruz (R-Texas). While the Senator from Alabama believes he and Manchin have done everything possible, the next move sits with Cruz. 
As the ranking member of the Senate Committee on Commerce, Cruz will be the power broker to push the bill forward. Democrats still hold control of the Senate, however, there's optimism the two sides can create bipartisanship.
Cruz could add to the Pass Act, too. On3 obtained a NIL draft bill from Cruz's office in July that would ensure athletes are not employees and includes a state law preemption. The bill would bar states from enacting laws on compensation, employment status, athlete eligibility or NIL. 
Some of the same language is already in Tuberville's act. But Cruz could include an antitrust exemption for the NCAA. Certain industries and organized groups have long earned exemption from the operation of U.S. antitrust laws. These include organized labor, insurance companies and baseball. The NCAA has long pushed for the same exemption, which would not limit the governing body's power in the collegiate market.
Tuberville, the former Auburn and Ole Miss head coach, is open to bipartisanship, too, which is why he included health insurance in the Pass Act. He has not ruled out revenue sharing either. 
"I put in the health provision because it was big for me, but it was also big for the Democrats to be able to take care of health care after competition," Tuberville. "I think that's really helped now. Ted knows his committee better than I do. We started some talks last week, kind of came up with some ideas and let him spread out amongst the committee that might help him get the majority vote of the committee to get it passed and sent to the floor. 
"That's going to be his call. So, Joe and I, did about all we could do. We did all the research and the background. The ball's going to be in Ted's court pretty soon."
Timetable for the Pass Act, NIL legislation
A bill must first pass through committee to be introduced to the Senate floor. Chuck Schumer, the Senate Majority Leader, then decides to put it on the floor. From there, the legislation would have to secure 60 votes in the Senate and the majority of the House before heading to the White House. 
Rushing this to the floor is not a priority. Getting the legislation through the Commerce Committee is the main objective. Doing that would even be a win – no NIL bill has ever made it to a vote in either the House or Senate. 
"Ted's got some ideas, he might want to put a few things that he sees might help or make a few changes," Tuberville said. "We're not in a big hurry right now. We're just trying to make sure we get the best deal we possibly can – that No. 1 has a chance to pass. 
"Another problem that we're going to have at the end of the day is the Democrats want to unionize. A lot of the Democrats do. They want revenue sharing and individual contractors. I'm fine with some of that, but I'm not for unionizing whatsoever."
Creating unity across House, Senate for NIL
While Manchin and Tuberville appear to have built up some momentum behind the Pass Act, they're far from being alone in efforts to pass NIL legislation. Four bills have surfaced this summer.
Tuberville said he plans on getting everyone on the same page, with plans to talk with fellow Sen. Richard Blumenthal. Blumenthal, a Democrat from Connecticut, released a discussion draft of a bipartisan federal bill to regulate NIL deals and offer medical protections with Sens. Cory Booker (D-New Jersey) and Jerry Moran (R-KS) in July. 
Rep. Gus Bilirakis recently released an updated draft of his "Fair Act," which would require NIL collectives to disclose contact details for boosters or risk "perjury." Tuberville said he's already "started with the house" and they will receive "their version."
"We're all on the same page," he said. "We all have the same goal in mind, trying to help get it back down to earth. But again, I think we'll have some Democrats helping us, it's just are we going to have enough?"
'Cat got out of the bag' for NCAA
NCAA leaders have made Congressional action the top priority since Baker took office this spring. The new NCAA president has made multiple trips to the Hill, holding meetings with representatives from both legislative bodies. 
It's clear the Pass Act checks many of the boxes Baker and many college sports leaders have been looking for. Presidents from Alabama and Auburn released statements showing appreciation for the bill, while the SEC said Manchin and Tuberville had a "keen understanding" of the need for national NIL standards. 
Baker also commented, describing the bill as "important legislation." If Cruz can deliver a win in the Commerce Committee, it could very well play a pivotal role in the future of college sports. All of this comes in the middle of a slow-moving battle for athletes' employee rights that is playing out in the court system. 
Revenue sharing could be in the future, especially with College Football Playoff expansion a year away. 
In Tommy Tuberville's opinion, the Pass Act would right the wrongs NIL created in the last two years. 
"I'm all for kids making money, and I think this is a good start," he said. "But when the cat got out of the bag on making money, it got out and got off to a sprint because most of these men and women are not making anything. I mean, they're just in limbo. Then you got a small percentage making money. 
"I would love to get to a point where everybody could make a little bit of the revenue, and do some revenue sharing. But this is giving the control back to the universities and the coaching staff. Right now, the players are running everything with this transfer portal the way it is."