NC State's Shyheim Battle inks multi-year NIL deal with Obsesh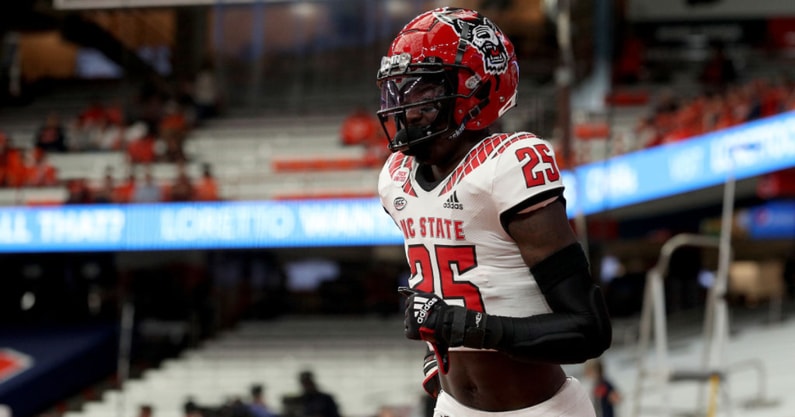 Shyheim Battle has dreamt of starting his own clothing line for as long as he can remember.
He used to just draw as a kid, doodling different logos and designs. Now a redshirt sophomore at NC State, Battle has impressed on the field. And his on-field success has led to a following off of it. The NIL Era has given him the opportunity to turn this into a reality at the college level.
And thanks to his new partnership with Obsesh, his reality of building his own clothing line has been fast-tracked. The defensive back started the Battle Island brand last fall. But with the help of Obsesh, a designable NIL platform, he now has an all-in-one site.
Fans are able to buy his merchandise and join his club. They're also able to purchase a specific action such as an autograph or film and mentoring analysis. On top of his Battle Island line, he has inked a multi-year agreement with Obsesh and joined the company as an equity partner and ambassador.
"I like for my things to be authentic to me," Battle told On3 in a phone interview. "So allowing me to have that type of control and access is perfect because I have a creative mind. And I kind of like things certain ways, sometimes I get a little picky."
As a partner and ambassador for the brand, he will help bring athletes, brands and supporters to the platform. Obsesh launched this past spring by Tracy Benson and Jonalyn Morris. With more than 300 athletes on the network, the brand is not solely focused on NIL with professional athletes also using the platform.
Battle has also established an exclusive membership club on Obsesh, with a $6 price tag. Fans who join will have access to limited-edition content, a personal video message from Battle, voting rights on new merchandise and access to exclusive events with the defensive back.
"Shyheim's influence, passion, and leadership, both on and off the field, combined with our experience building brands and industry-leading platform, can be a winning formula to create long-term sustainable opportunities for his personal growth and inspire other athletes in the new era of NIL," Benson said in a statement. "Short term gigs will come and go. We wanted Shyheim to have equity in Obsesh as a businessman building his future."
Battle hopes to soon release NFTs, too. NC State fans are currently able to purchase a range of Battle Island apparel, including a rally towel, T-shirt, track suit and shorts.
For as excited as he is on launching the brand, Battle's main focus still sits with football. He has 28 tackles, two interceptions and eight passes defended entering NC State's matchup with Maryland in the Duke's Mayo Bowl.
The goal still remains reaching the NFL. Being able build his brand in college, however, is not something he previously envisioned possible.
"Outside of football, this clothing line, Battle Island, is something that I've always wanted to do," he said. "As a kid, like I used to just draw different designs. I didn't know how I was going to create Battle Island at the time. But I knew I always wanted my own clothing line. Once I got to college, I started putting things into perspective and try to make things more visual and bring it to life.
"Establishing my brand early is big to me, but I'm not really rushing the process. I know my time is limited with what I can do, as far as working on my clothing line. It's also why this platform was so big for me."
Shyheim Battle's On3 NIL Valuation
The cornerback currently has a $288,000 On3 NIL Valuation. His evaluation ranks in the top 200 of college football.
Shyheim Battle has emerged as one of the best corner's in the ACC. He has more than 13,400 social media followers, too.
The On3 NIL Valuation is the industry's leading index that sets the standard market NIL value for high school and college athletes. A proprietary algorithm, the On3 NIL Valuation calculates an athlete's NIL value using dynamic data points targeting three primary categories: performance, influence and exposure.
While the algorithm includes deal data, it does not act as a tracker of the value of NIL deals athletes have completed to date, nor does it set an athlete's NIL valuation for their entire career.
The On3 NIL Valuation accounts for an athlete's roster value and brand value. Roster value is the value an athlete has by being a member of his or her team at his or her school, which factors into the role of NIL collectives. Brand value factors in an athlete's personal brand and the value it could bring to regional and national brands outside of the scope of NIL collectives.