South Carolina collective partners with designer to create NIL trading cards for soccer players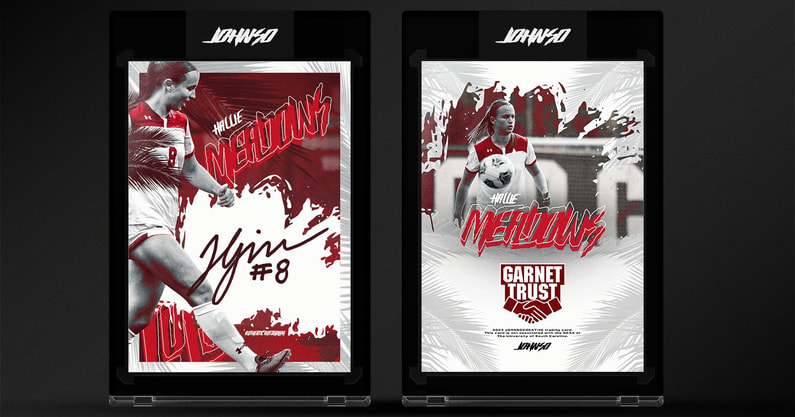 Trading cards continue to develop into one of the most popular uses by student-athletes of their name, image and likeness.
Companies – such as Leaf Trading Cards and even local businesses like Jacksons Food Stores – have struck NIL deals with players and schools to create trading cards that feature everybody from Heisman Trophy winner Caleb Williams to Tennessee five-star quarterback Nico Iamaleava to LSU star gymnast, entrepreneur and social media personality Livvy Dunne.
The use of trading cards for NIL activity took another step forward Wednesday, when Johnso Creative announced it partnered with South Carolina-focused collective Garnet Trust to release four new trading cards featuring some top players from the Gamecock's nationally ranked women's soccer team. The deal through the Garnet Trust will allow Hallie Meadows, Catherine Barry, Payton Patrick and Taylor Jacobson to receive 100% of the profits from sales.

"We can't think of a better way to celebrate Women's International Day than to honor these amazing student-athletes from Gamecock women's soccer," Garnet Trust said in a statement.
Meadows was an SEC Academic Honor Roll pick in the 2020 and 2021 seasons. Patrick played 98 minutes for the Gamecocks in the 2022 season. Barry played in 24 games for South Carolina in 2022, and she led the team in goals, points, shots and shots on goal for the 2020 and 2021 seasons. Jacobson also played in 24 games for Carolina in 2022.
How the NIL card deal developed
Johnso Creative is run by Joe Johnson, the former creative director and graphic designer for Oklahoma State and South Carolina football. He recently agreed to his first major NIL deal with Florida State star running back Trey Benson. Johnson is quickly building a reputation as one of the most sought-after trading card designers in the industry, and partnering with Garnet Trust was the next logical step for his business.
"The initial reaction has been very positive," Johnson told On3. "The fans in South Carolina are second to none. They support their athletes, and I don't think this will be any different.
"The Garnet Trust reached out, and we worked up a deal that would include their logo on the back of the card. The athletes will receive 100% of the profits from this sale. This is pretty amazing. But that's what NIL does. It creates amazing opportunities for these kids."
All four players and the collective have openly promoted the trading cards on their social media handles. The cards will soon be available on JohnsoCreative.com.
"We're working through the designs still, but they will be somewhat close to the initial design we posted," Johnson said. "I want to make sure we keep everything on-brand in a way that connects directly with the South Carolina fan base because that's important."
Will other collectives follow Garnet Trust's plan?
Several NIL observers heaped praise on the Garnet Trust for teaming up with Johnso Creative to create the trading cards. Some even highlighted the fact the cards launched with four female-student athletes. The 100% of the proceeds going to the soccer players also was viewed as a positive move.
Recently, there have been mounting questions about how supportive collectives across the country have been for female student-athletes. Only 34% of collectives benefit women's sports, according to NIL marketplace Opendorse. Plus, some experts recently told the San Francisco Chronicle the NCAA's difficulty to regulate collectives because of their third-party status potentially enables violations of Title IX.
Johnson said he's hopeful this is just the beginning of collectives getting active in the NIL trading card space.
"I sure hope so," Johnson told On3. "It's a great way to make a positive impact for the athlete. Not to mention, they're getting their first trading card. I could see businesses that are involved with NIL reach out as well; it would undoubtedly be a different marketing opportunity for the companies involved.
"I think this is such a different way to support collegiate athletics directly for potential NIL sponsorship. It creates a direct link between player and sponsor right on the back of the card."