SEC reveals full Alabama football schedule for 2023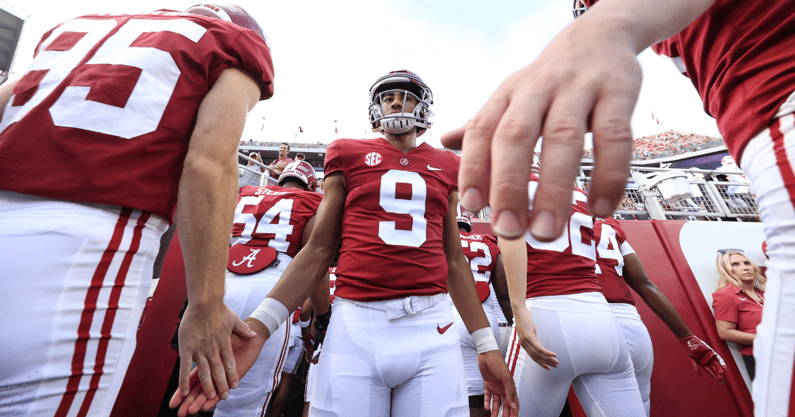 The Southeastern Conference has revealed its full 2023 football schedule on Tuesday evening, which includes all of the 12 regular season games for the Alabama Crimson Tide football team. The schedule was announced via the SEC Network.
Granted, the opponents shouldn't come as a surprise for fans. That information has been available for some time now, but as of Tuesday, we have the dates as well. Alabama will kick off its 2023 season with a home game against Middle Tennessee, which is set for Saturday, Sept. 2.
From there, things start to get interesting. After this year's 20-19 nailbiter in Austin, the Crimson Tide will then welcome the Texas Longhorns for a Week 2 showdown before going on the road to Tampa to take on South Florida on Sept. 16. Then, it'll be time to start SEC play with back-to-back games against the two Mississippi schools.
Not a member of BamaInsider? Join today and get one year of premium access for just $1!
The most difficult stretch might prove to be a road game in College Station against Texas A&M followed by Arkansas and Tennessee on Oct. 14 and 21, respectively. Then, Alabama will get its bye week before starting the month of November with a home game against LSU and a road contest against Kentucky.
As always, the Iron Bowl against Auburn — on the road — will close out the regular season following a home matchup against UT-Chattanooga. You can check out that entire regular season schedule below. Let us know what you think by heading over to the Talk of Champions message board and getting in on the discussion.
Full 2023 Alabama football schedule
Sept. 2 (Week 1) – Middle Tennessee
Sept. 9 (Week 2) – Texas
Sept. 16 (Week 3) – at South Florida
Sept. 23 (Week 4) – Ole Miss
Sept. 30 (Week 5) – at Mississippi State
Oct. 7 (Week 6) – at Texas A&M
Oct. 14 (Week 7) – Arkansas
Oct. 21 (Week 8) – Tennessee
Oct. 28 (Week 9) – BYE WEEK
Nov. 4 (Week 10) – LSU
Nov. 11 (Week 11) – at Kentucky
Nov. 18 (Week 12) – Chattanooga
Nov. 25 (Week 13) – at Auburn
Dec. 2 (Conference championships) – SEC Championship
Click here to join the thousands of Alabama fans on the Talk of Champions message boards