Georgia freshman Branson Robinson showing 'promise' on practice field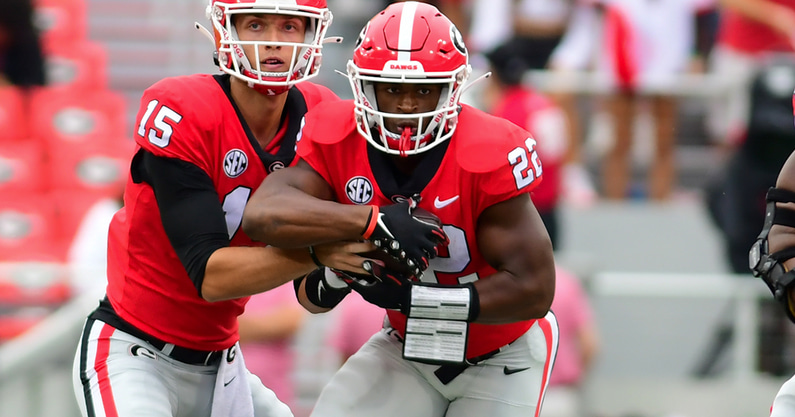 Georgia has a well-deserved reputation for producing big-time running backs. When the dust settled on the 2022 recruiting class, it appeared as if the Bulldogs might have their next great bruising ball carrier in Branson Robinson.
Like so many of those productive runners before him, Robinson is having to wait his turn. Georgia has Kenny McIntosh, the team's leading receiver, in his fourth season and both Kendall Milton (leading rusher) and Daijun Edwards in their third seasons. Because of the experience ahead of him, Robinson has had to settle for mop-up duty for the first two weeks. Still, he's using game prep each week to round out his game.
"He's getting better with every day," Smart said of Robinson earlier this week. "He's a guy that works really hard. I thought he's done, in some of our competitive drills we do, on Monday and Tuesday, he's shown some promise and some burst."
Robinson was ranked as the nation's No. 73 overall prospect and No. 2 running back in the 2022 class by the On3 consensus. He finished the cycle as the top overall prospect in Mississippi. It's tough to know whether he was UGA's No. 1 target in that class but it certainly seemed that way once the recruiting board took shape.
He arrived at Georgia in late spring along with fellow 2022 running back signee Andrew Paul, who carried a three-star rating. Paul suffered a torn ACL in UGA's second preseason scrimmage and he was seemed to be ahead of Branson Robinson before suffering that season-ending injury.
That thrust Robinson into the No. 4 running back role. In the past, Georgia has been known to make use of four different running backs in meaningful minutes. That has not been the case in 2022 and probably won't be unless there's another injury or Branson Robinson comes on strong.
For now, the 5-foot-10 229-pound bruiser has to get in where he fits in. Smart's hope is that his size and speed will come in handy in another phase of the game.
"We tried to get him in a special teams role where he can really help, and he's still new to that," Smart said. "He reminds me of all the backs who had to come in and they never really played special teams in high school, and then you have to train them to do that. He has the ability to be a star on three or four units, but he doesn't have the experience. So, how can you rush that process to help on special teams? It's actually easier to play miss a back and give him the ball, but he's still working through everything in that, and he gives us a change of pace, because he's, he's heavier than those other guys."