Top-30 C Patrick Ngongba sets visits to Michigan, Kentucky, Duke, and Kansas State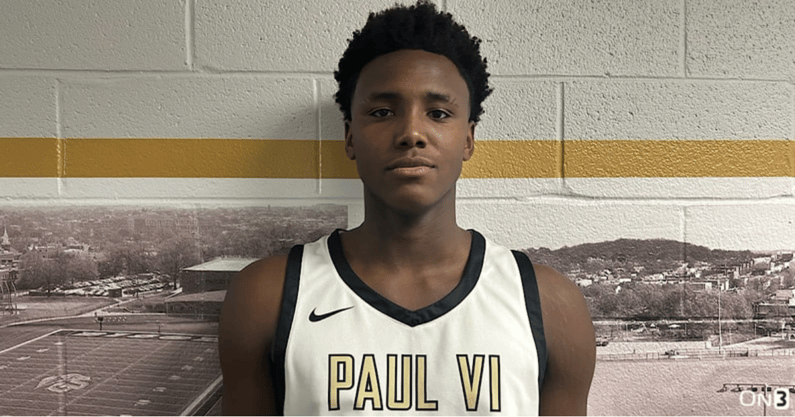 Patrick Ngongba, one of the top big men in the class of 2024, has scheduled four upcoming official visits. The 6-foot-10, 235-pound senior out of Fairfax (Va.) Paul VI Catholic will visit Michigan on September 8th, Kentucky on September 29th, Duke on October 20th, and Kansas State on October 27th.
This will be Duke and Kansas State's second time hosting the four-star center on an official visit. UConn and Providence have also both hosted Ngongba on officials.
In July, Ngongba announced his top eight schools — Duke, Indiana, Kansas, Kansas State, Kentucky, Michigan, Providence, and UConn.
According to the On3 Industry Rankings, Ngongba is the No. 26 overall prospect in the 2024 cycle. He's also the No. 3 center prospect and the No. 2 player in the state of Virginia. The On3 Industry Ranking is a weighted average that utilizes all four major recruiting media companies.
Ngongba talks Duke, UConn, Providence, and Kansas State
In a previous interview with On3, Ngongba broke down each of his four previous official visits.
Duke: "It was a good visit. The coaches were all very energetic from the start of the visit to the time they dropped me back off at the airport. It was a good vibe the whole time. We went to hang out with the coaches, and the staff got to know them. It was a good time. Seeing the strength stuff really stood out to me. All that they do for their players behind the scenes, the stuff we don't really see, stood out."
UConn: "I liked how involved with the practices the coaches are with the bigs. They had two coaches down there involved, guarding the players and taking them through the workouts. With Adama (Sanogo) and (Donovan) Clingan, seeing the centers that they've had recently plays a big role for me. Seeing what they can do for me individually helps with my decision a lot."
Providence: "I knew Coach (Kim) English when he was at George Mason. It was nice getting up to Providence. It was way different than I expected; I didn't know what to expect really. The facilities and stuff like that were really nice. I feel like I would fit in well with what he does and how they play. They've shown me a lot of the stuff they do with Josh (Oduro), and I feel like I can do a lot of that."
Kansas State: "I've known Coach Jareem (Dowling) since I was a little kid, and Coach (Jerome) Tang is also from the island my mom is from. So I have a pretty good relationship with them. On my visit, I was able to see how much the fans love the team. And we went over to the coach's house and were able to play games, like ping pong, and I got a feel of what the bond was like there. I see them on the sidelines of every game I play; that definitely plays a factor."
What he's looking for in a school
"For one, I want to go to a school that can develop me. I want to get to the next level, so a program and a coach that can get me there. Also, I want to go somewhere that has a family environment. A place I can bond with the players, play video games and hang out.
"How the coaches play, how they look to use me in the system will definitely be a factor and something I look at, but it won't be the biggest thing for me."
Patrick Ngongba Scouting Report
"Patrick Ngongba has a strong body with good length, and a projectable frame that should continue to grow as he enters a college strength program. He had a lot of offensive skill with soft hands and patience. Ngongba has a comfortable go-to move on the block with counters in his arsenal. He is comfortable finishing, in traffic, with either hand. Ngongba has touch, makes his free throws. He is an above average straight-line athlete, there could be questions about his lateral quickness and opening his hips and sliding his feet. He is a solid area rebounder. Ngongba has good instincts and a natural basketball IQ. He can go through bouts of consistency, especially with his motor. The offensive skill package is very intriguing and he has some production already in place. His mom and dad both played at George Washington." – On3's Jamie Shaw